Confederate Statue of Silent Sam Removed from UNC-Chapel Hill Campus Amid Controversy
The pedestal of a controversial monument has been removed from the grounds of a North Carolina university amid an ongoing debate about race and the Civil War.
The pedestal that once held the now-toppled statue of Silent Sam was taken from the University of North Carolina-Chapel Hill on Monday, Reuters reported.
Read more: Who was Silent Sam? Protesters knocking down Chapel Hill monument
Silent Sam is a memorial to Confederate soldiers who died in the Civil War and was erected in 1913. Supporters of such monuments say they are part of American history, while those in opposition deem them as supporting racism and segregation.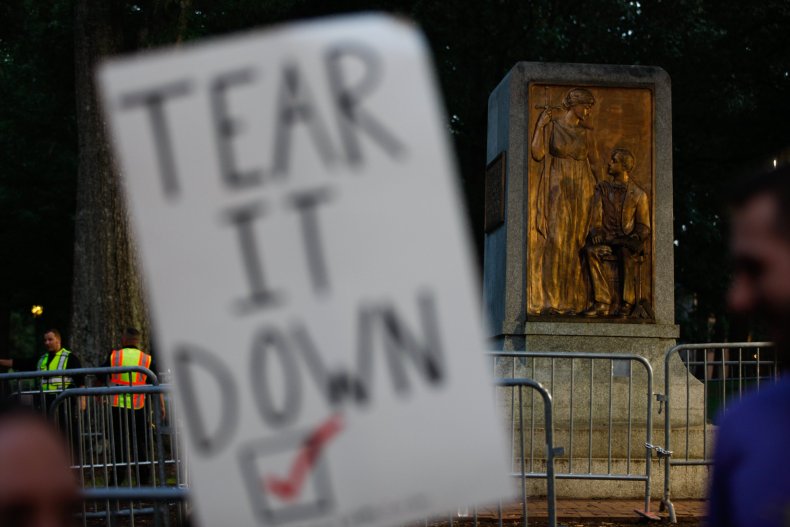 The university's chancellor, Carol Folt, said the pedestal and bronze memorial plaques that remained had posed a security risk for students, with protesters congregating there since it was toppled on August 20.
"The presence of the remaining parts of the monument on campus poses a continuing threat both to the personal safety and well-being of our community and to our ability to provide a stable, productive educational environment.
"No one learns at their best when they feel unsafe," she said, according to CBS.
But Harry Smith, chairman of the university board, said in a statement it had not been advised of Folt's plan to remove the pedestal and plaques.
"It lacks transparency and it undermines and insults the board's goal to operate with class and dignity," he said, according to Reuters.
Meanwhile Frank Powell, spokesman for the Sons of Confederate Veterans' North Carolina chapter, said removing the pedestal was illegal.
"The law is the law, whether you like it or not," he said, adding that the university has "already succumbed to mob rule" by allowing the statue itself to be toppled.
A proposal by the university for a $5.3 million plan to create a new "history and education center" to house the statue was rejected following more protests. Folt also announced she would step down as university chancellor, a role she has held since 2013, USA Today reported.
Debate about the fate of Confederate monuments spiked after white supremacist Dylann Roof murdered nine black people at a church in Charleston, South Carolina in 2015. The crime led to the removal of a Confederate flag from a statehouse in the state capital, Columbia.
Over the last three years, more than 100 monuments and Confederate symbols have been removed across the country. There are still more than 700 Confederate monuments in the U.S., including nearly 100 in North Carolina.