As cities, counties and states across the country tussle with the idea of whether or not to remove Confederate statues and monuments, these controversial pieces of public art have increasingly become a target for vandals across the South.
While some acts of vandalism and protest — like the 2018 tearing down of the Silent Sam statue on the campus of the University of North Carolina at Chapel Hill — have resulted in national headlines, there has also been an uptick in less-publicized incidents, according to the Charlotte Observer.
The Observer reported that roughly a dozen Confederate statues have been vandalized already in 2019, from Texas to North Carolina, and northern Kentucky southward to Nashville.
The number has continued to grow as the two-year anniversary of the deadly riots at a white nationalist rally in Charlottesville, Virginia, approaches. In August 2017, opposing groups clashed in Charlottesville over the removal of a Robert E. Lee statue, with one man driving his car into a crowd of protesters, killing one and injuring others.
James Alex Fields, who was 20 during the time of the attack, pleaded guilty this year to 29 of 30 charges against him. Fields is scheduled to be back in court on July 3 for his sentencing.
Heather Heyer was the 32-year-old anti-racism activist who was killed.
In the last two years, cities from Los Angeles to New York and New Orleans to Seattle have either removed Confederate statues or have announced plans to remove them, according to the New York Times.
While there has been a reported increase in vandalism, these acts represented only a very small number of the Confederate statues and markers in place nationwide. In 2018, the Southern Poverty Law Center reported there are still more than 1,700 Confederate symbols or statues that remained in public places across the country, most predominantly in the southeastern United States.
Here's the link to the map below.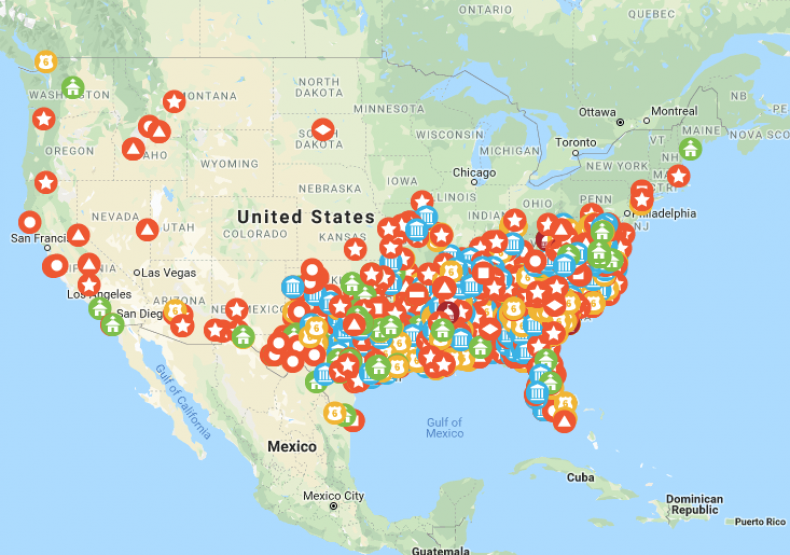 "The South even has its own version of Mount Rushmore — the Confederate Memorial Carving, a three-acre, high-relief sculpture depicting Jefferson Davis, Robert E. Lee and Thomas "Stonewall" Jackson on the face of Stone Mountain near Atlanta," the SPLC states on its website.
So far in 2019, defacing Confederate symbols has happened more frequently. Just this week, the Confederate Defenders of Charleston monument in South Carolina was splattered with red paint, and police have already accused two people of vandalism. In Nashville on Monday, the Confederate monument had the words "They were racists" painted on it, and it, too, had red paint splattered on it.
Two weeks ago in Texas, the Confederate Soldiers Monument on the State Capitol grounds in Austin had the word "racists" spray painted in red. That monument has been there since 1903, according to KWKT.
In May, two Kentucky towns saw vandalism to their Confederate statues. The Confederate soldier statue in Louisville had paint dumped on it — the fifth time it's been vandalized in two years, according to the Louisville Courier-Journal. In Bardstown, a monument to soldiers had red paint poured onto it.
Vandalism of other Confederate statues this year has also happened in three North Carolina cities — Wilkesboro, Durham and Salisbury — and also in New Orleans and Tyler, Texas.