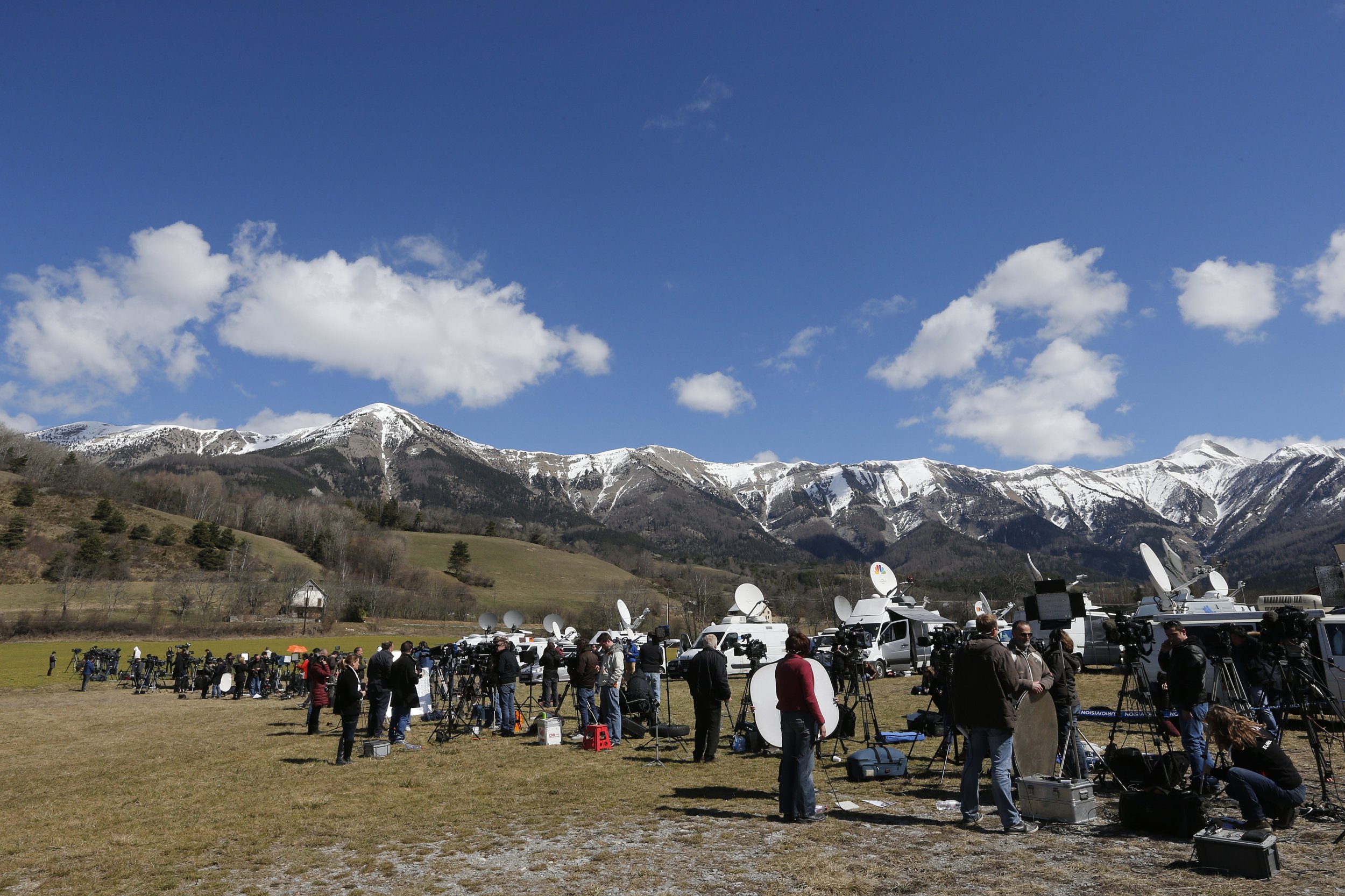 By the time I arrived at the staging area in the French Alps last week, I was a day late to the biggest story in the world. German Chancellor Angela Merkel and French President François Hollande had just sped past me in a fleet of black cars after their obligatory appearance at the grim scene near the site of the March 24 crash of Germanwings Flight 9525. When I arrived there, most of the hundred or so television news tripods stood unmanned, their operators off to dinner, or maybe scoring some exclusive interview.
I don't speak French and had no idea what was going on, which is why I'd been pecking out ridiculous notes on my phone on the winding drive through the foothills of the Alps, hoping maybe the "wide lush valley rimmed with snowcapped peaks" might come in handy for whatever story I could cobble together.
I was helpless. We all are, we vulture journalists, when we first begin to encircle the victims of a tragedy like last week's crash near Seyne-les Alpes, France. We're desperate for some kind of "scoop," to prove to the world that it's our media outlet you should be watching or reading. In reality, at least in those first blind couple of days, we were all going to write the same version of the sparse collection of facts the gatekeepers of real information fed us. Some of us may scribble more cleverly, some may look cuter on camera, but there were a hundred of us here, from all over the world. So I did the same thing most reporters do when they show up at the scene of a big breaking story: I asked some other journo what the hell was going on.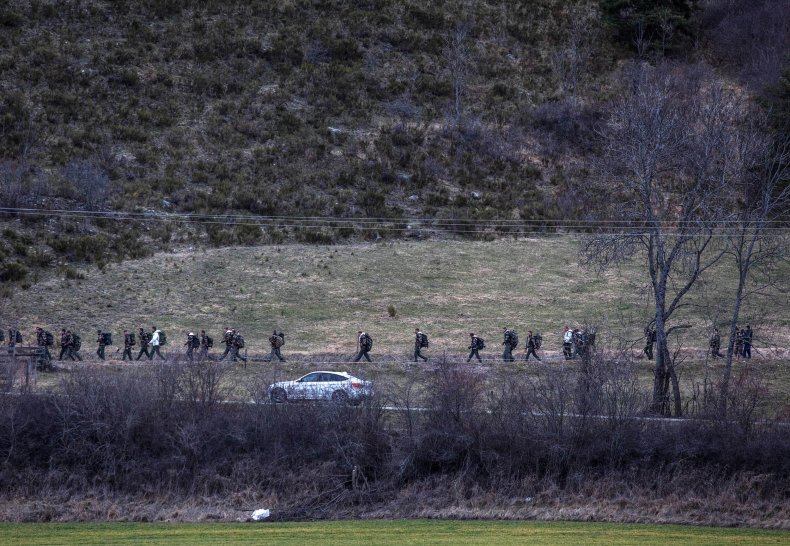 For five minutes, I proceeded from one end of the airfield to the next, hoping I'd hear someone speaking my mother tongue—or German. I can speak German. Eventually, I found her: a pretty brunette who covers the Middle East for an American news network taking a video selfie with her phone to post on Twitter. The day before, she was covering the Iran nuclear talks, but then this plane crash happened and now she was here. "What's going on?" I asked. "There's a fucking plane crash, dumbass" is what she should have told me.
Instead, she filled me in, because reporters love to tell people, even other reporters, what's going on. Most of the day's excitement had come earlier that morning when a bunch of search choppers landed in quick succession after spending the night at the crash site, and a few of the rescuers gave interviews about the rugged terrain. That's the story I had planned to do, too. I thought I'd interview a few burly guys about how they'd rappelled out of a helicopter and picked through the smoldering wreckage in an unlikely search for any sign of life, as a blizzard approached, endangering their own safety. But by the time I got here, after a seven-hour drive from Barcelona, everyone, including this network reporter, had already done it.
The rescuers had found the second of the plane's two black boxes, the network reporter told me, which brought us closer to answering the only real question here: Why had the plane crashed? They were supposed to bring back some bodies, she added, glum-faced, but the terrain was too harsh. She said "bodies" as if she was talking about baguettes. She shot me that classic "Bummer, eh?" look, the one we all trade while we're standing on someone's lawn with no idea what we're supposed to file. I shrugged, and gazed past the gendarmes.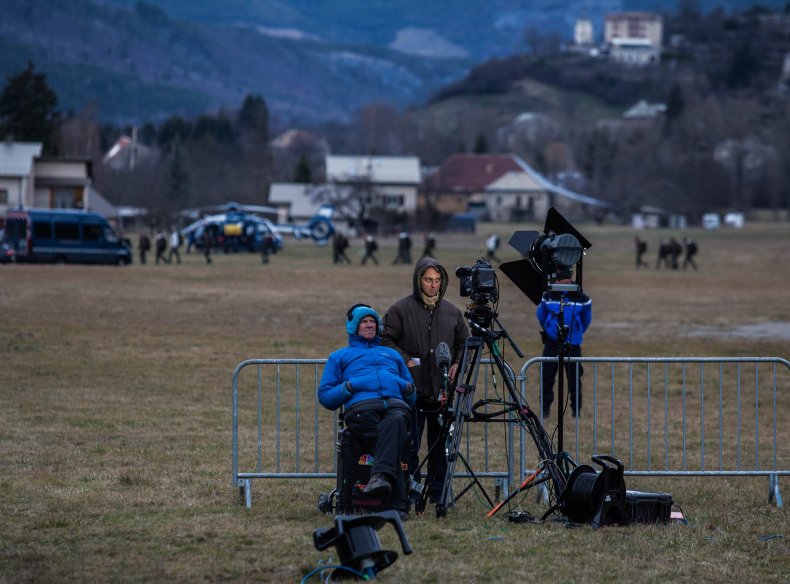 Numb to the News
All reporters stand around and bullshit at the scene of a tragedy. What else can we do? Constantly nod our heads somberly and repeat, "Man, really sad, isn't it?" It's the same kind of gallows humor employed by medical examiners standing over a dissected corpse. They don't, we don't, really give a shit about these dead people any more than we do for the other dead people we have written hundreds of stories about over the years. We're numb to it; it's how we do our jobs.
What we really care about are stories, especially exclusives that no one has ever seen or heard before and, we hope, will remember for years to come. We're here for a powerful interview with the sobbing relative of a plane crash victim, or, better yet, a harrowing account from an eyewitness who saw the plane burst into the Alps. The reason Bill O'Reilly and Brian Williams embellished their experiences in journalism is because they were—and we all are, to some degree—desperate for exclusives like this, for the next viral clip, link or prestigious award that validates us, solidifying our brands and reputations. We are desperate to stand out in a journalism field that is crowded with cheap replacements. Until 2012, journalism school admissions had risen every year for two decades, while the number of actual jobs in the field has been sliced in half. In this jungle, there are simultaneously more hyenas and fewer wildebeest for us to eat.
I am a proud reporter, and journalism is about much more than stalking victims of tragedy. Even in today's hypercompetitive news environment, there are more compelling long-form, investigative and narrative stories available to read (and often for free!) than ever before. And yes, there is real news value in covering a plane crash. Media outlets across the world have spent the past week pursuing important questions about pilot Andrea Lubitz's medical and psychological background in search of a motive, and to understand what lessons might be learned from the crash, what laws might be tweaked to make sure this never happens again. The victims and the general public deserve this reporting, but they didn't find it out from anyone blowing on his or her hands in Seyne-les-Alpes. That information came from government officials in Paris and from gumshoe journalism back in Germany.
Beyond the hunt for facts, there is also meaning in these stories about plane crashes, and there's real value in telling them. When we write about how people deal with tragedy, we arguably are serving up lessons for coping with grief, reminding readers and viewers that life is precious, that people matter.
Yet the noble pursuit of this story is often lost in the cynical quest for a "get." When I'm trying to lure a grief-stricken widow into talking to me, I invariably try some version of the old "I want people to know what your husband meant to you" trick. I'm not lying when I say this; I really do want that, and I really do believe the world is well served by remembering someone's life in a poignant way. But this line I deliver is still a trick, because what I really want is to pick apart your grieving soul for a good story, a story I can use to catapult my own career.
When I do this kind of piece—when any of us does this kind of piece—we are still hyenas, no matter what good comes out of it. We can comfort ourselves by rationalizing our actions, proclaiming that we're writing the first draft of history. But we're also jabbing our snouts into freshly dug graves, gnashing through coffins and munching on broken bones. It's our nature.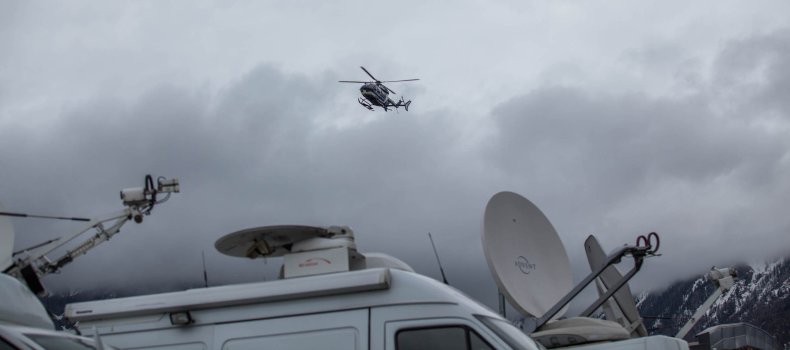 'Get the Guns!'
My first "big break" in journalism came in 2001, via Newsweek. A family of wingnuts in the North Idaho hills found itself at odds with the local sheriff, after the father died and the mother was arrested on suspicion of child endangerment, leaving five hardscrabble children—indoctrinated against the government—bound for a foster home. When the deputies arrived to collect them, the oldest yelled, "Get the guns!" and disappeared inside the home, but not before letting loose a pack of 27 snarling dogs on the cops. A five-day standoff ensued.
I was a year into my first full-time job at a newspaper, the Spokane, Washington, Spokesman-Review, and this was the biggest story of my career. So when I heard the news, I salivated. On my day off from the newspaper, I pitched the story to a Newsweek editor, who flew a staffer out from New York. We spent day and night knocking on doors, scraping together everything we could about this broken family. In the end, I had my first national byline and, more important, a new relationship with Karen Breslau, then the magazine's West Coast bureau chief. The children, who eventually agreed to leave the house, wound up in a foster home.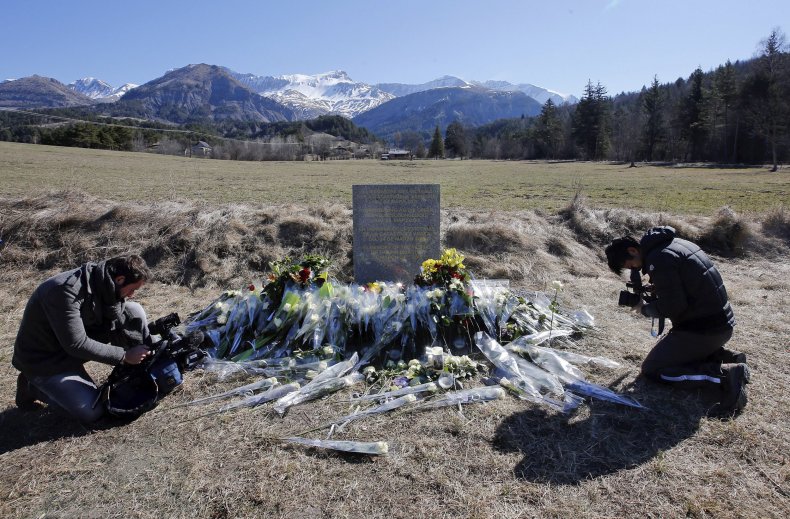 My next big assignment came with the crash of the Space Shuttle Columbia in February 2003. An editor at Time called me early on a Saturday morning, asking if I could track down the parents of the late astronaut Michael Anderson. I arrived at their house to find a pack of reporters on the sidewalk, as Anderson's grieving parents huddled in their living room. I didn't knock on the door. I figured it was pointless; if someone hadn't already gone inside, no one would. And then a friend and former colleague strolled up to the scene, fresh off an airplane from Seattle. He walked to the front door, knocked and said something to the effect of "Why don't we go inside for a few minutes and get away from all these cameras?" As if he was going to save them from the rest of us. As if he wasn't just another clever hyena looking for lunch.
Since then, I've found myself in the awkward position of waiting outside a grieving family's doorstep at least a dozen times. I'm fortunate. Local TV reporters chase tragedy several times a week. I've always hated the ordeal, but taking part in this macabre marathon is how I "made it" out of my hometown of Eugene, Oregon. Over the years, I've written dozens of articles as a freelancer that were mostly about some form of true crime: cannibal killers, missing feet washing up on Canadian shores, hometown heroes beheaded in Iraq. And when I landed my first full-time job as a national correspondent at Newsweek and The Daily Beast (we were one company at the time), it's because I went after these grim stories and got the goods.
Sometimes I got lucky; sometimes I fought dirty. Last summer, when Troutdale High School student Jared Padgett gunned down one of his classmates in yet another school shooting, I found a group of teenagers walking down the sidewalk in Portland, Oregon one of whom called the victim his good friend. Score! Across the street, I talked to a local reporter who said she had a cell phone number for the shooter's best friend. As she talked, her open notebook revealed the number, and I hoped she didn't notice me committing it to memory as I pretended to give a shit about whatever she was saying.
'My Best Shot at a Scoop'
When I arrived (late) in Seyne-les Alpes last week, I did so with an impending sense of dread. My competitors were everywhere, and I was behind. Once Merkel and Hollande cleared out, the gendarmes took down the barricades blocking us from the staging area, and I wandered closer to the helicopters, hoping for a break. No such luck. More cops blocked me from passing through, and if the German television crew in front of me couldn't negotiate their way in (they spoke French), I was sure I couldn't either.
Aside from the very important question of what caused this airplane to crash, there wasn't much to report here. The crash occurred in eight seconds, and there were no survivors, no chance at nabbing some compelling story about an 8-year-old girl who woke up bleeding and confused in a pile of rubble. So I broke away from the pack and left the staging area, asking the owner of my hotel if she knew any locals who'd been to the crash site. She linked me up with a woman who worked at a tourism agency in Barcelonette, and that led me to Olivier Jean, a local filmmaker who specializes in "high mountain" documentary work. He had been to the crash site—on foot, no less—and filmed the first search crews descending from helicopters to sort through the debris. I interviewed him and watched his footage, but ultimately decided even this "exclusive" with the first civilian to make it to the plane crash didn't add much to what we already knew.
Oddly enough, my best shot at a scoop was back in Barcelona. A few hours after the crash, I met my girlfriend for a drink. She was visibly shaken. She knew one of the victims. His girlfriend, she said, had been in a car crash a few years back. Her best friend had died in the wreck and suffered severe brain damage and physical trauma from which she has yet to fully recover. Then she started dating this guy, and the two of them fell in love and he made her life better. Now he was gone.
The journalist in me wanted to ask my girlfriend to call her grieving classmate and see if she'd talk to me. I bit my tongue. It felt exploitative, and my relationship is new. I didn't know if my girlfriend would understand my knee-jerk response. Instead of asking for the number, I tried to comfort her, and let the story go.
Correction: This article originally misspelled the first name of François Hollande.