Confirmation Hearing for Trump's SC Pick Amy Coney Barrett Starts October 12, Lindsey Graham Says
Senator Lindsey Graham of South Carolina, Chairman of the Senate Judiciary Committee, has revealed that a four-day confirmation hearing for President Donald Trump's Supreme Court nominee Judge Amy Coney Barrett will start on October 12.
The Republican made the announcement during an appearance on Justice With Judge Jeanine on Fox News Saturday night, hours after Trump announced Barrett as his nominee. He told host Jeanine Pirro that the hearings will begin October 12 because "that will be 16 days from nomination and 24 of the 42 Supreme Court justices who have had hearings were done within 16 days."
"So 16 days from now we'll start the hearings on October 12," he said. "Monday will be an introduction, opening statements, a statement by the nominee. Tuesday and Wednesday will be question days and Thursday we'll begin the mark-up process."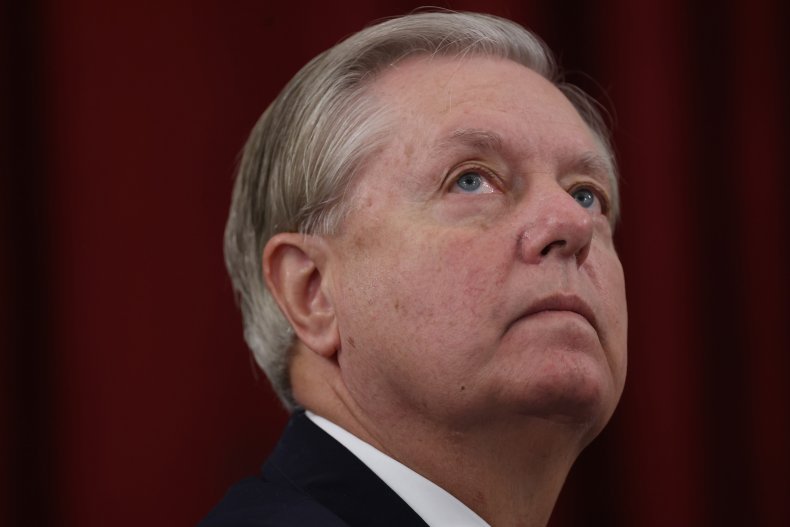 Newsweek reached out to House Speaker Nancy Pelosi for comment.
Trump urged members of the media and Democrats to "refrain from personal or partisan attacks" on Barrett during his announcement. "Provide Judge Barrett with the respectful and dignified hearing that she deserves," he said, adding that "the stakes for our country are incredibly high."
Despite his remarks, Democrats moved quickly to criticize the judge. Barrett "threatens the destruction of life-saving protections for 135 million Americans with pre-existing conditions together with every other benefit and protection of the Affordable Care Act," House Speaker Nancy Pelosi said in a statement.
House Majority Leader Chuck Schumer said "a vote for Judge Amy Coney Barrett is a vote to eliminate health care for millions of Americans."
Barrett's nomination comes just 38 days before the presidential election on November 3. Standing beside Trump on Saturday, the judge acknowledged that "this is a momentous decision for a president and if the Senate does me the honor of confirming me, I pledge to discharge the responsibilities of this job to the very best of my ability."
Democrats have urged the Republican-controlled Senate to wait until Americans vote before confirming a Supreme Court nominee to replace the late Justice Ruth Bader Ginsburg.
Republican Senator Susan Collins of Maine has also joined Democrats in calling for the Senate to act consistently with their 2016 decision to block former President Barack Obama's Supreme Court nominee, Merrick Garland. At the time, GOP senators refused to hold a vote or hearing in the same year as a presidential election.
But the Senate has already confirmed that Trump's nominee would receive their vote in the coming weeks. "The historical precedent is overwhelming, and it runs in one direction. If our Democratic colleagues want to claim they are outraged, they can only be outraged at the plain facts of American history," McConnell said.