In Conflicts Like Gaza War, 90% of Casualties Are Civilians, Report Says
More than 60 children were among those killed in the Gaza conflict that ended with a cease-fire late last week after several days of explosive fighting.
The Gaza Health Ministry reported that at least 230 Palestinians died and hundreds more were injured during the 11-day conflict, while at least 12 people lost their lives in Israel, according to the Associated Press. Though it is unknown how many of the dead and wounded were civilians, the number of children killed demonstrates the high toll civilians pay in modern-day military conflicts.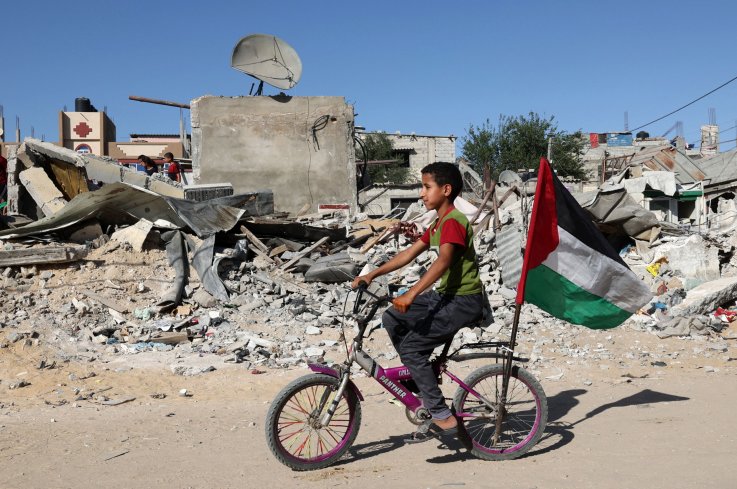 A Palestinian child rides his bicycle in front of the ruins of a building destroyed during a recent Israeli bombing in Rafah, in the southern Gaza Strip, on May 26, 2021.
SAID KHATIB/AFP via Getty Images
According to a recent report by Action on Armed Violence (AOAV), an average of 91% of those who are either killed or injured during the use of explosive weapons in densely populated areas are civilians.
The analysis, which referenced English-speaking media reports of civilian deaths and injuries between 2011 and 2020, calls upon member states of the International Network on Explosive Weapons to halt the use of explosive weapons in places where civilians are likely to be, such as in heavily populated regions.
"It's absolutely ludicrous, this notion that you can have so many airstrikes in populated areas and not kill civilians," said AOAV Executive Director Iain Overton.
According to Overton, the use of targeted military strikes since the Gulf War era has led to an increased belief that intelligent weapons systems can help militaries avoid killing or wounding civilians.
"But the truth is not in the pudding," he said. "Civilians are being killed."
Civilian deaths are not new to wartime. But Overton said there is a difference between civilians who die as a result of the strains violent conflicts place on local communities and civilians today who are often in the direct line of fire.
According to a United Nations (U.N.) assessment of 20th century war trends, about 50% of deaths reported during military conflicts from 1900 to 1950 were civilians. That number rose to 74% by the 1980s and continued increasing through the 1990s.
"The massive killings of civilian populations are due, in large part, to the fact that present-day wars are fought largely within and not between countries," the report said. "Villages and streets have become battlefields. Traditional sanctuaries, such as hospitals and churches, have become targets. Armed conflicts today destroy crops, places of worship and schools. Nothing is spared."
Reports of civilian bloodshed continued to grow in the first two decades of the 21st century, which Overton attributes in part to a reliance on unmanned drones.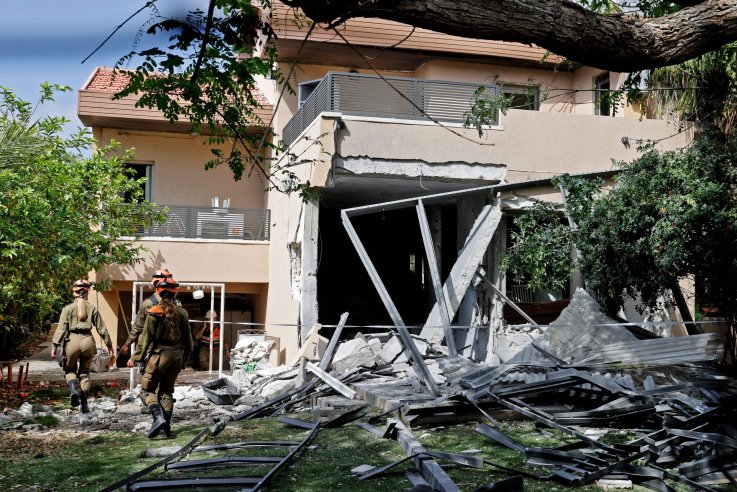 An Israeli rescue team inspects a house hit by a rocket that was fired from the Gaza Strip in the southern Israeli city of Ashkelon, on May 20, 2021.
JACK GUEZ/AFP via Getty Images
"The War on Terror, which began with a suicide strike on the Twin Towers, has created a new form of warfare," Overton said,"whether it's the terrible intimacy of a suicide bomber giving up their very life to become the weapon, or unmanned drones responding to these suicide bombers."
The data included in AOAV's recent report does not include the civilian deaths and injuries reported during this month's Gaza conflict. However, it does point to the region's previous bloody war in the summer of 2014, which saw more than 3,700 civilians killed or injured.
Noting the break in violence that followed that summer in Gaza, the report warned that the area was "still a place marked by intermittent flare-ups of explosive violence and consistent blockade and unrest."
Gaza appears ninth on the AOAV's list of territories in which civilians are most impacted by explosive weapons. From 2011 to 2020, 5,107 of the 5,700 people who were injured by explosive weapon use in Gaza were civilians—nearly 90%.
In contrast with the high percentage of civilian casualties reported in populous areas, AOAV's report said a significantly smaller number of civilians—about 25%—are reported in areas that aren't heavily populated. But avoiding areas rich in civilian life is difficult for those involved in the Gaza conflict, Overton said.
"People say that Hamas is using human shields to hide behind. But the truth of it is, Hamas can't go anywhere else," Overton said, referring to Palestine's leading militant group. "So, yes, Hamas is fighting within a populated area. But nonetheless, that's not inherently their fault. They've got nowhere else to go. And that raises some very profound issues."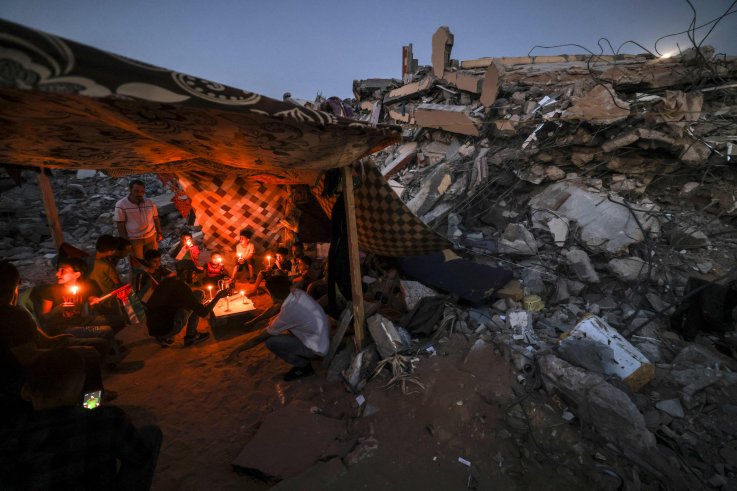 Palestinians sit in a tent that has been set up at the ruins of a building destroyed in recent Israeli air strikes, in Beit Lahia in the northern Gaza Strip, on May 25, 2021.
MAHMUD HAMS/AFP via Getty Images
Citing the AOAV's call for the international community to disavow explosive weapon use in populated areas, Overton said he is hopeful the international public response to violence like that most recently experienced in Gaza will make explosive weapon use less popular, and thus save civilian lives down the line.
"Twenty-first century war is failing to deliver its promises of reconciliation and peace, which is what it always promises" in pursuit of a 'better world,'" Overton told Newsweek.
Instead, he said 21st century warfare is "just ruining the world" rather than improving it.
"I think we're getting to a position where there is increasingly moral outrage that these sorts of things could happen in the name of so-called civilization," Overton said.