'Confused' Tiger at Zoo Goes Viral After Seeing Penguins
In nature, tigers and penguins rarely cross paths. Perhaps that is why a tiger at the Odense zoo in Denmark looked so confused when a cart of king penguins drove past his enclosure.
Footage of the uncommon encounter has gone viral on social media, with the original clip receiving over 6 million views on TikTok.
"The tiger was pretty curious," Danni Larsen, a spokesperson for Odense ZOO, told Newsweek. "He's usually not really bothered with what goes on outside his enclosure, but this got his attention."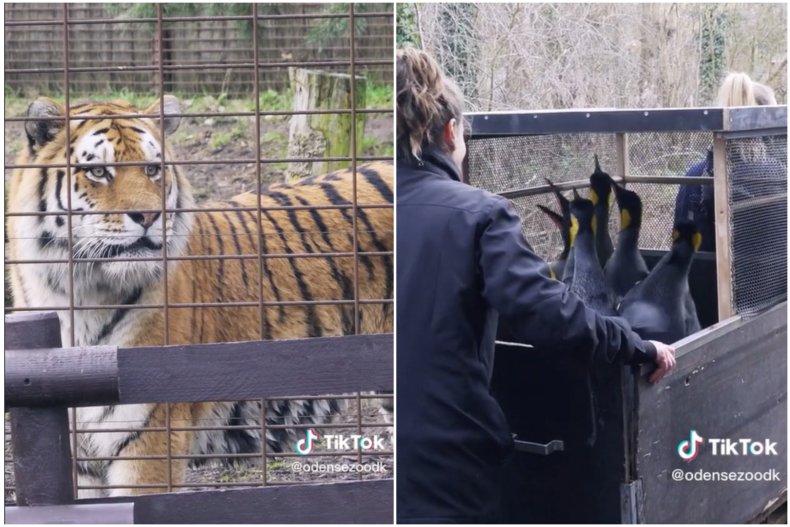 The pushcart was ferrying the birds from a temporary enclosure to the zoo's newly refurbished penguin exhibit. The move was documented on TikTok, but it was the baffled big cat that really caught people's attention.
"I've never seen a more confused tiger," commented one user.
"Bro the tiger is flabbergasted," said another.
Tigers can be found in a range of different habitats across South and Southeast Asia, China and Eastern Russia. The species is considered to be endangered and has lost up to 95 percent of their historical range, largely due to human activities, according to the World Wildlife Fund.
King penguins are listed by the International Union for the Conservation of Nature as being of "least concern" in terms of their population status. Their numbers have been increasing in recent years across large parts of their range, which stretches across the subantarctic islands of the Southern Hemisphere, including southern parts of South America.
The range of these two species do not overlap, so their only encounters occur in captivity.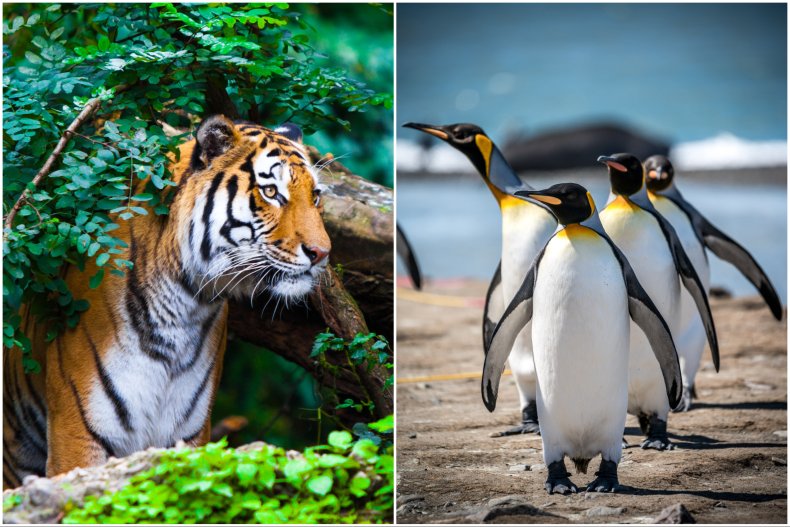 The tiger in this video, called Boris, has lived at the zoo for his entire life. "He's nearly 8 years old and what you might describe as a typical cat," Larsen said.
Although this varies between species, Larsen said that it is not uncommon for animals to show an interest in species that they would not necessarily encounter in their natural habitat. "We have seen the same when walking our ponies by our sea lions," he said. "We recently walked our ponies by our giraffes and zebras as well, and both species followed us along in their enclosures.
"Our chimpanzees on the other hand get very defensive and pretty aggressive when spotting other animals outside their respective enclosures. They are neighbors with our petting goats, which normally isn't a problem, but one of our goats got outside their pen, and that really set the chimpanzees off."
Larsen said that the zoo primarily uses social media as an educational tool and as an opportunity to share moments from behind the scenes at the zoo. "We take things a bit lighter on TikTok, where we do dabble in a meme once in a while, but our main focus remains telling the world a bit more about the animals, what goes in to taking care of them and generally just about our zoo," he said.