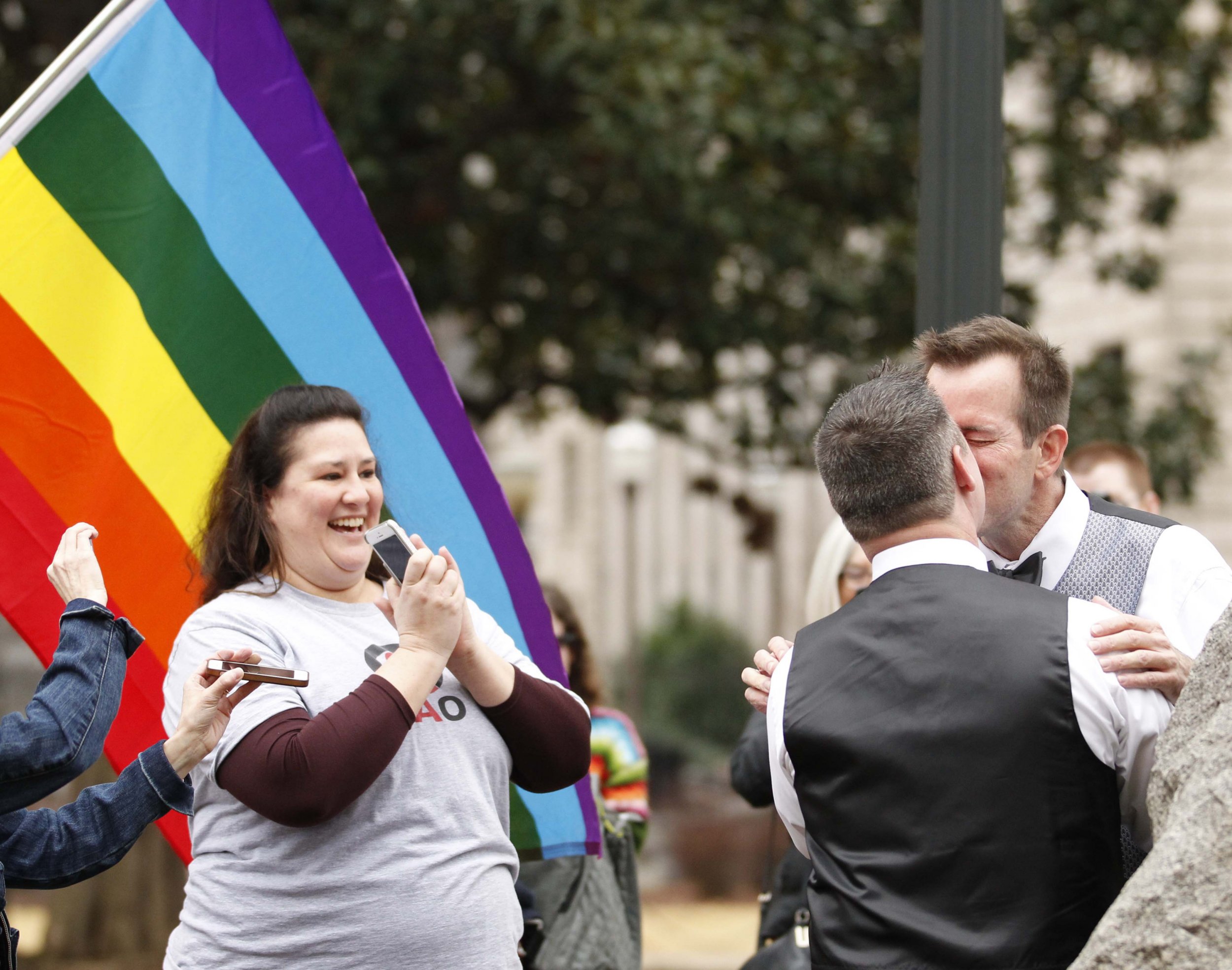 Following a January ruling in a federal district court that found Alabama's ban on same-sex marriages unconstitutional, some—but not all—of the state's judges have begun to issue marriage licenses to same-sex couples, despite a last-minute order by Alabama Supreme Court Chief Justice Roy Moore not to do so.
Alabama Attorney General Luther Strange had requested the U.S. Supreme Court stay the federal ruling until the top court resolves the issue of same-sex marriage. Its decision is expected in June. But the Supreme Court denied the stay, with Justices Clarence Thomas and Antonin Scalia dissenting. The federal ruling, issued by U.S. District Judge Callie Granade, was set to take effect Monday morning.
Moore complicated matters by issuing a memo to Alabama probate judges late Sunday night arguing that "state courts are not bound by the judicial opinions of federal district or appeals courts on questions of federal constitutional law." Only the U.S. Supreme Court can resolve disputes between state and federal courts, Moore wrote.
Legal scholars are somewhat divided about whether Moore's interpretation of the law is correct.
In Bloomberg View, Noah Feldman, a professor of constitutional and international law at Harvard, wrote that Moore's interpretation is "dangerously wrong." Feldman argues that when Alabama probate judges issue marriage licenses, they are executors, not arbiters, of the Constitution. "They aren't parallel interpreters of the document: There's no case or controversy before them," he writes. "Refusal to comply with the federal court judgment would be illegitimate resistance."
Florida State College of Law professor Wayne Logan, meanwhile, told The Wall Street Journal's Law Blog that Moore's interpretation could hold water. "[A]s a formal matter a state court need not defer to the federal constitutional holding of a federal lower court," he wrote.
Alabama's probate judges are seemingly confused about whether they should issue marriage licenses to same-sex couples. According to AL.com:
In Coffee County, Jefferson County, Chilton County and Madison County, probate judges said they will issue marriage licenses to all couples, gay and straight, on Monday morning.

Probate judges in other counties chose to follow the order issued late Sunday by Chief Justice Moore. Probate judges in Bibb County, Covington County, Cleburne County and Washington County decided not to issue marriage licenses to same-sex couples on Monday, but will still issue licenses to opposite-sex couples.
Moore is a controversial figure. A state panel removed him from his post in 2003 after he refused to comply with an order to remove a Ten Commandments monument from the rotunda of the state court building. He twice ran for governor, both times unsuccessfully, before winning reelection as chief justice in 2012.
He is also outspoken on homosexuality. "Homosexual behavior is a ground for divorce, an act of sexual misconduct punishable as a crime in Alabama, a crime against nature, an inherent evil, and an act so heinous that it defies one's ability to describe it," he wrote in 2002.