Congress Has Basically Done Nothing on Gun Control Since Sandy Hook Shooting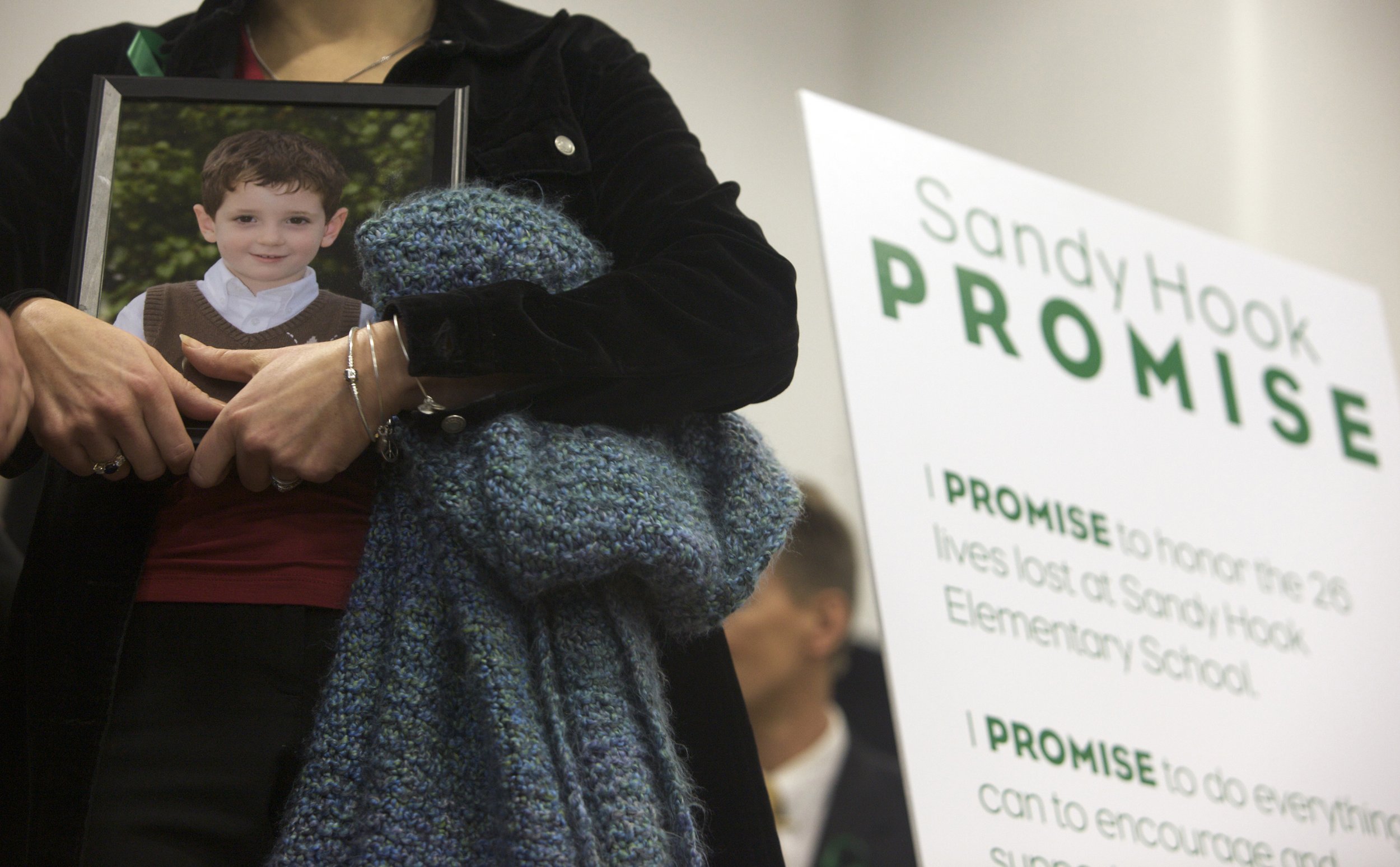 It's been almost five years since a gunman mowed down students and teachers at the Sandy Hook Elementary School in Newtown, Connecticut. But Congress has rejected just about every attempted gun safety measure since then—more than 100 all totaled, although many are duplicative—and passage is even less likely following the mass shooting in Las Vegas.
Dozens of amendments and bills have been introduced since a lone gunman walked into Sandy Hook and shot 20 children and six staff members. Most of those amendments had only modest ambitions, such as changing how gun statistics are reported or involving weapons on public lands. Because the House of Representatives has been under Republican control since Sandy Hook, few measures were proposed in that body, and none cleared committee. Most of the real action happened in the Senate, which Democrats controlled until January 2017.
The most important gun control effort came in the wake of the Sandy Hook shooting. It was a bipartisan push by two senators with strong records of supporting Second Amendment rights: Senator Joe Manchin of West Virginia, a Democrat, and Senator Pat Toomey of Pennsylvania, a Republican. They joined forces to come up with a moderate amendment that sought to steer a middle ground between reporting all gun sales between private parties—losing the so-called gun show loophole—and doing nothing.
"As under current law, transfers between family, friends and neighbors do not require background checks. You can give or sell a gun to your brother, your neighbor, your co-worker without a background check. You can post a gun for sale on the cork bulletin board at your church or your job without a background check," a press release from the senators said at the time.
"The only thing that we've asked for is that people would just read the bill. It's a criminal and mental background check strictly at gun shows and online sales," Manchin told Fox News Sunday host Chris Wallace on April 28, 2013. "I've said this: If you're a law-abiding gun owner, you'll love this bill."
Unfortunately for Manchin and Toomey, the National Rifle Association and myriad gun owners opposed the Manchin-Toomey Amendment. While it garnered 56 votes in the Senate, that was not enough, because opponents threatened a filibuster that would have required 60 votes to overcome. Among the 46 voters against the bill were four Democrats from red states that support gun rights, including Heidi Heitkamp of North Dakota, who faces a tough re-election battle next year; Mark Pryor of Arkansas and Mark Begich of Alaska, who lost their re-election bids in 2014; and Max Baucus of Montana, who retired to become the U.S. ambassador to China.
After the vote, Toomey said in a statement, "I did what I thought was the right thing for our country. I sought out a compromise position that I thought could move the ball forward on an important matter of public safety."
More sweeping legislation faltered. For instance, the Stop Illegal Trafficking in Firearms Act of 2013, on March 7 that year, sought to establish prohibitions on stand-alone straw purchasing (when one person poses as the buyer of a gun that is for someone else) and gun trafficking, and to increase related penalties. And the Assault Weapons Ban of 2013, on March 14, sought to permanently ban the further production or importation of certain semiautomatic firearms, as well as high-capacity magazines.
In the 114th Congress, which began in 2015 and ended earlier this year, no new gun control measures were passed. About the most important measure that did clear Congress was a provision in the 21st Century Cures Act that codified certain Department of Veterans Affairs procedures that address benefit claims, mental incompetency determinations and firearms transfer and possession eligibility.
In the wake of the 2015 mass shooting in San Bernardino, California, and the June 2016 mass shooting in Orlando, Florida, the Senate considered a number of measures that went nowhere. When the Senate took up the fiscal-year 2017 budgets for the departments of Commerce and Justice (as well as for "science and related agencies"), several gun control–related amendments were debated. Senator Chris Murphy, a Connecticut Democrat, offered an amendment that would have expanded federal background check requirements and captured more private, intrastate firearms transfers than under the Manchin-Toomey amendment.
While the Manchin-Toomey amendment was also filed, the Senate did not take it up. In addition, the Senate considered several other amendments that would have authorized the denial of firearms and explosives transfers to any person whom the attorney general deemed to be a "dangerous terrorist."
While some of those amendments made reference to the no-fly list, all were loosely modeled on the "Terror Gap" proposal. None of those amendments would have prohibited anyone from receiving or possessing a firearm simply because the person was on the no-fly list, a claim mistakenly but repeatedly made by many media outlets.
Now that Republicans control both houses, Congress is unlikely to pass any gun safety measures. That is likely only if Democrats can recapture both chambers next year and persuade President Donald Trump to sign them.