Congress Approves $1,400 Per Week for Federal Employees Who Stay Home With Kids Learning Remotely
Federal employees who have to stay home from work to care for a sick family member or a child whose school is closed will be able to receive up to $1,400 a week in paid leave for 15 weeks.
On Wednesday, the House of Representatives passed the American Rescue Plan Act, sending the $1.9 trillion relief package to President Joe Biden for signing. Among the provisions in the bill is the allocation of $672 million to help ensure federal employees can take time off work during the pandemic without incurring financial hardship.
As part of the Emergency Federal Employee Leave Fund, federal employees can receive up to $2,800 biweekly in paid leave. Eligible employees must be unable to work because they're quarantining, sick or are getting vaccinated; or caring for a family member who is sick or quarantining or has a mental or physical disability and can't receive their normal care because of COVID-19.
Employees could also be eligible for the paid leave if their child is either unable to attend school in person because it's closed or it has made the virtual option available to parents.
Payments are set to begin on the date the bill is enacted and run through September 30, 2021. They're capped at 600 hours and can't exceed $2,800 on a biweekly basis for full-time employees.
Under current law, federal employees have up to 12 weeks of unpaid leave as part of the Family and Medical Leave Act. Representative Carolyn Maloney, a Democrat from New York, championed the provision for not forcing federal employees to "choose between their jobs or caring for loved ones who get infected with coronavirus."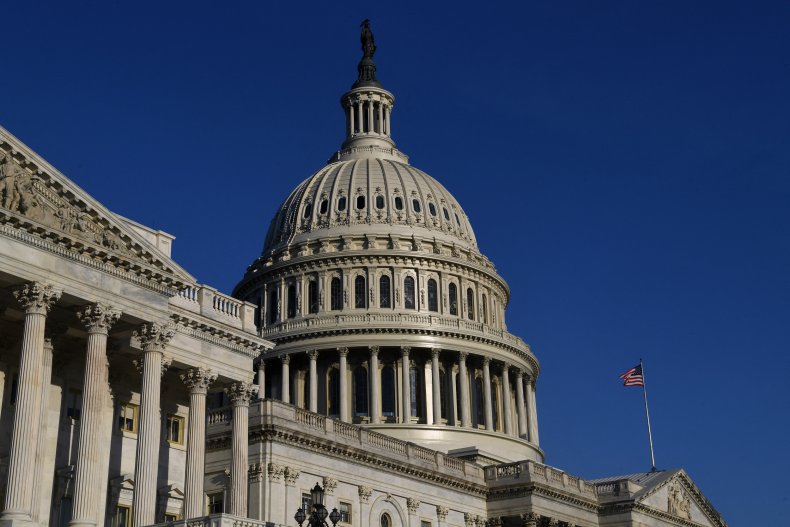 However, not everyone was as supportive of the Emergency Federal Employee Leave Fund and Senator Bill Hagerty, a Republican from Tennessee, attempted to remove it from the package. Ahead of the Senate's Saturday vote, he offered two amendments—one that would strike the funding and another that would redirect funds to FEMA for vaccine distribution. Neither received a vote.
"The fact that this was not only included but expanded only echoes Senator Hagerty's point for weeks that this legislation is a partisan, socialist wish list that had very little to do with COVID and not what the people of Tennessee deserve," Judd Deere, Hagerty's deputy chief of staff for communications, told Newsweek.
The House package allocated $659 million for three different emergency leave funds. Of that amount, $570 million was for the Emergency Federal Employee Leave Fund, which includes people in the executive branch and those employed by the United States Postal Service, Postal Regulatory Commission or the Public Defender Service for the District of Columbia and the District of Columbia Courts. Another $9 million was allocated for employees of the Federal Aviation Administration (FAA) and $80 million was granted to the Department of Veteran Affairs.
The Senate version built on the provision by adding an additional $13 million for employees of the Transportation Security Authority (TSA).
Republicans have been critical of the package for being too costly and including measures that had little to do with the pandemic or delayed funding until 2022. With Republican support seeming unlikely, Democrats passed the package on Saturday in the Senate by way of budget reconciliation, which only required them to have 51 votes in support, instead of the 60 necessary to overcome a filibuster.
The House brought the amended issue to the floor on Tuesday and passed it along party lines with all but one Democrat in favor and no Republican support.