Congress Wants to Pass a Bipartisan Bill on a New Tobacco Age Restriction—but It Won't Be Easy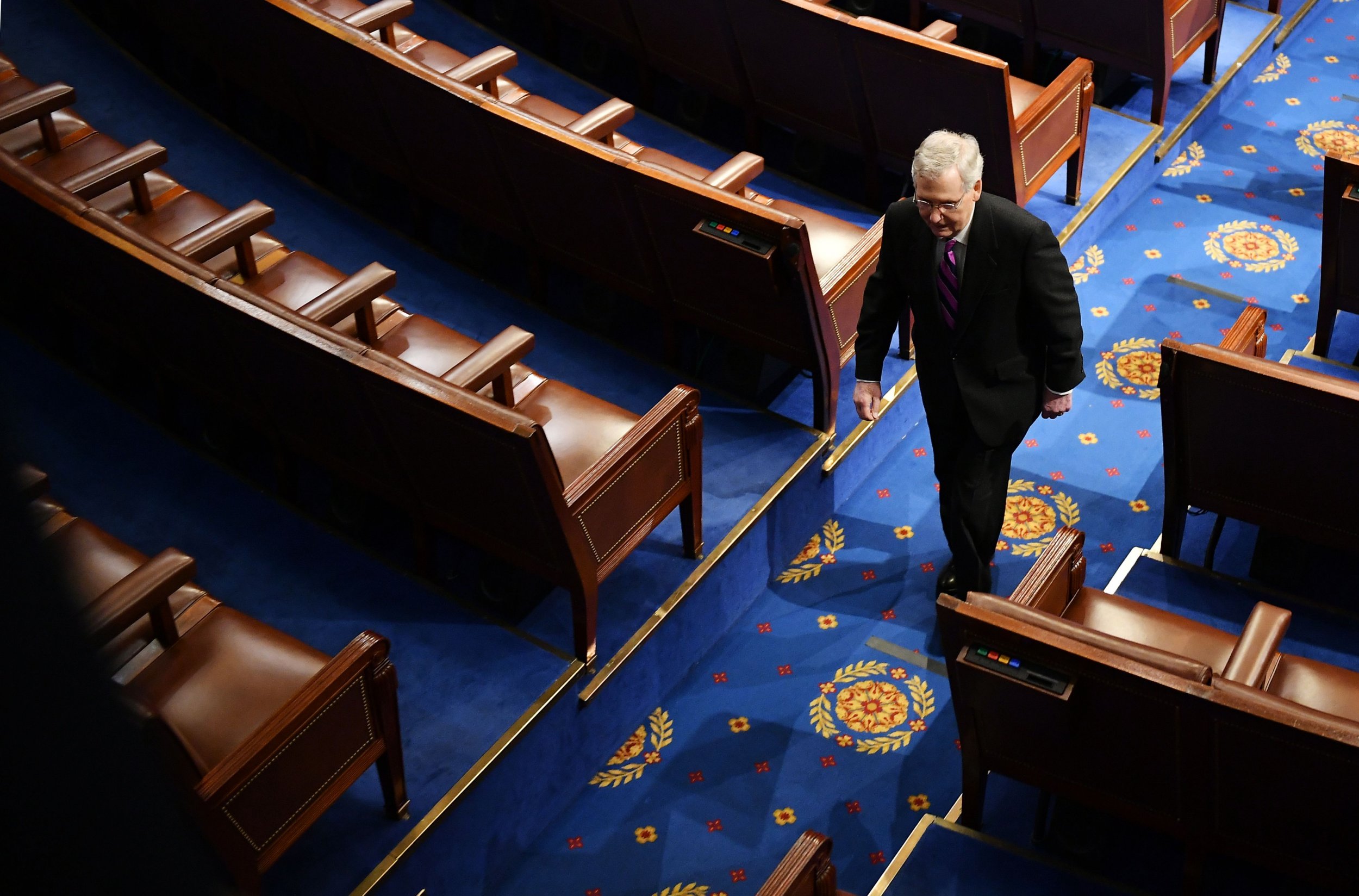 A bill aimed at curbing young people from using tobacco products could become federal law, with House and Senate leaders expressing optimism about the idea this week. But challenges persist that could defeat the bipartisan effort.
At a time when Congress seems to be at a legislative standstill—bills that House Democrats pass aren't considered by Senate Republicans and vice versa—a bipartisan proposal emerged that would raise the legal age to buy tobacco products, including vaping and e-cigarette devices, from 18 to 21.
Senate Majority Leader Mitch McConnell, a Kentucky Republican, and Senator Tim Kaine, a Virginia Democrat, unveiled a bill this week titled the Tobacco-Free Youth Act. Their states are two of the top three biggest tobacco producers in the country, according to Department of Agriculture data.
With an increasing number of teenagers using flavored nicotine devices, like Juul, on a daily basis, the two lawmakers teamed up to try to limit it. The Centers for Disease Control and Prevention estimated that in 2018, more than one in four high school students and one in 14 middle-school students used some form of tobacco, an increase from 2017 attributed to a rise in e-cigarette use.
"This is one we ought to agree on," Kaine told Newsweek. "We have made progress year after year after year in reducing youth smoking. There's been a really nice trend line going. It's been completely blown up because of vaping."
McConnell described the bill as taking "this public health crisis head-on," vowing to make its enactment "one of my highest priorities."
"We've heard from countless parents who have seen the youth vaping crisis firsthand," McConnell said in a statement earlier in the week. "By making it more difficult for tobacco products to end up in the hands of middle school and high school students, we can protect our children and give them the opportunity to grow and develop into healthy adults."
The legislation would not prohibit people between the ages of 18 to 21 from smoking or using tobacco products, only from purchasing them.
Prompted on the bipartisan measure, House Majority Leader Steny Hoyer said he was optimistic about its chances of proceeding to a floor vote in the House. He said the Energy and Commerce Committee would have jurisdiction and hold hearings on the matter, then the chamber would consider it. That committee's chairman, Representative Frank Pallone Jr., along with committee member Representative Donna Shalala, also introduced similar legislation last month aimed at reducing youth smoking rates and raising the tobacco purchasing age to 21.
"I don't smoke, and my personal belief—I tell my children and grandchildren this—is that smoking is bad for your health," Hoyer, a Maryland Democrat, told reporters. "There's no doubt about that."
For a Congress preoccupied with impeachment talks, ideological polarization is at an all-time high. But the bipartisan and bicameral interest in landing a measure on President Donald Trump's desk could allow the bill to come to fruition.
Republican and Democratic senators and representatives alike griped Wednesday about the minuscule legislative progress that either chamber had achieved in recent months.
"The Congress, certainly the U.S. Senate, isn't a doing a damn thing… The House has not tried to pass anything that has a hope in hell in the Senate. And the Senate hasn't done a damn thing except sit on its ice-cold lazy butt," said Senator John Kennedy, a Louisiana Republican, on the Senate floor. "What have we done? Other than [judicial] nominations—which are important—we have done nothing. Zero. Zilch. Nada."
Senator Dick Durbin, an Illinois Democrat, expressed a similar sentiment. "Look at this empty chamber," he said. "You're not going to hear a debate on legislation. Wouldn't you like to hear a debate on the high cost of prescription drugs?"
But a provision of the Kaine-McConnell bill could prove fatal in garnering support from Democrats.
Durbin and Senator Brian Schatz, a Hawaii Democrat, voiced serious concerns, calling on Kaine and McConnell to address the portion of the bill that would require states to raise the tobacco purchasing age to 21 or else lose federal funding for substance abuse and treatment.
"We are proud that 14 states have already done this—but forcing state action creates a dangerous loophole that gives the tobacco industry an opening to intensify their efforts at the state level to undermine strong anti-tobacco proposals, such as regulations on flavored tobacco products," the Democratic duo said in a statement. "Big tobacco's fingerprints should be nowhere near this effort."
Durbin and Schatz, partnering with GOP Senators Todd Young and Mitt Romney, unveiled a similar measure last month to "cleanly" raise the tobacco-purchasing age that did not require states to do the same.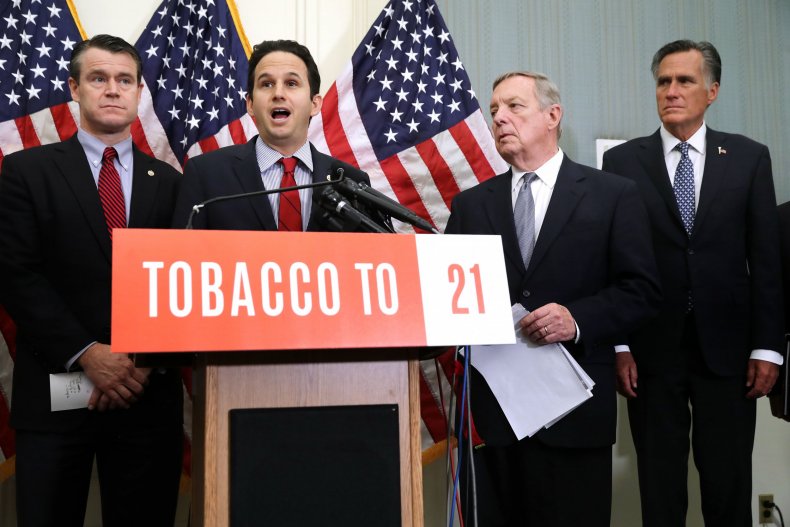 "I was puzzled by their concern. Our bill was very straightforward," Kaine said of his Democratic colleagues' apparent opposition. "Raise the federal law to 21, no carve outs for the military, no carve outs for any tobacco or tobacco-related product."
Kaine explained that he and McConnell included a "powerful incentive" for states to follow suit and pass laws to raise the age to allow local and state authorities to better enforce the law with more resources.
"If you have an administration that doesn't support enforcement of existing laws like this one, if you don't put enough resources into federal enforcement, the enforcement won't be strong," Kaine explained. "But if you put a powerful incentive for states to align their laws, then as a mayor, my local health officials are enforcing the 21. My state health officials are forcing the 21."
Should House Democrats express similar concerns as Durbin and Schatz, the measure might be doomed. Kaine said he would support his colleagues' proposal, should it be the lone option.
Neither Durbin's nor Schatz's offices responded to Newsweek's inquiry as to whether they would vote for the Kaine-McConnell bill, despite their concerns. McConnell's office did not provide an estimated timeline of when the legislation would be voted on.
Still, Kaine expressed optimism that Congress would ultimately pass some sort of legislation that would raise the tobacco purchasing age to 21.
"We ought to be able to find the greater good and do this," Kaine said. "I think the only difference is we think our bill is tougher in the sense that it will maximize enforcement."
This story has been updated to include information about a similar bill introduced in the House by Energy and Commerce Chairman Frank Pallone Jr., and committee member Donna Shalala.