As Congress Debates COVID Stimulus Bill, Poll Shows Most Residents in 4 Biggest U.S. Cities Face 'Serious Financial Problems'
While Republican and Democratic lawmakers in Washington continue to debate an economic relief bill, new polling shows that half or more of residents in America's four biggest cities are facing "serious financial problems" amid the pandemic.
The new poll by NPR, the Robert Wood Johnson Foundation and the Harvard T.H. Chan School—which was published Wednesday—zeroes in on the economic repercussions of the economic fallout from the coronavirus on residents of New York City, Los Angeles, Chicago and Houston. In all of the cities, half or more of respondents reported that they were facing serious financial problems, while greater percentages of Black and Latino residents are facing economic hardships, compared with white residents.
In New York City, 53 percent of households reported major economic difficulties during the pandemic. That included about one-third (34 percent) who said they were forced to fully deplete their savings. Among racial groups, nearly three-quarters (73 percent) of Latinos said they faced serious financial problems, while 62 percent of Black residents and just 36 percent of white residents said the same. Perhaps unsurprisingly, households earning less than $30,000 annually were hit the hardest, while nearly 60 percent of those earning less than $100,000 reported major economic concerns.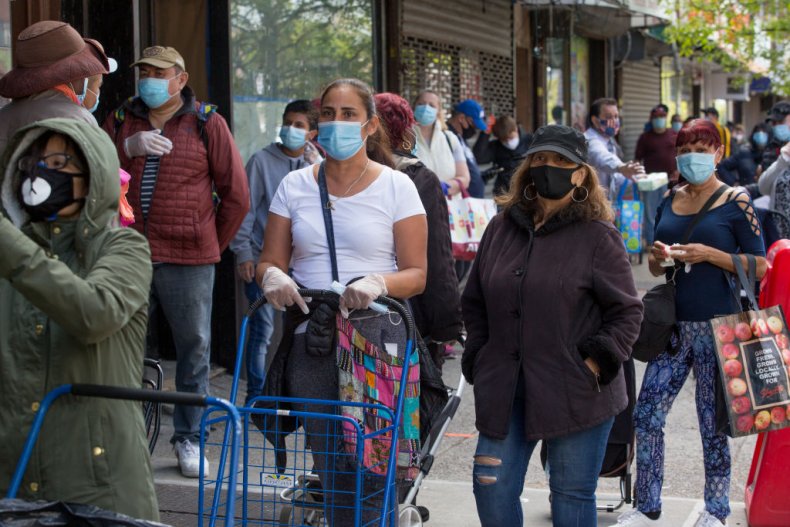 The overall level of those facing serious financial problems was slightly higher (56 percent) in Los Angeles. Again, Black and Latino residents were more likely to report major economic concerns than white residents. While 71 percent of Latino and 52 percent of Black residents experienced serious financial difficulties, just 36 percent of white residents reported the same. In terms of income, economic concerns were the most pervasive in lower-income households—with nearly 80 percent of those earning less than $30,000 facing serious problems.
In Chicago, the situation was slightly better, but still fully half of residents said they faced serious financial problems. While a third of white residents had major economic concerns, 69 percent of Black and 63 percent of Latino residents faced serious financial hardships. Again, annual household income correlated strongly with economic concerns, as nearly three-quarters (74 percent) of those earning less than $30,000 said they were struggling.
Houston residents appeared to be struggling the most financially, with more than six in 10 (63 percent) saying they faced serious financial hardships. This included 81 percent of Black residents, 77 percent of Latino residents and just over a third (34 percent) of white residents. Over half of households earning less than $100,000 per year said their economic problems were serious, while 86 percent of those earning less than $30,000 annually said the same.
Robert Blendon, a poll co-director and executive director of the Harvard Opinion Research Program at the Harvard Chan School, predicted that the negative economic fallout on city residents would "get worse."
"This is what I would expect without a national emergency relief bill," Blendon told NPR. "We had a $2 trillion relief bill [in March] to lift people up and put a pillow under them. But it is not helping nearly as many people as we had expected."
Congress came together on a bipartisan basis in March to pass the $2 trillion CARES Act, which provided most Americans with $1,200 one-time direct payments and an extra $600 in weekly unemployment payments. Economists have credited these actions, along with the Paycheck Protection Program and actions by the Federal Reserve, with stabilizing the economy amid historic unemployment. But the extra unemployment payments expired at the end of July.
In May, the Democratic-controlled House of Representatives passed the $3 trillion HEROES Act, which would have continued the $600 unemployment payments and sent out another round of $1,200 stimulus checks. Although many Republicans and the White House supported another round of direct payments to Americans, they balked at other parts of the legislation, including its high price tag and the additional federal unemployment benefit.
Republicans, led by Senate Majority Leader Mitch McConnell, then revealed the relatively more modest $1 trillion HEALS Act in July. It included $1,200 direct payments but reduced the level of weekly federal unemployment payments. GOP lawmakers have criticized the extra unemployment funding, arguing that it disincentives Americans from returning to work. But an analysis by the Economic Policy Institute, using data from the Bureau of Labor Statistics, showed that there were less than half as many job openings as there were unemployed workers by the end of July.
McConnell said Tuesday that the Senate, which is controlled by Republicans, will vote Thursday on a slimmed-down—or "skinny"—relief bill, which will be even more modest than the $1 trillion proposal put forward in July. Democrats have already rejected the legislation, arguing that GOP lawmakers should meet them in the middle and pass a $2 trillion bill instead. Meanwhile, millions of Americans remain unemployed and a growing number are concerned about the possibility of eviction, while many struggle to even afford food.