Congress Debates Second Stimulus Checks, Unemployment Payments This Week—Here's Everything We Know
With legislators back on Capitol Hill, discussions about stimulus checks, expanded unemployment and return-to-work incentives are set to resume as lawmakers iron out the next coronavirus relief package.
Congress is back in session today and top officials on both sides of the aisle are expecting the fifth and possibly final stimulus package to be passed before the August 3 recess begins. The Trump administration is open to another round of stimulus checks for individuals and helping those who are still unemployed, but they're holding a firm line that they're contingent on pro-growth measures that incentivize America's workforce.
White House Chief of Staff Mark Meadows told Fox Business' Maria Bartiromo that there will be an "additional thrust" on protecting employers and employees. The administration is still eyeing the "trillion-dollar range" for the next bill's price tag that could include expanded unemployment benefits, Meadows said.
The unanimous passing of the CARES Act in March expanded unemployment benefits to include an additional $600 per week until the end of July. With more than 17 million people still unemployed, Treasury Secretary Steve Mnuchin indicated it's likely the extra help will continue, although it's unlikely to be of the magnitude that it was up until its expiration.
Mnuchin told CNBC on July 9 the "technical" problem allowed some people to receive more from unemployment than they did in their paycheck. That would be fixed this time around, and a good assumption was that benefits wouldn't make people entirely whole for what they lost.
"Enhanced unemployment is intended for people who don't have jobs, particularly in industries that are harder to rebound," Mnuchin said. "We'll figure out an extension that works for companies and works for those people who will still be unemployed."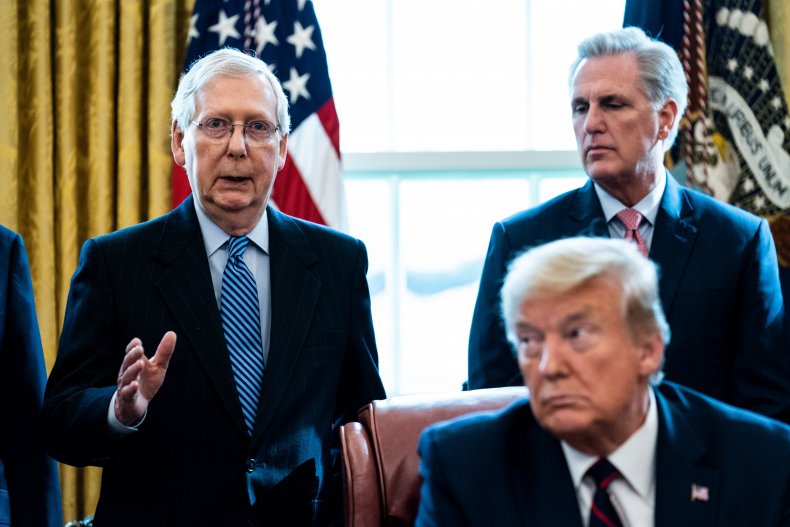 Meadows echoed the need to balance helping people who are still unemployed "without a disincentive to return to work" on Sunday and said the administration is also looking at a payroll tax cut. He didn't share specific details on whether it would be a full cut or how long the administration wants the measure to be in place, but not having it in the bill could be a deal-breaker for President Donald Trump.
"I want to see it," Trump told Fox News' Chris Wallace on Sunday. "I would consider not signing it without a payroll tax cut."
Trump's desire for a payroll tax cut is no surprise, as the president has been pushing it as a possibility since before the CARES Act was signed.
"As he has done since the beginning of this pandemic, President Trump wants to provide relief to hardworking Americans who have been impacted by this virus and one way of doing that is with a payroll tax holiday," White House deputy press secretary Judd Deere told Newsweek. "He's called on Congress to pass this before, and he believes it must be part of any Phase Four package."
Democrats criticized payroll tax cuts for failing to help those who are unemployed, and Senator Ron Wyden told Forbes that Democrats will "oppose this with everything we have."
Speaker of the House Nancy Pelosi expects a deal to be reached before the August 3 recess begins, three months after the House of Representatives passed the HEROES Act. Only one Republican voted in favor of the act, which would extend unemployment benefits until January and send out another round of stimulus checks.
Under the HEROES Act, a second direct economic payment would largely be a replica of the first round. But, instead of receiving additional money for children, it would increase payments to all eligible dependents and increase the amount from $500 to $1,200 with a $3,600 cap.
Trump and other high-ranking GOP members called the bill "dead on arrival" and experts told Newsweek the $1 trillion limit on the next relief package poses a problem for stimulus checks.
"If there is an arbitrary $1 trillion ceiling then likely there would still be room for an additional round of stimulus checks, but the income cut-offs would have to be lower than the last round," Jason Furman, the former chair of President Barack Obama's Council of Economic Advisers, told Newsweek.
Instead of an income cutoff of $75,000 for individuals, as was the case under the CARES Act, the second round of checks could be more targeted. Senate Majority Leader Mitch McConnell said checks could go to those earning $40,000 or less. It's also possible the amounts could be less than they were the first time around, according to White House economic adviser Larry Kudlow.
During a press conference on Wednesday, Pelosi said unemployment benefits are tied to stimulus checks. She said they have to see what the "entire package looks like" and compromising on unemployment benefits "depends on what they're willing to do on the direct payments as well."