Congress Finally Helps Small Businesses Get Loans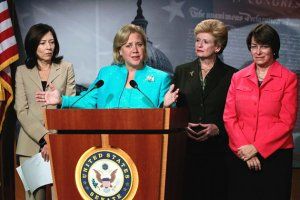 While the government delivered giant loads of cash to America's biggest banks at the height of the economic crisis, the credit needs of small businesses were largely ignored. Congress likes to remind America—usually around election time—that entrepreneurs are the engine of the nation's economy. But over the past two years, the capital to keep that motor running has dried up, as banks have retreated from lending.
Two years after the start of the crisis, the Senate today voted, for the first time since the meltdown, to put money up for borrowing by small businesses. The fund would offer guarantees to banks that make loans to companies with 500 or fewer employees . "It's better late than never," Chuck Marr, director of tax policy at the Center on Budget and Policy Priorities, told NEWSWEEK.
The $30 billion is not exactly the kind of largesse offered to the big banks, which received $700 billion. But it's a start to getting capital back into the hands of entrepreneurs, who were iced out since the crisis began, Marr says.
The money may or may not end up helping the little guy, however. "The devil is in the details," Ed Rogoff, a professor of entrepreneurship at Baruch College, says. "A lot depends on how the rules get written."
Rogoff says that banks could well just end up using the money to shore up their bottom lines. All they would need to do is swap the new government money with small-business loans they are already making. "They can just put the government's money in and pull their own money out."
Congress Finally Helps Small Businesses Get Loans | U.S.