Who Broke Congress? Dennis Hastert, Former Speaker, Breaks Two-Year Silence to Deny Role in Gridlock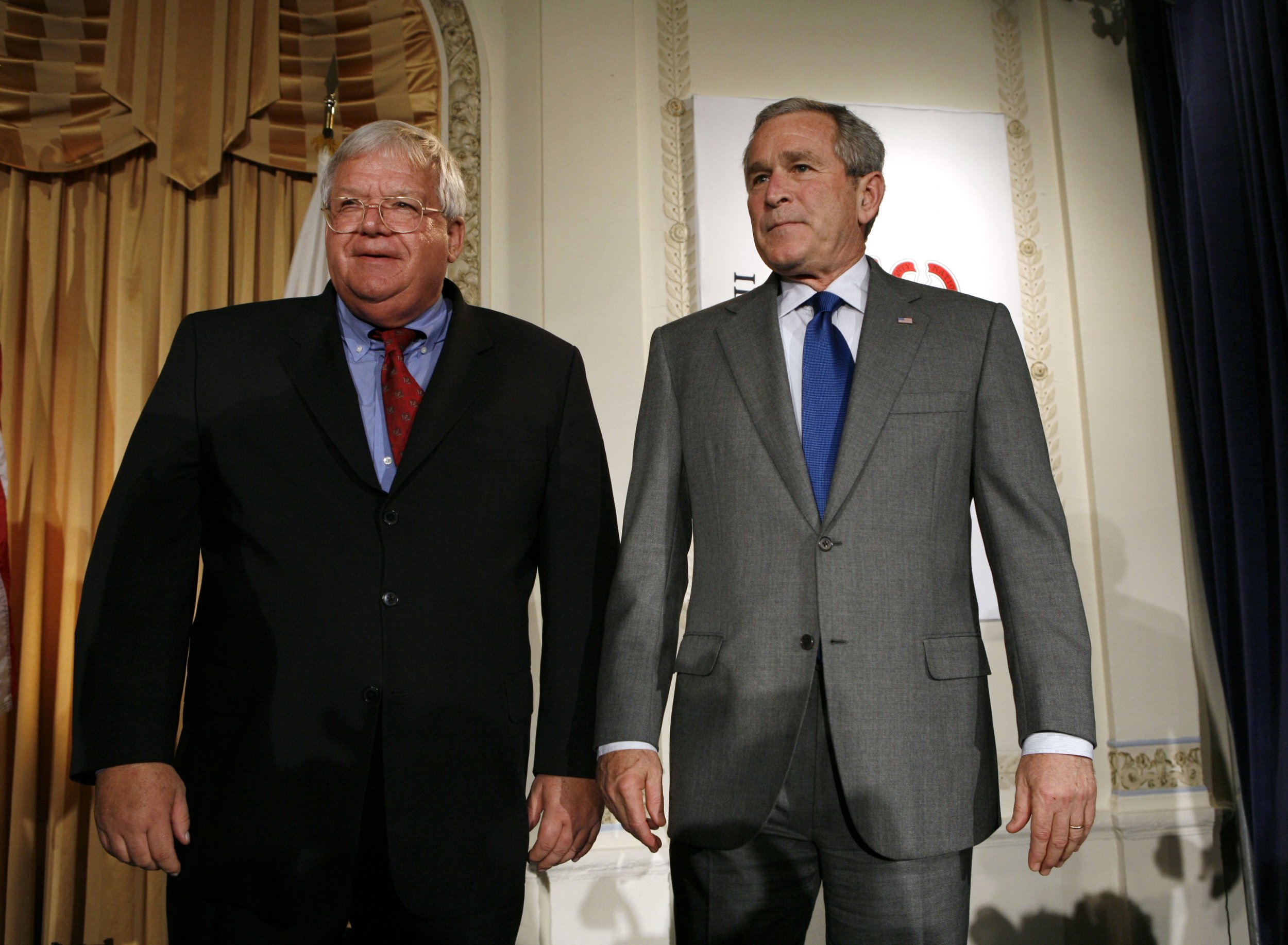 In 1978, E.J. Dionne Jr. was a young reporter covering New York state politics in Albany. That same year, a young historian from Georgia finally won a seat in the House of Representatives, after two failed attempts. His name was Newt Gingrich.
Gingrich's victory could be attributed to his newly combative style, which he'd revealed at a speech before a group of College Republicans in Atlanta the summer before his electoral victory. "I think that one of the great problems we have in the Republican Party is that we don't encourage you to be nasty," Gingrich told the young conservatives gathered at the Holiday Inn. "We encourage you to be neat, obedient and loyal and faithful and all those Boy Scout words, which would be great around the campfire, but are lousy in politics."
Nearly 40 years later, Dionne is a columnist for The Washington Post, while Gingrich is a TV pundit and lobbyist, having left public service after serving as the speaker of the House. As far as Dionne is concerned, Gingrich defined his legacy—and that of the Republican Party as currently constituted—with the brand of incivility and intransigence he introduced in that 1978 speech. It is the blustery Georgian who helped Congress reach the approval rating it has today: 16 percent.
"He got there with a kind of scorched-Earth politics against Democrats," Dionne told me in a recent conversation, recalling Gingrich's arrival in Congress. That hostility has metastasized, so that the "core appeal" of Republicans today, Dionne says, is that it is "anti-government." That has made it rather difficult to govern, as the past nine months have shown. Unless, of course, governing was never really the point. If so, Gingrich has helped create a permanent opposition party.
This dismay over the GOP future's is widespread—and only growing, especially among those once proud to call themselves Republicans but more recently ashamed of that affiliation. Last month, Charles Sykes, the conservative radio host from Wisconsin, wrote in a Newsweek essay that "if Reagan were alive, he would hardly recognize his party." Sykes, author of the new book How the Right Lost Its Mind, argues that "signs of deep dysfunction in the conservative ranks" began to manifest with Patrick Buchanan's nativist, proto-Trumpian presidential campaign of 1992.
But perhaps even more than xenophobia, what propelled Donald Trump to power was an alienation from government, a conviction that Washington was but a scrum of self-interested do-nothings.
This fall, Dionne, Norman Ornstein and Thomas Mann published One Nation After Trump: A Guide for the Perplexed, the Disillusioned, the Desperate, and the Not-Yet Deported. Authored by three sober thinkers who long for a time when politics was conducted with dignity, it is a bracing indictment of Trumpism, as well as of the forces that allowed the Manhattan real estate developer to win the White House. And while those forces are many, among the most powerful was a Congress that abdicated its role in governing and became an institution hijacked by extremists who used inaction as a weapon.
Dionne and his co-authors blame two men for the dysfunction of Congress. The pioneer was Gingrich, who was House speaker from 1995 until 1998. The other guilty party, according to One Nation After Trump, is J. Dennis Hastert, the Illinois Republican who succeeded Gingrich and was speaker from 1999 until 2007.
Gingrich seems, in retrospect, an unlikely ideological warrior. Before turning to politics, he was a doctoral candidate at Tulane University and wrote a dissertation—"Belgian Education Policy in the Congo: 1945–1960"—somewhat more sophisticated than the partisan bluster he eagerly spouts on Fox News today. However, as Dionne & Co. write, Gingrich understood that the courtly Republicanism of men like Nelson Rockefeller was all but dead in the post-Watergate era. It had probably died with the 1964 presidential nomination of Arizona Senator Barry Goldwater, who at the Republican National Convention in San Francisco that year articulated what has served as the creed for all too many Republicans since then: "Extremism in defense of liberty is no vice. Moderation in pursuit of justice is no virtue."
According to One Nation After Trump, Gingrich instilled in Congress the "hyperpartisanship that came to characterize national politics." Moreover, he revived the anti-intellectual style in American politics, teaching his members to be suspicious of experts and their facts, to treat skepticism as a weapon instead of a tool. The book notes:
Although he had a deep interest in science, Gingrich also launched an attack on the use of science and facts in public policy that would be picked up by other Republican politicians in the years to come.... As Speaker, Gingrich abolished the Office of Technology Assessment, a blue-ribbon congressional agency that had been established for scientists to offer objective analysis on issues ranging from defense and space to climate and energy. The new majority defended shuttering the Office's doors as a cost-saving measure, and it was part of Gingrich's larger (and more successful) effort to centralize power in the Speaker's office. But the move also sent a message that ideological commitments would trump evidence.
Gingrich did not respond to a half-dozen Newsweek requests for comment made to his media company, Gingrich Productions. But in his recent book, Understanding Trump, Gingrich describes his tenure as speaker as follows: "Listen, learn, help, and lead."
Gingrich caused government shutdowns in both 1995 and 1996. The first of these infamously resulted from Bill Clinton not visiting with Gingrich aboard Air Force One during flights to and from Israel. The New York Daily News captured the incident in a famous cover that showed Gingrich as a mewling infant, with "Cry Baby" as the cover line. Gingrich does not mention the incident in his new book.
Gingrich stepped down as speaker in 1998, after an investigation regarding violation of congressional ethics rules. "I'm willing to lead, but I'm not willing to preside over people who are cannibals," he said at the time. Early the following year, a 57-year-old representative from Illinois, Dennis "Denny" Hastert, assumed the seat vacated by Gingrich. "Solutions to problems cannot be found in a pool of bitterness," he said upon being sworn in.
According to the authors of One Nation After Trump, Hastert never made a genuine bid for bipartisanship. Indeed, he is known for a parliamentary tactic that bears his name, and which many blame for today's agree-to-never-agree mood on Capitol Hill:
[The] House transformed itself into an arm of the executive, creating a custom that became known as the "Hastert Rule." Closing off the option of broad bipartisan coalitions in support of legislation, the "Rule" declared that the House would now rely only on Republican votes to pass bills, and they would reach the floor only if they secured a "majority of the majority."
On some level, the Hastert Rule seems almost intuitive, the leader of the party seeking the party's consent: "simply common sense," his predecessor Gingrich called it in 2015. But whether it's an informal understanding or an unspoken mandate, the Hastert Rule has put intra-party cohesion over inter-party agreement.
That can pose problems if the ruling party is fractured. Although there are 240 Republicans in the House today, about 30 of them belong to the far-right Freedom Caucus, founded in 2015 in recognition that a growing number of legislators owed more to the populist Tea Party movement than they did to the Republican National Committee. The group's mission statement said it would offer a "voice to countless Americans who feel that Washington does not represent them." Several months later, as he accepted the Republican nomination for the presidency, Trump would promise the "forgotten Americans" who constituted his base something strikingly similar: "I am your voice."
The Freedom Caucus is kind of proof of concept for Dionne, Ornstein and Mann, its members combining Gingrich's rhetoric with Hastert's parliamentary tactics. Without the votes the Freedom Caucus brings, House Republicans cannot pass legislation on their own. That gives this stubborn clan undue influence with House Speaker Paul Ryan of Wisconsin, who knows he must satisfy his fringe instead of fostering a consensus of moderates from both parties. That allows the Freedom Caucus—and any ideologically pure future faction—to subvert the Hastert Rule and turn it into what the political scientist Frances Lee calls "a minority veto" over the majority party.
That explains why the House frequently passes bills too extreme for the Senate, where compromise is generally more possible and moderation at least lingers, even if it doesn't quite rule. "We passed 337 bills in the House," Ryan complained to Fox News in late September. "We haven't gotten them over the finish line in the Senate. Is that frustrating for the House? You bet it is frustrating for the House." It must be similarly frustrating to the Senate to have that finish line drawn by the Freedom Caucus.
Reached recently by phone, Hastert disputed this characterization of his time as speaker. He was released from federal prison last summer after serving a 13-month term for violating banking laws in making payouts to a boy he admitted to sexually assaulting when he was a wrestling coach at a Yorkville, Illinois, school.
Hastert told me that he hadn't spoken to the media in two years and was therefore rusty in his jousting with journalists. He nevertheless strongly countered suggestions that he was responsible for crippling Congress. "The Hastert Rule wasn't a rule," he says, but a tacit agreement. "Before we brought anything to the floor, we had the votes to pass it." That included appeasing the libertarian Ron Paul of Texas, as well as "conservative guys" like Ryan and Indiana's Mike Pence, today the vice president.
"We had a very thin majority," Hastert recalls, making such vote counting less a symptom of legislative breakdown than a practical matter. Never in his time as speaker did he have more than 231 Republicans to count on; in the early years of the George W. Bush presidency, he had only 221. He notes also that House Minority Leader Nancy Pelosi, a California Democrat, had a "my-way-or-no-way" approach that made collaboration impossible. "She worked hard to keep her members off any legislation that we had," he said.
Still, Hastert says that his record is one to be proud of, citing the prescription drug subsidy known as Medicare Part D and the tax cut package favored by President George W. Bush. In the summer of 2003, Congress had an approval of 50 percent, according to a Gallup poll. But a number of sex scandals—including, most notoriously, one involving congressional pages and Representative Mark Foley, a Republican from Florida—tarnished that reputation.
"We did move stuff," Hastert says in his own defense. He also echoes Ryan's (and Trump's) complaints about the presumably more august chamber of Congress: "The Senate has lost some of its congeniality as well."
What hasn't these days? Hastert does have a point, though. Senate Majority Leader Mitch McConnell's refusal to hold hearings for Judge Merrick Garland, an Obama nominee for the Supreme Court, is evidence that legislative constipation is a bicameral affliction. McConnell, Republican from Kentucky, has taken to using budget reconciliation, which requires only 51 votes, to pass legislation. Even so, his long-sought repeal of the Affordable Care Act failed because three Republicans voted with the Democrats over the summer.
"I would never have brought the vote to the floor without knowing I had the votes to pass it," Hastert says, "unless of course I didn't care if it passed or not."
Congress is a 228-year-old institution of 535 individual members of clashing values and agendas. That makes blame difficult to apportion. Julian Zelizer, a political scientist at Princeton, says the rot in Congress preceded Gingrich. "Some of the problems underlying the gridlock—the influx of private money into our campaigns, the changes in the news media and the heightened power of partisan leaders—came out of the 1970s, not the 1990s. So we need to be careful pinning too much blame on them without thinking about the institutional changes that create our modern mess," he says.
Gingrich and Hastert may be swamp creatures, in other words, but so is any other politician who has taken a meeting with a lobbyist or engaged in legislative pork-barreling.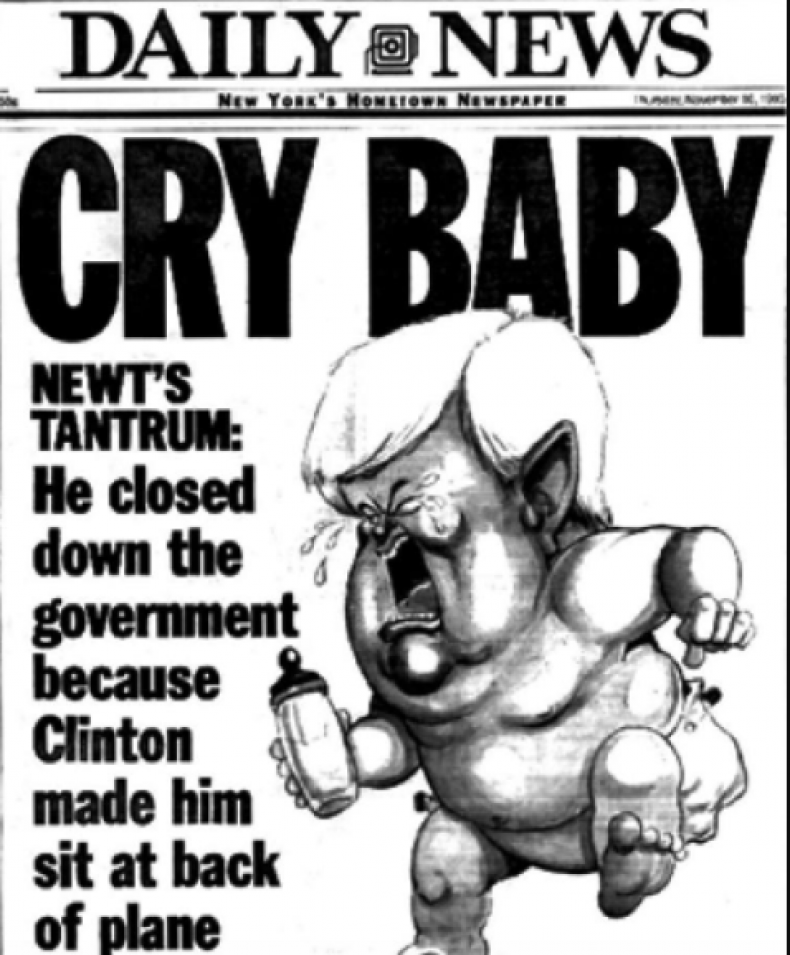 The authors of Life After Trump know Washington too well to confine their critique to two men, even if they believe Gingrich and Hastert exercised an inordinately malevolent influence on Congress. There have been others too, and plenty of them. Dionne and his co-authors point to a famous statement with which McConnell greeted the new occupant of the White House in 2009: "The single most important thing we want to achieve is for President Obama to be a one-term president."
McConnell failed in the regard—and Congress failed with him. It keeps failing still.