Congress Antitrust Hearing Livestream: How and When to Watch Tech Titans Zuckerberg and Bezos Get Grilled
Four of the most powerful figures in the U.S. tech and social media scenes will appear before a House subcommittee today, facing fresh questions as part of a year-long investigation into their market dominance.
The congressional hearing will include Amazon CEO Jeff Bezos, Alphabet CEO Sundar Pichai, Facebook CEO Mark Zuckerberg and Apple CEO Tim Cook.
Announced in June 2019—and spearheaded by the House Judiciary Subcommittee on Antitrust, Commercial and Administrative Law—the members have been tasked with analyzing how each company uses, or exploits, their position to compete.
It will examine if the vast tech firms are engaging in any anti-competitive conduct and assess if existing U.S. laws are enough to keep up with their practices.
Broadly, antitrust legislation aims to promote fair business by stopping companies from abusing dominance over an industry to force out smaller competitors.
It's not often that the four billionaire technology titans gather in the same place, and even if it had to be held remotely to adhere to social distancing guidelines during the ongoing COVID-19 pandemic, you can still watch along via a live stream.
Here's what you need to know:
Who: As mentioned, the hearing will feature testimony and responses from the heads of some of the major technology and social media companies, consisting of the bosses of Amazon, Facebook, Google and Apple. Twitter is not included, for now.
What: On paper, antitrust may not sound like the most exciting topic. However, each of the companies' are well-known for taking full advantage of their crowns to dominate in their respective fields, be it online retail, social media ideas or advertising dollars. Today, the CEOs will be asked to justify themselves publicly, a rare occurrence.
When and where: After a slight delay due to the passing of Rep. John Lewis on July 17, the hearing will now take place today at 12 p.m. ET (4 p.m UTC). It will be held remotely, and is available to watch online on the Judiciary Committee website and YouTube.
Why? Amazon, Facebook, Google and Apple are giants, and as a result have been hit with claims of antitrust violations in the past. As reported by The Verge, the politicians are likely to seek answers on Google's dominance of the advertising world, Facebook's purchases of apps such as WhatsApp and Instagram, Apple's policies on its App Store marketplace and Amazon's widespread use of external third-party sellers.
The testimonies of Bezos, Pichai, Zuckerberg and Cook have now been added to the House Judiciary website, showing a rough outline of their stances.
There's little doubt the companies have deep pockets. The following graphic, provided by Statista, shows how their lobbying spending has surged amid antitrust scrutiny.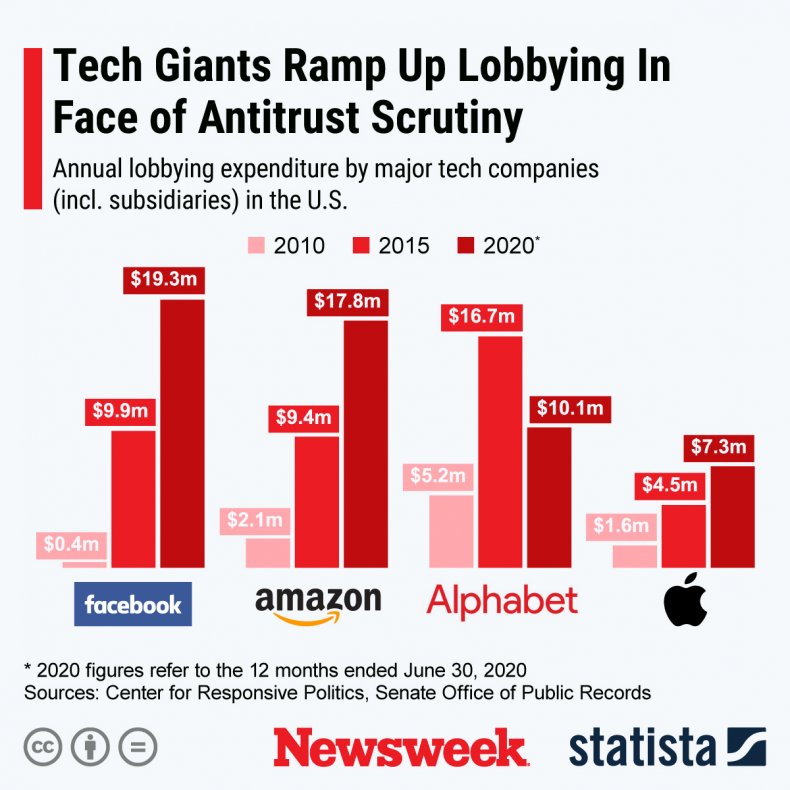 "Since last June, the Subcommittee has been investigating the dominance of a small number of digital platforms and the adequacy of existing [U.S.] antitrust laws and enforcement," House Judiciary Committee's chairman Jerrold Nadler and Antitrust Subcommittee chairman David Cicilline said in a joint statement.
"Given the central role these corporations play in the lives of the American people, it is critical that their CEOs are forthcoming," the joint statement added. "As we have said from the start, their testimony is essential for us to complete this investigation."