Congress May Be Too Busy to Impeach Attorney General Bill Barr, Says Senator
Cries for the impeachment of Attorney General William Barr have grown among some Democrats following the revelation that he received a letter from special counsel Robert Mueller stating that Mueller disagreed with Barr's conclusions that President Donald Trump had been cleared of obstruction of justice.
On April 10, about three weeks after Barr received the letter and had a follow-up phone call with Mueller, the attorney general testified to Senator Chris Van Hollen that he did not "know whether Bob Mueller supported my conclusion."
More calls for impeachment or for Barr to resign followed his second hearing in front of the Senate on Wednesday, when the attorney general admitted that he did not look at the underlying evidence of Robert Mueller's report on Russian meddling in the 2016 election before drawing his conclusions.
In a phone interview with Newsweek, Van Hollen had harsh words for Barr, but he said that he did not know if impeachment was the best route at the moment.
"The House will have to look at his series of statements and make a determination about how to proceed," he said. "They have so much on their plate in the House. There are so many examples of misconduct by members of this administration that they're going to have to prioritize."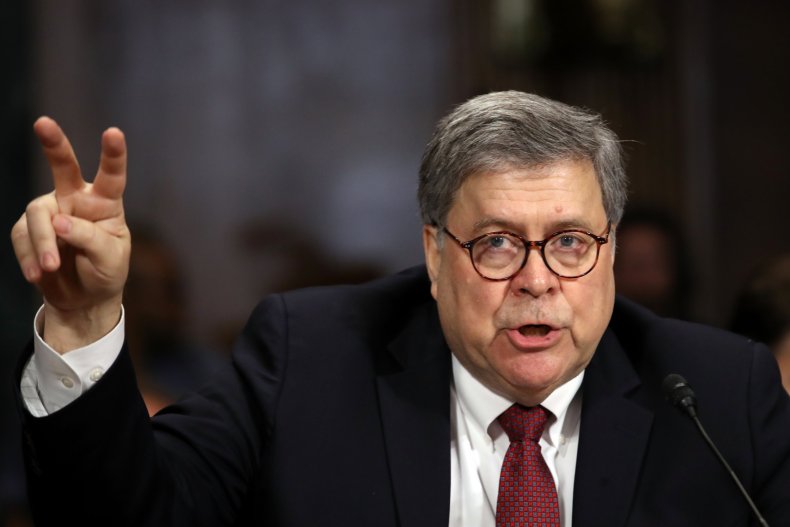 No attorney general has ever been impeached, and any impeachment efforts by Congress would be complicated and resource-sucking: The process is nearly identical to the impeachment of a sitting president.
House Speaker Nancy Pelosi made similar remarks, although about the possible impeachment of President Donald Trump, at the Time 100 Summit in New York last week. Impeachment proceedings, she said, would overwhelm the Congress and eat up any time that could be spent passing valuable legislation. Pelosi indicated that she would prefer to delegate investigations into the president and his administration to the judiciary committee for the time being but that if those investigations led to impeachment, then so be it.
Pelosi and Senate Minority Leader Chuck Schumer met with President Donald Trump this week and agreed to begin discussions of a bipartisan $2 trillion infrastructure bill.
Still, Van Hollen had harsh words for the attorney general, and outlined how Democrats could use what he saw as missteps in the 2020 elections. "This is an issue of protecting the role of the office of the attorney general and protecting integrity," he said. "I think every American regardless of political party wants to have confidence in whoever is in that office, and believes that they should be a fair administrator and should not be spokesperson for the president."
Barr, said Van Hollen, "appears to be evasive, the issue here is his pattern of making misleading and deceptive statements. The public is seeing that time after time, the attorney general is making deliberately misleading statements, providing people with different narratives, and just clearly being dishonest."