Congress Hits Lowest Coronavirus Approval Rating As Death Toll Nears 100,000: Poll
U.S. lawmakers saw their coronavirus approval rating fall to its lowest level as the country's COVID-19 death toll rose toward 100,000 over the last week, new polling data shows.
The latest survey data published by Morning Consult on Tuesday found that 40 percent of U.S. voters approved of how Congress was handling the COVID-19 pandemic.
By comparison, a little under half (47 percent) said they disapproved of the way federal lawmakers had reacted to the outbreak—putting their net disapproval rating at 7 percentage points.
According to Morning Consult, the negative rating is Congress' lowest since the pollster began its daily coronavirus tracking polls on March 1.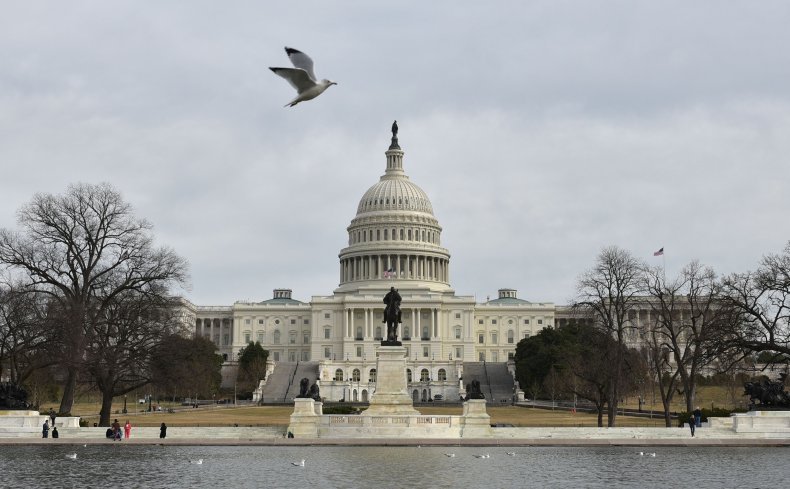 Congress' coronavirus approval rating is also down by four points on May 17, when federal lawmakers were found to have a net disapproval rating of 3 points.
The new Morning Consult poll surveyed 2,200 U.S. adults between May 21 and May 25—when the American coronavirus death toll topped the 98,000 mark.
Congress was not the only federal institution to see its coronavirus approval rating decline in the new poll.
According to the fresh data, the Centers for Disease Control and Prevention (CDC) has seen net approval of its handling of the pandemic drop to 46 points.
When U.S adults were polled by Morning Consult on April 19, the CDC had a net approval rating of 66 percentage points, and peaked at a 70-point net approval rating in March.
President Donald Trump and Vice President Mike Pence have seen their coronavirus approval numbers boosted in the new poll, with Pence turning his 2-point net disapproval rating into a 4-point approval ranking.
Trump's net disapproval rating bounced from negative seven points on May 17 to minus six points on May 25.
However, the commander-in-chief's overall disapproval rating continued to climb earlier this week, reaching it's highest level since mid-January on Tuesday as the U.S. coronavirus death toll mounted.
U.S. deaths resulting from COVID-19 infections reached 98,929 as of Wednesday morning, according to the Johns Hopkins University coronavirus tracker.
The number of overall confirmed cases of the illness in the U.S. stood at more than 1.6 million, with 384,902 people reporting total recoveries from the disease.
Newsweek plans to honor those Americans who have died as a result of the novel coronavirus by holding 100 seconds of silence in its newsroom at noon Eastern Time today.
Those wishing to join the commemoration can spread the word using the hashtag #100SecondsOfSilence.
The graphic below, provided by Statista, illustrates the number of confirmed COVID-19 cases in the U.S. by state as of May 27, 2020.