Congress Must Help States Avoid a Perfect Storm Looming Over November Election | Opinion
Absentee ballots that never arrived in Washington, D.C. and Maryland. Closed precincts in Wisconsin. Week-long vote counting in Pennsylvania. And in Georgia, six-hour waits and defective machines. All of this flies in the face of America's democratic traditions.
The litany of problems states have had with their elections during the COVID-19 pandemic does not bode well for the November election. And we will continue to see problems unless Congress acts—swiftly—to help states with funding to make sure every eligible American can safely exercise his or her right to vote.
A perfect storm is developing before our eyes. If states and localities do not have the resources to properly prepare for the 2020 election, we will see widespread chaos, perhaps resulting in an election result viewed as illegitimate. That would shake the very foundations of our republic.
Our democracy is predicated on the fact that we all accept the results of an election, whether or not one's preferred party or candidate wins. This peaceful transfer or maintenance of power must be safeguarded. It is central to our experiment with self-government. Unverifiable results or hundreds of thousands of eligible voters being denied their right to have their voice heard would inflame the distrust and disillusionment many Americans already have in our democratic system—and make it even harder to govern.
The CARES Act, which earlier this year allocated $400 million for states' assistance, was a good start. But it was a fraction of what they actually needed. States' budgets have been slashed due to coronavirus. Meanwhile, one nonpartisan analysis found Georgia and Pennsylvania alone would need over $200 million to safely hold elections in the 2020 election cycle. In many states, local governments bear a large part of the cost of elections. The need for further assistance is clear.
At the federal level, instead of talking about how to ensure a smooth election, the conversation has been mired in partisan squabbling not based on facts. But in the states, there is widespread and growing consensus among both Republicans and Democrats that voters need a variety of ways to safely cast a ballot. They've been entrusted by the Constitution to run their own elections, and they know best what they need. Congress should follow the states' lead.
There are only about 100 working days left to make sure we have a smooth and credible election. It's time to put politics aside and get to work.
In order to keep precincts open, and avoid the unacceptable voting lines we've witnessed, states will need to train many poll workers outside the ranks of the elderly, who have traditionally made up a large share of precinct workers but remain among those most at risk of COVID-19. Work must also be done to train these workers in new voting technologies, and make sure these polling places are safe and clean.
Many states, in response to the coronavirus pandemic, have also relaxed their absentee voting restrictions. This is a common-sense approach. Nearly a quarter of the electorate in 2016 and 2018 voted absentee or by mail, as did our president. And members of the United States military have long voted absentee, and voted securely. But it's not just as simple as letting eligible voters request a ballot.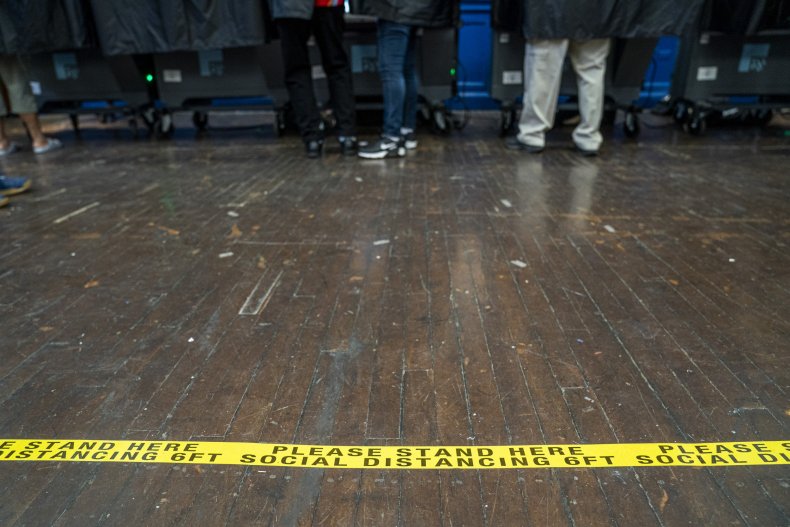 State after state has seen a massive increase in requests and support for these ballots—including Indiana and Tennessee, the states we represented in Congress. Few states have experienced such record levels of absentee voting before. That means they need new equipment and the capacity to process them in a timely manner. It is unacceptable that many Americans did not receive a ballot this year despite requesting one according to their states' guidelines
And all of these measures won't count for much if the public is not educated on the variety of options available to them—and if they receive help walking through the process. The clock is ticking.
Congress must wake up. Dark clouds are looming. As a nation, we are at a profound crossroads, facing many challenges all at once: confronting structural racism head-on, navigating an unprecedented public health crisis and preventing a constitutional crisis that could be caused by an election in doubt.
We are a great nation. America has long led the world in developing new technologies, and our representative democracy has served a beacon of freedom to nations around the world. We can meet these challenges together. As patriots, we must.
Tim Roemer is the former U.S. ambassador to India and a former Democratic member of Congress representing Indiana's third congressional district. Zach Wamp is a former Republican member of Congress representing Tennessee's third congressional. Both are co-chairs of Issue One's ReFormers Caucus, representing over 200 former members of Congress, governors and Cabinet officials advocating for political reform.
The views expressed in this article are the writers' own.