Congress Narrowly Averts a Government Shutdown Amid Funding Feud Over Trump's Border Wall
With the passage of a stopgap spending bill passed Thursday by the Senate, Congress averted a government shutdown that was set to begin just hours later at midnight.
The Democratic-led House passed the temporary funding known as a continuing resolution, or CR, Tuesday mostly along party lines. President Donald Trump later approved the money that evening, which will keep the government operating through December 20.
This is the second resolution in recent months. The stop-gap measures have kept the government running as lawmakers' disagreements with fiscal year 2020's budget have continued. The first CR was passed by Congress and approved by Trump in September.
The Senate passed Thursday's resolution 74 to 20 and will, for the most part, fund the government at current spending levels. Included in the money is a 3.1 percent pay raise for military members.
Newsweek subscription offers >
But the current budget disagreements between Democrats and Republicans and the White House comes amid an impeachment inquiry against the president, exacerbating Congress' inability to fund the government by normal means.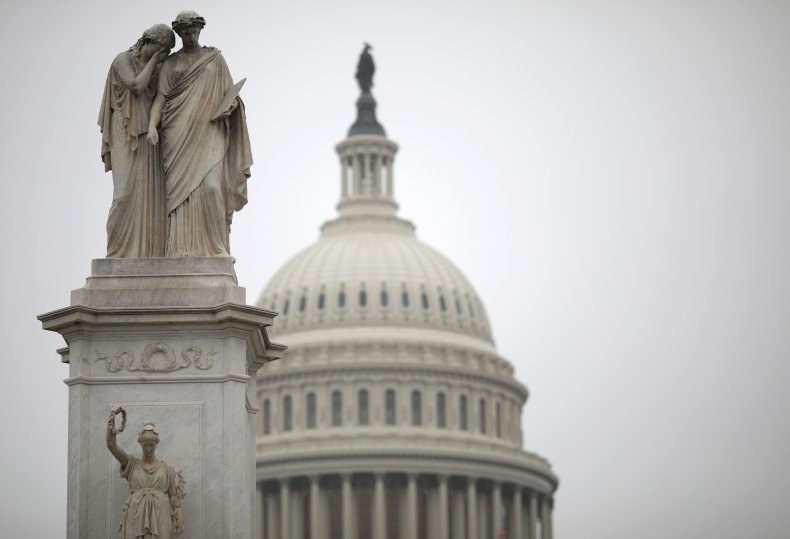 On top of impeachment, Trump has demanded $5 billion more for his desired southern border wall, a subject of strong partisan disagreement that led to last year's longest government shutdown in American history. That shutdown, which began last December and ended in January, provided no additional wall funding. Trump then declared a national emergency and unilaterally diverted more than $3.5 billion from the Pentagon.
House Democrats are vehemently opposed to providing funding for the president's border wall. Rep. Nita Lowey (D-NY), chair of the House Appropriations Committee, has said that in order to "reach agreement on allocations, Senate Republicans must drop their insistence on funding a wasteful wall at the expense of critical domestic programs."
Newsweek subscription offers >
The annual budget is comprised of 12 appropriations bills. The House has passed 10 while the Senate has passed just four. However, none of the bills directly align, which means a conference committee made up of top appropriators from both chambers must meet to come to agreements.
Earlier in the week, Democrats lamented at Congress' failure to pass a budget on time, a once relatively mundane task that in recent years has resulted in last-minute funding saviors to prevent government operations from grinding to a halt.
"There is no reason on God's green Earth we cannot do the appropriations bills in a way that they ought to be done, except we lack the will to compromise," House Majority Leader Steny Hoyer (D-Md) said on the chamber's floor Tuesday. "We lack the will to work together. We lack the will to do the American people's business on time, rationally, and without creating a sense that this institution cannot and does not work."
All of the senators who voted against the continuing resolution were Republicans: Marsha Blackburn of Tennessee, Mike Braun of Indiana, Ted Cruz of Texas, Steve Daines of Montana, Mike Enzi of Wyoming, Joni Ernst of Iowa, Deb Fischer and Ben Sasse of Nebraska, Josh Hawley of Missouri, Jim Inhofe of Oklahoma, Mike Lee and Mitt Romney of Utah, Rand Paul of Kentucky, David Perdue of Georgia, James Risch of Idaho, Mike Rounds of South Dakota, Rick Scott of Florida, Tim Scott of South Carolina, Thom Tillis of North Carolina and Pat Toomey of Pennsylvania.
This story was updated to include that Trump signed the temporary spending bill.
Congress Narrowly Averts a Government Shutdown Amid Funding Feud Over Trump's Border Wall | Politics