Congress Passes Funding Bill Keeping Government Running For Now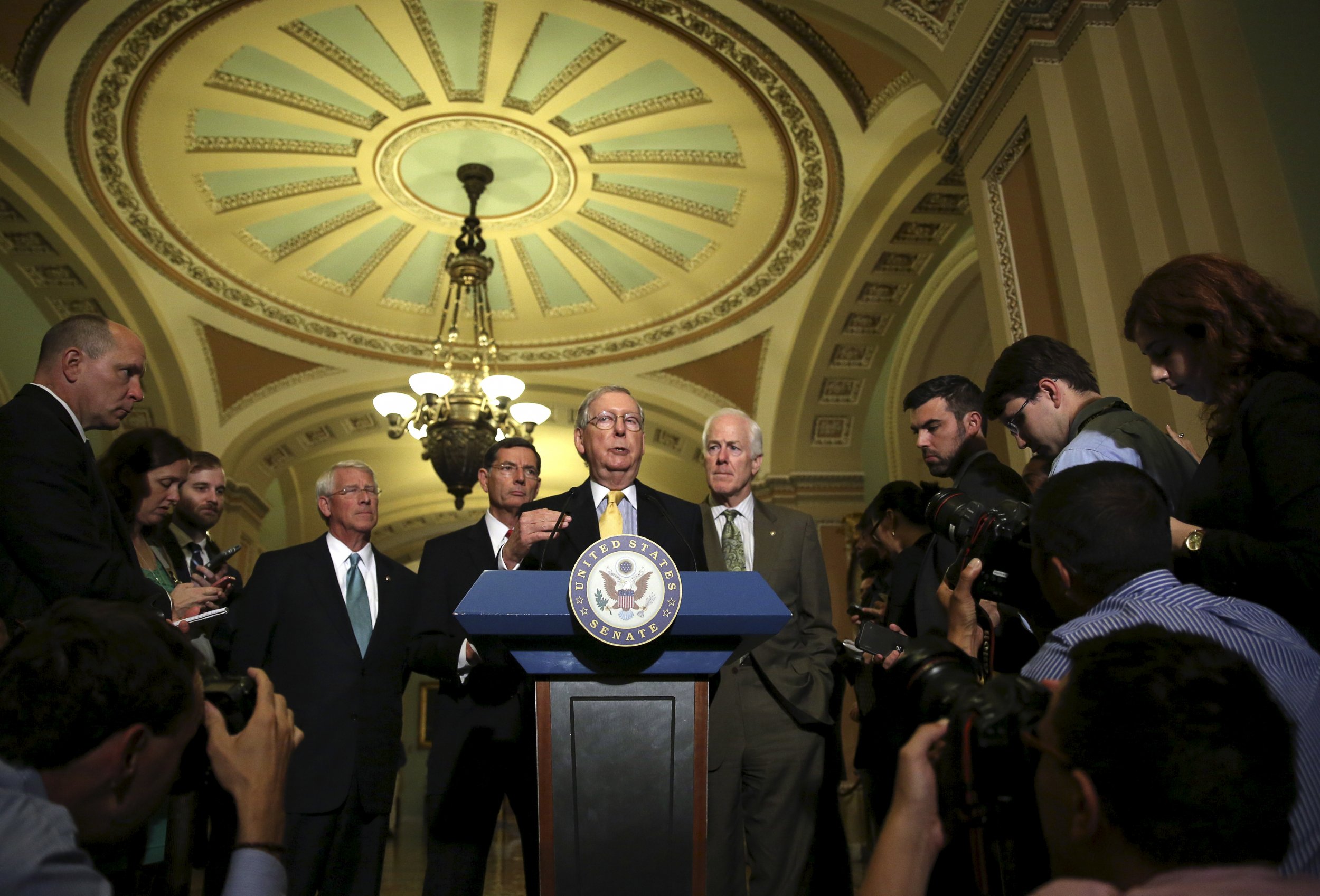 With just hours to spare, Congress passed a funding bill to keep the government up and running—for now.
The Senate and House both approved a short-term "continuing resolution" that funds the federal government at existing levels through December 11. The legislation now goes to the White House, where the president is expected to sign it this evening, before the fiscal year ends at midnight and current funding expires.
Republican leaders and the White House hope the successful passage—which was up in the air until this week—buys them enough time to hash out a long-term spending compromise, and avoid extending the series of fiscal cliffs that have plagued federal budgeting in recent years. "Yesterday, Senator McConnell finally took up Democrats on our call to begin budget negotiations," Senate Minority Leader Harry Reid noted in remarks on the Senate floor Wednesday morning, referring to the Republican Majority Leader Mitch McConnell of Kentucky. "I say hallelujah. Here we are, ready to negotiate months before the December 11 th deadline."
Reid and Democrats' main demand is to get rid of the across-the-board spending caps that went into effect in 2013 under what's known as the "sequestration" program. Republicans want to only get rid of the sequestration caps on defense spending, but keep them for all domestic spending programs. That division bogged down the spending discussion all summer, leaving Congress scrambling for a last-minute fix to keep the government funded.
House Speaker John Boehner's decision to retire at the end of October helped defuse a standoff with Republicans' conservative wing over government funding for women's health services that goes to Planned Parenthood, a group that also provides abortions. The House passed its short-term spending bill, including the money for Planned Parenthood, with support from Democrats. Conservatives had threatened to oust Boehner from his leadership post if he allowed the funding to continue; his resignation mooted that.
Now conservatives are looking to December, hoping the deadline and new, tougher Republican leaders can force deeper concessions from President Obama. "My position remains the same as it always was," Texas Senator Ted Cruz, one of the 15 Republicans running for president in 2016, told Newsweek Wednesday. "Republican leaders should honor the commitments we made to the men and women who elected us. And we should use our constitutional authority, particularly the power of the purse, to fight for the priorities we promised the voters we would fight for."
Also on Wednesday, the conservative advocacy group with deep ties to Tea Party-inspired members on the right issued a memo outlining conservative criteria for the next batch of House leaders. Among other things, the document from Heritage Action Fund suggested the next speaker and his or her lieutenants should fight against continuing Planned Parenthood funding "using every tool at their disposal." And they should oppose any effort to raise spending caps, which would " undermine the party's claim to fiscal responsibility." The marching orders, essentially: no compromise and no surrender.
Any deal with a Democratic president, however, will require some compromise. As White House press secretary Josh Earnest told reporters Wednesday, " Republicans have not succeeded and will not succeed in passing budget legislation strictly along party lines. They've tried that countless times now. It doesn't work. ... So what that means is it means that Republicans are going to need to work with Democrats in Congress to pass compromise legislation."
That helps explain why McConnell, Boehner and the White House are reportedly eager to hash out at least the outlines of a deal before the current speaker departs . His likely successor, California Republican Kevin McCarthy, will be under a lot more pressure to toe a hard line.
Despite that, at least one member of Senate Republicans' leadership team expressed optimism that the GOP leaders in Congress will be able to reach a deal with the Obama administration. " These people are all tested," South Dakota Senator John Thune said of the Republicans expected to assume the leadership posts in the House. "I don't think anything will change in terms of how those negotiations go."