Should Members of Congress Get a Pay Increase? The Question Causing a Rift Among Democrats
What Democratic leadership believed should be a mundane, overdue raise has turned out to be a headache for the party.
An effort to increase the yearly pay for members of Congress in the form of a cost of living adjustment (COLA) was abruptly withdrawn from consideration Monday evening in a spending package, amid blowback from some Democrats who argued it would be inappropriate and place swing-district freshmen in political danger come 2020.
Lawmakers say the $4,500 salary increase is long overdue, with their last raise being in 2009, according to the Congressional Research Service (CRS). Keeping members' pay up-to-par with inflation would help to combat corruption and retain better legislative staffers, due to the current inability to offer staffers higher pay than lawmakers, Democrats in favor of a raise argued.
"I think it's a huge issue," Representative Pramila Jayapal, co-chair of the House Progressive Caucus, told reporters. "It lets in corruption, it pushes people to leave for lucrative, but not 'helpful for the people' jobs. It keeps people out, as well, because people forget we have to have two houses, and you can't write them off as work expenses."
The current salary for senators and representatives not in leadership roles is $174,000. But Congress has declined to allow an automatic COLA take effect for roughly a decade.
"When adjusted for inflation, Member salaries have decreased 15% since the last pay adjustment in 2009," the CRS concluded in a report last month. "If Members of Congress had received every adjustment... the 2019 salary would be $210,900."
House Majority Leader Steny Hoyer vowed on Tuesday to proceed with a vote on the matter "at some point in time" this year. He also highlighted his concerns about staffers and the ability for Congress to remain competitive with private sector salaries.
"[Staffers] are capped because of members being capped," he said during a weekly off-camera press session in his office. "This is not just about members. This is about the institution of the House of Representatives and the United States Senate, and our ability to be competitive as an employer, and to get the best and brightest."
But there has been pushback from some members, primarily freshmen Democrats in swing districts. Maintaining a stance that supports giving themselves a raise could play out poorly in their home districts. Several of them filed amendments onto a portion of a spending bill Monday night in order to block the automatic increase. As a result, Democratic leadership scrapped that portion of the spending bill—for now. Under current law, an automatic raise would go into effect, should lawmakers take no action in the new budget that Congress will try to pass later this summer.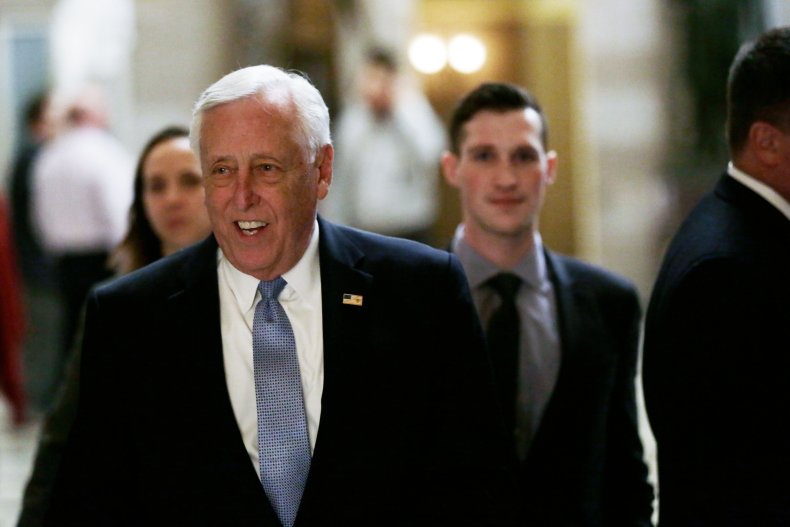 "[Michigan's 11th District] sent me to Congress to lower the cost of healthcare, work across the aisle to rebuild our crumbling infrastructure, and support our manufacturing economy," tweeted Representative Haley Stevens. Stevens, a freshman, won her 2018 election against her Republican opponent by roughly 7 points.
"Now is not the time to consider raising pay for Members of Congress," she added.
Fellow freshman Democrat Alexandria Ocasio-Cortez has taken an opposite stance, advocating vehemently for the pay increase.
"What this does is punish members who rely on a straight salary, and reward those who rely on money loopholes and other forms of self-dealing," the New York lawmaker tweeted. Income inequality was a pillar of her 2018 campaign, and she said that all workers, including those making minimum wage, should be included in cost of living raises.
"It's not a fun or politically popular position to take," Ocasio-Cortez said. "But consistency is important."
The effort to increase members of Congress' pay has received bipartisan support, with Republican and House Minority Leader Kevin McCarthy throwing his support behind it.
"I do not want Congress at the end of the day to only be a place that millionaires serve," the Republican leader said at a press conference. "This should be a body of the people and I think it's something that should be looked at."
Hoyer expressed frustration with reporters Tuesday after receiving several questions about a COLA and Democratic leadership's decision to ditch the pay raise effort the previous evening, despite the bipartisan support.

"This really frustrates me. I've had four questions in a row on COLA, a cost of living adjustment," Hoyer said.
The topic of congressional salaries was not brought up during the Democratic Caucus' weekly closed-door meeting earlier that morning, according to several lawmakers.
Several other Democratic lawmakers noted that they must pay for housing in their home district and in Washington, D.C, the later of which they are not reimbursed for. Hoyer pointed to the steep rise in the cost of housing within the district in recent years as another reason why members, and then staffers, should see slight pay increases.
"We can employ only rich people here. I don't think that's what the American people want," Hoyer continued. "This is a cost of living adjustment. I've always been for it. This is not a big news item for me, at least. So, I hope we pass it so that members can have the ability to not live in their offices."