Russia Sanctions: Congress Attempts to Reassert Power Over White House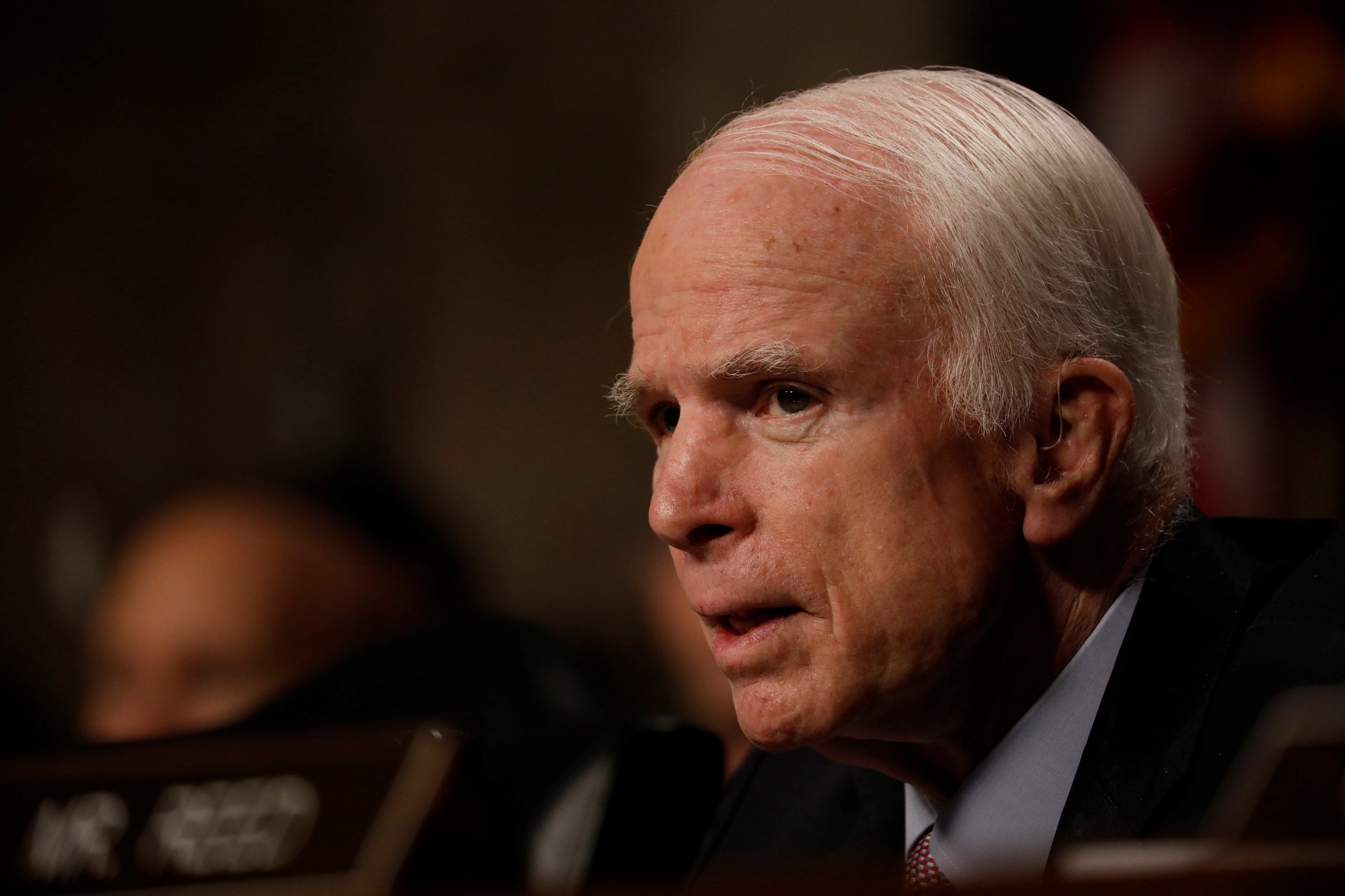 Republicans aren't necessarily framing it this way, but the sanctions legislation the Senate passed overwhelmingly Wednesday afternoon would represent a major power grab from the White House on U.S.-Russia policy. The sanctions language, which senators of both parties voted to attach to an Iran sanctions bill, still has to get through the House, but if it does it would pave the way for Congress to wield far more control over the country's fraught relationship with Russia. And it could build momentum for the legislative branch to seize more power on other facets of foreign policy, as well.
Related: Rex Tillerson refuses to give Trump position on strengthening Russia sanctions
Coming on top of the narrow defeat of a Senate bill to block an arms sale to Saudi Arabia—a focal point for President Trump during his visit there last month—and amid probes into the Trump presidential campaign's possible ties to Russia, it's hard not to see the move as a signal to the White House that senators are deeply uncomfortable with the administration's embrace of foreign strongmen, particularly Russian President Vladimir Putin. "The bill should be a powerful signal to President Trump and the White House that the concern that he might weaken or lift sanctions against Putin is a bipartisan concern, one that the Senate is not going to ignore," Democratic Leader Chuck Schumer said Wednesday. If it becomes law, the president would find it far more difficult to pursue the kinds of Russia sanctions relief that his team is said to have discussed with Russian officials before his inauguration. Those discussions, and potentially others, are what have gotten this White House in the hot water it's in now.
Two Republican senators, Bob Corker and Mike Crapo, emphasized to reporters Tuesday that the Russia sanctions bill they helped negotiate gives the president plenty of flexibility to implement his Russia policy. But Corker also affirmed that the proposal would help "reassert congressional authority." The reality is, the proposal would tie the White House's hand vis-a-vis Moscow on a number of different levels. And it would also give Congress a way to block the president from repealing any sanctions against Russia that it wants to keep on the books, the same way the Senate attempted (but narrowly failed) to do vis-a-vis the sale of weapons to the Saudis.
Republican Senator John McCain, one of the leading proponents of tougher sanctions on Russia, agreed Wednesday after the Senate's amendment vote that it would give Congress far more control over U.S. policy. "That's why my folks got heavily engaged" in writing the amendment, he told Newsweek, adding that he'd been one of the lawmakers who'd pushed hard to limit the White House's discretion. He's not the only Republican who has openly disagreed with Trump on Russia. Senate Majority Leader Mitch McConnell and Florida Senator Marco Rubio, among others, have called repeatedly for taking a tougher line with Moscow.
One notable way the Senate sanctions bill would force Trump's hand is by rewriting the language of a 2014 law sanctioning Russians involved in destabilizing Ukraine, as well as other bad actors. While the original law gave the president the option to sanction such individuals, the new language would mandate that the president do so. It would allow the commander-in-chief to waive the sanctions if it could be demonstrated it's in the U.S. national security interest and evidence provided that Russia is working to resolve the Ukraine conflict—a pretty high bar.
It also would enact into law several sanctions policies against Russia issued by the Obama White House. Because those policies were initiated as executive orders, they could be withdrawn by any future president, irregardless of Congress. The amendment would make the policies far more difficult to overturn. The amendment would also require the president to impose new economic and defense-related sanctions on Russian entities as punishment for its hacking of the U.S. election and its human rights abuses.
The new Russia sanctions proposal would also allow Congress to review any proposal the president makes to lift or waive sanctions against Russia before it goes into effect. And if Congress voted to disapprove of the move, it could block the White House action. The president could then veto Congress's disapproval resolution, however, which lawmakers would have to override. But it would add yet another hoop Trump would have to go through if he wanted to soften the penalties against Moscow.
Some key Republicans are already talking about trying to add similar provisions to other sanctions laws, which would give Congress more power over their enforcement (and hem in the White House further). " We intend to use this review model on all sanctions regimes moving forward, and I intend to work to apply it to Iran," Crapo, the chairman of the Banking Committee, said on the Senate floor Tuesday.
It will be up to the Republican-controlled House whether Congress succeeds in clamping down on Trump and Russia. A bipartisan group of House members has introduced a bill that would, like the Senate amendment, give Congress the power to vote down any presidential move to ease Russia sanctions, as well as a resolution condemning Russia's election meddling. And at least some key players have expressed openness to the legislation. "We are looking at both measures," House Foreign Affairs Committee Chairman Ed Royce said at at a May 25 hearing. "And we are working to develop bipartisan support for both measures."