Lawmakers Reach Deal "in Principle" to Avoid Second Government Shutdown, Reportedly Includes $1.3 Billion for Border Barriers
As President Donald Trump prepared a give a stump speech for a wall along the U.S.-Mexico border in El Paso, Texas, on Monday, congressional negotiators announced that they had arrived at a tentative deal to avoid a second partial government shutdown.
The deal arrives four days before the federal government would run out of money once again. Another partial shutdown would force thousands of federal workers to go without a paycheck and either be placed on furlough or to work without pay.
"We've had a good evening. We've reached an agreement in principle between us on the Homeland Security and the other six bills," Senator Richard Shelby, an Alabama Republican, told reporters on Monday as he stood with Senator Patrick Leahy, a Vermont Democrat, and Representatives.Nita Lowey, a New York Democrat, and Kay Granger, a Texas Republican.
The White House has yet to comment publicly on the spending bill, but Shelby expressed hope that Trump would sign the agreement.
"We think so. We hope so," Shelby told reporters when asked about the likelihood of getting the president's signature.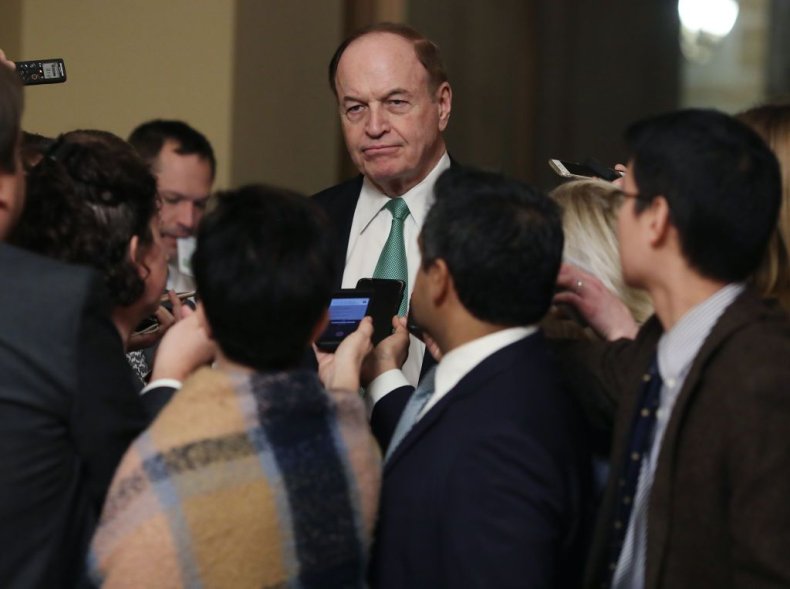 The agreement came after multiple meetings between Shelby, Leahy, Lowey and Granger, who spent much of Monday attempting to come to an agreement after negotiations broke down over the weekend regarding the number of detention beds allotted to Immigration and Customs Enforcement as well as the ongoing fight regarding the $5.7 billion that Trump has demanded to build the border wall.
"All of us realized us that we had a bigger obligation to get back together. I didn't know if it would happen," Shelby said. "I think the fact that it looked like there was going to be another shutdown imminently probably helped contribute to us getting together."
According to The Washington Post, the bill includes $1.375 billion for physical barriers. That money will also go toward 55 miles of new fencing at the southern border, although there were limitations on where that fencing might be placed.
Lowey, the House Appropriations Committee chair, said she had informed Speaker of the House Nancy Pelosi of the deal, and that Pelosi had given her approval.
"Some may be happy, some may not be happy. We did the best we could," Lowey said in response to a reporter's question about the reaction from Democrats to the proposal.
According to The Hill, the agreement also includes 40,520 ICE detention beds. However, a congressional source who spoke to the media outlet on the condition of anonymity said the proposal included flexibility to reach Trump's "requested level of 52,000 beds."
"There's not a single one of us who's going to get every single thing we want, but nobody does. But we are going to get what is best for the United States," Leahy said to reporters. "If the four of us couldn't get it together, this Congress never could."