Congress Should Turn the Dreamer Act Into Law Just As It Is
This article first appeared on the Hoover Institution site.
There are few topics that inspire more passion and disagreement than the status of illegal immigrants (the statutory term) in the United States.
That issue came to a head last week when Attorney General Jeff Sessions announced that the Trump Administration, over furious opposition, had decided to phase out the "Deferred Action for Childhood Arrivals" program, commonly known as DACA, over a period of some six months.
The program protects from deportation those youngsters who were brought to the United States illegally by their parents.
DACA was put into place with great fanfare by President Barack Obama in June 2012 with an executive order issued on the status of the group now widely known as the Dreamers.
Obama was deeply frustrated with Congressional gridlock on immigration reform, so he decided unilaterally to adopt a program that, purportedly by exercise of prosecutorial discretion, would allow young people who did not enter the United States legally to get clearance to remain here for two years.
In order to qualify, a recipient had to have arrived before the age of 16 and remained in the United States for the past five years. In addition, qualification requires that a recipient "is currently in school, has graduated from high school, has obtained a general education development certificate, or is an honorably discharged veteran," and not have committed any serious crimes.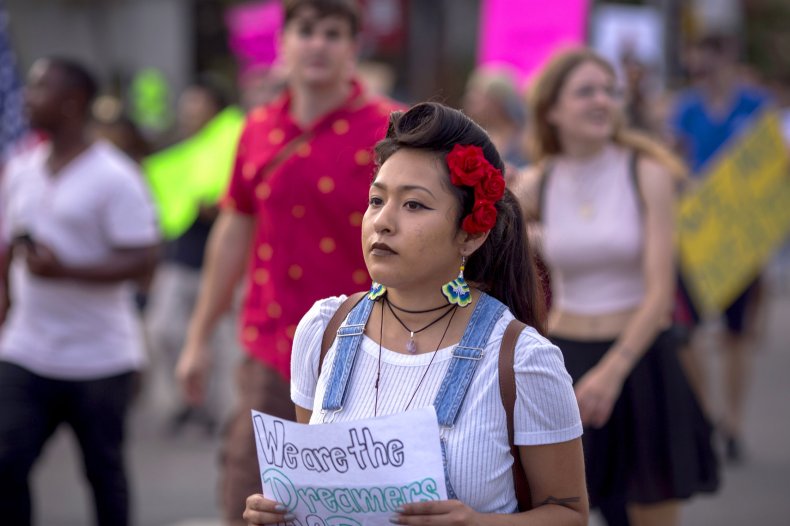 About 800,000 individuals have qualified during the five years of the program's operation. Explicitly, the program is not treated as a path toward citizenship, but it does state that Dreamers may participate in programs such as Social Security and obtain state driver's licenses.
The overall blow-up is a typical Trump-generated controversy.
He is correct on the precarious legal status of the DACA program, which even Obama admitted was a stopgap measure. But Trump is guilty of an inexcusable obtuseness on the moral and political ramifications of the current controversy.
We need a fix desperately, and the simplest way to get one that works is to enact DACA into law, precisely as it is. Let's take the legal and political points in order.
The most powerful charge against DACA's legitimacy as an executive order is that the president lacks authority to promulgate such a measure under our constitutional system, which gives Congress the authority to pass laws and puts the president into the position to see that "the laws be faithfully executed."
The exact interaction between legislation and execution is not perfectly clear, but its broad outlines were set in the famous 1952 Steel Seizure Cases, in which a clear majority of the Supreme Court rejected the proposition that President Truman could, on his own motion, seize the steel mills in the United States in order to head off a protracted strike that he thought might impair the military effort in the Korean War.
The case runs closely parallel to the current immigration dispute: the Court noted the explicit unwillingness of Congress just a few years earlier to give the President the power to interfere in domestic labor disputes, a factor that was decisive in rejecting the notion that the President could move on the strength of his own authority.
Nor, the Court said, could the President claim that his inherent authority as commander-in-chief of the military forces gave him carte blanche to interfere in domestic economic conflicts.
In one sense, DACA is closer to the line, because Presidents normally do have some prosecutorial discretion in deciding which cases to pursue. But that discretion extends at most to not bringing charges in individual cases—here, against the Dreamers—given the inevitable scarcity of government resources.
It does not, however, authorize the President to allow people to join Social Security or get drivers' licenses. Nor, usually, can that discretion be exercised on a class basis, at least when that "class" of 800,000 people are in highly different circumstances: claims about overall enforcement efficiency are better directed at Congress.
For these reasons, when a challenge to DAPA—a far broader DACA-like program that covered the illegal immigrant parents of citizens born in the United States, who are a much larger group—hit the courts in Texas v. United States in 2015, Judge Jerry Smith held in a well-reasoned opinion that DAPA exceeded executive power.
In light of that decision, the status of DACA, which was more narrowly drawn, was left somewhat unclear. But the judicial battle is over, now that President Trump has rescinded the order.
The burning question is what to do next, and it is here that Sessions and Trump have fallen short. Sessions was rightly concerned with the question of whether amnesty could encourage future waves of illegal entry.
But at the same time, he was most unwise to equate the continuation of DACA with an open borders policy, which DACA explicitly rejected.
Nor, after five years of operation, is there the slightest indication—contrary to what Sessions said—that the continuation of the program for existing participants will in any way make the United States a society "afflicted by corruption, poverty, and human suffering."
Sadly, Trump only made matters worse with such choice remarks as: "Make no mistake, we are going to put the interest of American citizens first!" and "The forgotten men and women will no longer be forgotten."
It hardly helps that he backtracked by announcing that the Dreamers "are terrific," without acknowledging the massive disruptions they will experience if DACA is upended.
To compound the debacle, he dumped the problem back into the hands of Congress without making it clear whether he supported legislation reauthorizing the program.
Behind Trump's unconstructive stance are his usual aversions to immigration and trade.
Many of our immigration policies are riddled with protectionist elements, the underlying assumption of which is that the main consequence of immigration is to displace Americans from jobs. The possibility that immigrants can, do, and have contributed economically to American society as consumers, workers, and entrepreneurs gets lost in the heat of a political moment.
But it is specious economics to fear the displacement of American citizens by foreign workers without considering the benefits that they provide to the economy as a whole.
It is, of course, impossible for the United States to absorb millions of immigrants at one time, but mass absorption is off the table if Congress focuses on Dreamers who met DACA standards, while imposing tougher restrictions on new illegal entrants.
Dreamers are already closely integrated into American society, so that their forced departure poses a far greater peril to the United States economy and social fabric than allowing them to remain.
Ending DACA, for example, poses a massive threat to the research and teaching programs of major research universities, where many Dreamers study, teach, and work.
So even if the Obama executive order was legally deficient, the President and Attorney General should make it clear that they strongly support continuing DACA exactly as it is.
Legislation in this direction should not be difficult to draft because the needed language is already available for use, and the legal institutional arrangements to keep the program in operation are already in place.
This past weekend, a large, loud, and orderly demonstration took place near Columbus Circle protesting the removal of DACA. In so doing, however, many of its supporters overshot the mark by calling for the adoption of an open borders policy, in addition to Trump's deportation.
Such calls, if picked up by the left nationwide, will have the unfortunate effect of making political progress difficult within the six-month window before the program expires.
There are two advantages to a clean deal. Substantively, DACA is well crafted as a legislative compromise. It does not advocate a path to citizenship, which could easily have uncertain political ramifications.
By allowing for driver's licenses, Social Security, and employment, it reduces the (very small) risk that DACA recipients will become a burden to society.
By keeping the program on a two-year cycle, it leaves the matter open for further deliberation after there is greater experience with the policy, at which point some further liberalization of the rules could be possible.
Procedurally, a clean deal has its best chance for bipartisan adoption on an up-or-down vote. In order to improve the odds of passage, Trump and Sessions cannot sit back and let political forces derail any future deal.
They have to take leadership by making it clear that even if DACA fails as an executive edict, it succeeds as a political compromise. They should not use DACA as a chip to get authorization to build a wall between the United States and Mexico.
They should collaborate with former President Obama to prevent restless Democrats from going a bridge too far on immigration reform. Six months is not a long time to enact legislation on such an explosive issue.
The President has to take firm leadership now.
Richard A. Epstein, the Peter and Kirsten Bedford Senior Fellow at the Hoover Institution, is the Laurence A. Tisch Professor of Law, New York University Law School, and a senior lecturer at the University of Chicago.