Congress, States Haven't Ended the Eviction Crisis ... But They Could | Opinion
Thanks to a flurry of interventions from President Joe Biden and Congress, the CDC eviction moratorium will continue through March 31—with $25 billion in rent and utility relief on its way to states, and $20 million to provide legal counsel to tenants. But serious flaws with the moratorium, logistical issues with the delivery of rent relief and the inadequacy of $20 million to address tenant representation nationwide mean that an avalanche of evictions will continue to threaten the country unless more is done by the federal government, the states and the courts.
Due to gaps and weaknesses in the moratorium, as well as a lack of consistent adherence and enforcement of it, evictions have remained widespread across the country. The Eviction Lab, which has tracked over 240,000 eviction filings during the pandemic in just 27 cities, found that in the two weeks between Congress' CARES Act moratorium expiration and the adoptions of the CDC moratorium, eviction filings rose as high as 395 percent above average filings. In thousands of cases, landlords have filed evictions in blatant violation of federal moratoriums or have exploited loopholes that undercut tenant protections.
Rental assistance is badly needed. For many tenants, it will either arrive too late to stop an eviction filing or will be inaccessible without legal help that is currently unavailable due to lack of resources. The total rent debt accumulated during the pandemic is far more than the $25 billion earmarked for both rent and utility debt, meaning many tenants will be left in the cold.
If Congress does not fix these problems, hundreds of thousands of eviction hearings will be held across the country, and there is no way for them to go well.
These hearings will either occur in person—jeopardizing the lives of judges, court staff, tenants and landlords by cramming them together in buildings not safeguarded against COVID—or online—jeopardizing the quality of justice and further curtailing access to the courts for Americans hardest hit by the pandemic. In the eviction context, where an inability to call or Zoom in is the equivalent of failing to appear, remote hearings represent not only the loss of basic rights, they are the difference between housing and homelessness.
These problems with hearings—which many courts have allowed even under the current moratorium—are on top of an eviction process that was beset even before the pandemic with due process concerns and manifest injustice. Ninety percent of tenants do not have access to legal representation that could increase access to justice, while ninety percent of landlords do. That imbalance is likely to increase between the lack of right to counsel in eviction cases, the lack of tenant education on rights, a flood of eviction filings and an increased shortage of civil legal aid attorneys due to increased demand and reduced funding.
An eviction triggers a slew of collateral consequences. If tenants do not prevail—and they rarely do, even when they have an affirmative defense—they are likely to face homelessness (which can lead to incarceration), loss of child custody, educational disruptions and decline, employment loss, greater risk of COVID-19 exposure, infection, death and a "Scarlet E" that will affect their credit scores and attempts to secure safe and decent housing for their families long into the future.
Many of these harms are triggered by the initiation of eviction. In one study by Matthew Desmond, founder of the Eviction Lab, over a third of renters leave the unit at the first sign of eviction, increasing their risk of COVID-19 infection. And this is putting aside the thousands of tenants who have been illegally evicted by landlords who have changed the locks, removed door frames, physically threatened tenants, or employed other tactics that push tenants out by circumventing the law.
Black families will suffer these consequences and illegality the most: much like COVID-19, studies consistently demonstrate that eviction disproportionately affects Black adults, with Black women having the highest rates of eviction. Eviction has long-term negative consequences for the health and well-being of adults and children, with the presence of a child being the greatest predictor of eviction.
With such serious penalties for missing as little as $50 in rent, the only proper move for federal and state actors—including state courts—is to stop evictions completely, including freezing eviction filings. Indeed, some states have re-shuttered their courts recently in recognition of this stark reality.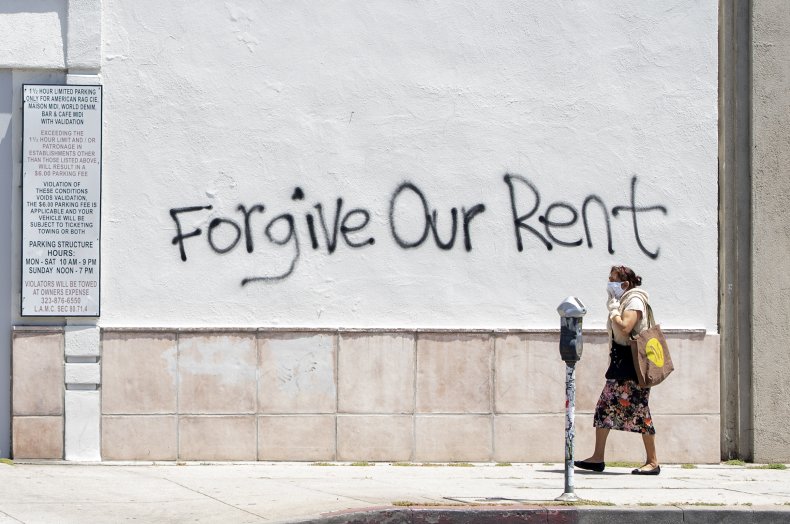 Courts play a vital role in preserving democracy. Under pandemic circumstances, holding eviction proceedings before housing supports—like rental assistance and right to counsel—are in place will have unintended consequences well beyond increased housing instability, unpaid property tax payments and societal costs. It will guarantee a cavernous divide in health, housing and economic justice by race and economic status, with people of color suffering the most.
As we slowly recover from the pandemic, we must increase access to justice and protect constitutional rights as the backbone of the society they represent, especially for people who are bearing the brunt of the COVID-19 crisis.
The goal must be to keep renters and homeowners stably and safely housed from here on out. In the immediate future, this means forestalling all stages of the eviction process in order to prioritize housing security, increasing and improving rental assistance programs and supporting pre-filing eviction diversion programs.
Where eviction hearings must occur, providing a right to counsel for tenants is crucial to upholding constitutional commitments. Reams of evidence have shown that represented tenants remain housed at vastly higher rates, have lower rent debt burdens assigned to them by courts, obtain more time to move where necessary and avoid evictions on their records.
The pandemic has challenged our country and court systems in their effort to uphold justice. As we reopen America, we have an unparalleled opportunity to prevent the widespread eviction of millions of families hardest hit by the pandemic. We can start by rebalancing justice in the eviction system, and ultimately, including the right of a decent home as central to what it means to be American.
John Pollock is the coordinator of the National Coalition for a Civil Right to Counsel and staff attorney at the Public Justice Center.
Emily Benfer is a visiting professor of law at the Wake Forest University School of Law and the chair of the American Bar Association COVID-19 task force committee on eviction.
The views expressed in this article are the writers' own.