Congressional candidate Elvin Dowling filed a lawsuit on Friday against Florida Governor Ron DeSantis regarding DeSantis' recent executive order allowing funding to be withheld from schools that choose to impose mask mandates.
According to a copy of the lawsuit that Dowling shared on his campaign website, the Democrat alleged the executive order violated his rights under the state constitution's due process clause by preventing Florida's school boards "from taking necessary and reasonable precautions such as a mask mandate" amid the ongoing coronavirus pandemic.
Dowling's lawsuit, which lists Dowling and his three school-aged children as plaintiffs, also said the executive order "violates their right to learn in a public school that provides a safe, secure and high quality education to them and other students" as outlined in the state constitution.
DeSantis signed the executive order to which Dowling's lawsuit referred on July 30. It requested that the Florida Department of Health and the Florida Department of Education work together to implement virus safety protocols that "do not violate Floridians' constitutional freedoms." The executive order specifically blocked any safety protocols from impacting the decisions parents make about the health of their children and included instructions to "protect children with disabilities or health conditions" who are unable to abide by face mask mandates.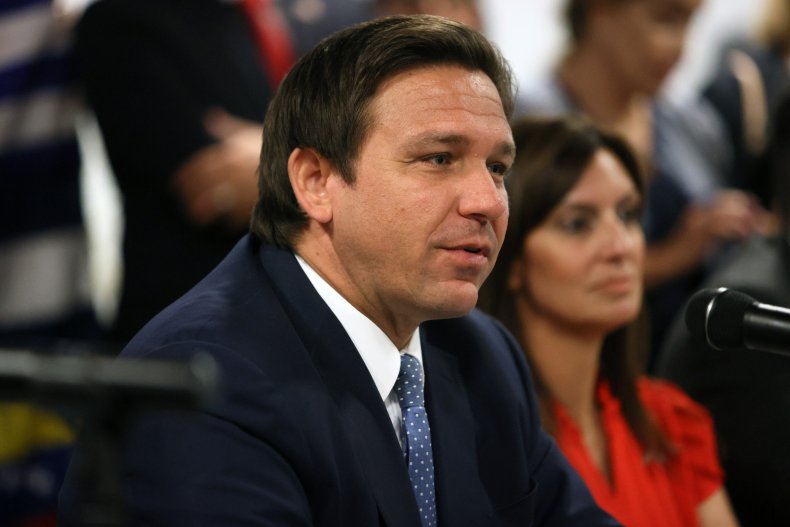 DeSantis' order told the Florida Commissioner of Education to "pursue all legal means available" to make sure school districts follow the orders and said those legal means could include "withholding state funds from noncompliant school boards."
Court documents filed by Dowling's attorney, Barry Silver, acknowledged DeSantis did not specifically ban mask mandates in schools, which the lawsuit attributed to "imprecise and flawed wording." But the lawsuit said it was "most likely" that schools "will fear losing this funding and will therefore be pressured to rescind their planned mask mandate."
Two of Dowling's children are under the age of 12 and thus unable to get vaccinated against COVID-19, according to Dowling's campaign. The children's ages and unvaccinated status put them "at great risk" of becoming infected with the virus and infecting their friends and family members, the court documents said.
The lawsuit alleges that "numerous Florida Constitutional freedoms would be violated" if funding were to be withheld from schools that do not follow the safety protocol guidelines outlined in the governor's executive order.
"Unless the school board is acting in a manner that is illegal, the Governor, by statute, cannot withhold funds from the public school system," Silver said in a press release that Dowling's campaign sent to Newsweek. "After all, the Governor is not a king who simply gets to make up his own rules."
Some children in Florida will be returning to school next week. Dowling's team is hoping to schedule a hearing with a judge to discuss the lawsuit as soon as possible in light of the upcoming return to classrooms, Silver told Newsweek on Friday afternoon
"We won't allow politics to trump health," he said. "It seems very clear that the decision that the governor is making is not based on health, and it's not based on education, and it's not based on any of his principles that he professes about allowing local governments to make their own decisions. It's purely a political decision."
Dowling is a reverend campaigning to represent Florida's 20th District in the House of Representatives. He is running in a special election for the congressional seat previously occupied by Democrat Alcee Hastings, who died earlier this year.
In Dowling's Friday news release, he expressed worry for his children as the virus continues to spread in Florida.
"As a concerned parent for not just my three kids, but for all of Florida's public school children, I am alarmed by the increasing rates of COVID-19 infections in our state, while our feckless Governor twiddles his fingers, runs his mouth, and thumbs his nose at science," Dowling said.
"Requiring masks at school will protect our children. Currying favor with narrow political interests will not," he added.
Newsweek reached out to DeSantis' office for comment but did not hear back in time for publication.
Updated 8/06 at 1:04 p.m. ET: This article has been updated to include additional comments from attorney Barry Silver.