Congressional Candidate's Tweet Calling Floyd's Death a 'Deepfake' Removed
A Missouri congressional candidate's tweets claiming that video footage of George Floyd's death was fabricated became unavailable on Tuesday after a journalist questioned why messages "spreading disinformation" had not been removed from the platform.
Last week, Republican Winnie Heartstrong, who is campaigning to represent Missouri's 1st Congressional District in the House, shared a series of posts suggested that the viral videos of Floyd's death in Minneapolis police custody were deepfakes, where synthetic media are generated using artificial intelligence technology. Deepfakes incorporate multiple images to create a composite photo or a video where an individual's face is replaced with that of another.
Heartstrong's tweets regarding Floyd's death and deepfakes became unavailable on Twitter early Tuesday afternoon.
A Twitter spokesperson told Newsweek that Heartstrong's account had been "compromised" in response to an inquiry about the tweet's removal. "As soon as we were made aware of the issue, we locked the compromised account and are investigating the situation," the spokesperson said.
Heartstrong later told Newsweek it appeared her account had been hacked. She relayed a message sent to her from Twitter. "We believe that your account @realDrWinnie may be compromised by a user or a service not associated with Twitter," the company said.
An automated message that appears in place of Heartstrong's deepfake tweets reads, "This Tweet is unavailable." A link to learn more leads users to a page explaining possible reasons for restricted visibility. It says a tweet may be marked unavailable if it's from "an account you do not follow that has protected Tweets, if the account has blocked you, the Tweet was deleted, or if the Tweet is from a deactivated account."
The page also notes that tweets may be removed because they violate Twitter Rules, which prohibit deceptive, synthetic or otherwise manipulated media. Twitter does not always attach a notice to removed tweets clarifying its rationale for deleting them.
In her June 15 tweets about Floyd, Heartstrong cited a lengthy report she authored, which outlines her theory about his death's legitimacy. The report said that the death was staged and that related footage was manipulated so "actors" appeared to resemble both Floyd and Derek Chauvin, the former officer charged with second-degree murder and second-degree manslaughter for his role in the violent arrest, which was captured on video by bystanders and a store's security camera.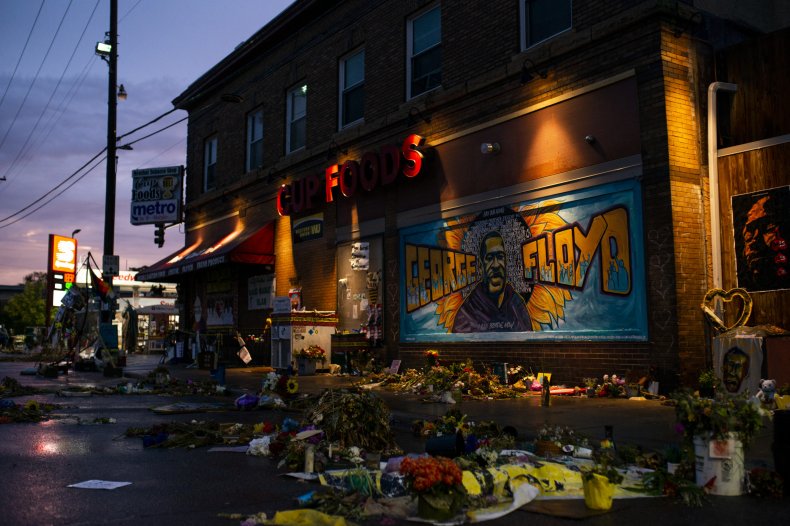 The removal of Heartstrong's tweets came shortly after reporter Mike Hayes relayed contents of his own correspondence with Twitter representatives regarding the posts early on Tuesday afternoon.
"Twitter tells me that this tweet by a congressional candidate spreading disinformation about George Floyd's death 'does not violate our TOS, but this might be content we would consider for a label or warning eventually.' They say they are reviewing it currently," Hayes wrote, retweeting Heartstrong's claims, which were not yet unavailable.
Twitter's TOS, or terms of service, include guidelines about misuse of the platform. They explain practices that are prohibited and subject to removal, account suspension and other penalties. In May, the company attached a fact-checking notification to several tweets shared by President Donald Trump, instead of removing them. The tweets expressed unsubstantiated claims that vote-by-mail procedures would lead to fraud.
The TOS guidelines state that individuals may not use Twitter to "send altered, deceptive or false source–identifying information," alongside a list of other restrictions. In an additional clause related to censoring offensive content, Twitter says it does not screen or remove "potentially inflammatory content," although online harassment or abuse would constitute a TOS violation.
This story was updated to include Twitter's statement and a comment from Heartstrong.