Congressional Schedule Indicates Second Stimulus Checks Could Come As Early As August
A second round of stimulus checks could arrive sooner rather than later for millions of Americans impacted by the coronavirus crisis.
Lawmakers have indicated on several occasions that they want to pass another economic relief package addressing the effects of COVID-19 before leaving for their month-long recess this summer. Though negotiations over the next bill aren't likely to start until July 20, when the Senate is set to reconvene after a two-week break for Independence Day.
House Speaker Nancy Pelosi said Thursday that "of course" Congress would have enough time to negotiate another bill before Capitol Hill clears out on August 7. She said Republicans have "publicly said that 'this or that' should be in the next bill, so we anticipate we will have a bill."
It's been more than 45 days since the Democratic-controlled House passed the Health and Economic Recovery Omnibus Emergency Solutions (HEROES) Act. The bill includes another round of stimulus checks where each member of a household would receive $1,200—including children. The legislation would cap total payments at $6,000 per family.
But the HEROES Act didn't make it far past the House, as it was deemed "dead on arrival" by Senate Republicans. The White House also signaled that if the bill were to arrive on President Donald Trump's desk, he would veto it.
Yet there are signs that the White House would get behind additional funding. Trump recently told Fox News that he not only supports a second round of stimulus checks but that he wants "larger numbers than the Democrats."
"But it's got to be done properly," Trump said. "I want the money getting to people to be larger so they can spend it. I want the money to get there quickly and in a noncomplicated fashion."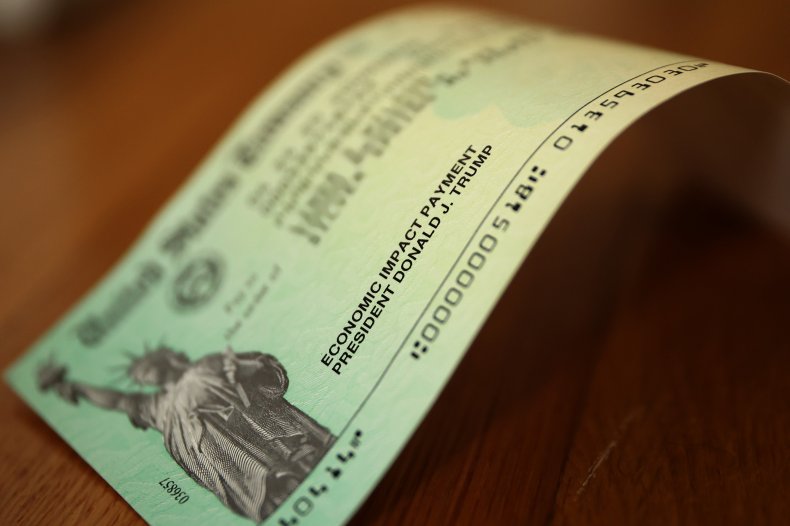 It's been three months since Congress passed the historic Coronavirus Aid, Relief, and Economic Security (CARES) Act, which sent out the first round of stimulus checks. The legislation provided payments of up to $1,200 for individuals who made less than $99,000 annually and for married couples who made less than $198,000. Those with dependents could also get $500 per person added to their stimulus check. The Internal Revenue Service said last month that more than 159 million Americans have received payments, totaling about $267 billion.
Since passage of the CARES Act, the economic downturn caused by coronavirus has been declared an official recession and the unemployment rate has increased to 11.1 percent. While the U.S. has added millions of jobs over the past two months, the latest data from the Labor Department showed there were still 15 million fewer jobs in June than in February.
Senate Majority Leader Mitch McConnell has previously said if another stimulus bill is passed it would happen this summer. The top Republican told reporters on Tuesday that any further recovery effort should focus on three things: "Kids, jobs, and healthcare."
"To step back towards normalcy, our country will need K-12 and college students to resume their schooling. We'll need to re-energize hiring to get workers their jobs back. And we'll need continued progress in the healthcare fight to get ready for the fall and winter and speed the search for a vaccine," he said.