Congressman Accused of Using Campaign Funds for Family Vacations Seeks GOP Endorsement for Another Term
Southern California Congressman Duncan D. Hunter is seeking funds to run for another term in the 50th District, even though he's been indicted for misappropriating campaign funds, according to the Associated Press.
Hunter allegedly plans to attend a Republican forum which will host his challengers, including former Representative Darrell Issa and radio personality Carl DeMaio.
Hunter, 42, had been charged with 60 counts of using campaign funds for personal expenses, including appropriating funds to take his family on multiple vacations—to Las Vegas, Disneyland, and Italy—pay off bar tabs, spending $500 in airline travel expenses for the family rabbit, and pay grocery bills from 2010 to 2016.
He has also been charged with conspiracy to commit wire fraud, falsification of records and aiding and abetting in the prohibited use of campaign contributions, according to The San Diego Tribune. They did this by using the campaign's credit card account. Hunter's alleged misdoings first came to light after Citizens for Responsibility and Ethics in Washington filed a complaint.
"Throughout the relevant period, the Hunters spent substantially more than they earned," the indictment read. "They overdrew their bank account more than 1,100 times in a seven-year period, resulting in approximately $37,761 in 'overdraft' and 'insufficient funds' bank fees."
The indictment further says that Margaret Hunter, his wife, would list personal expenses such as new clothes as campaign-related expenses.
"To conceal and disguise the illegal charges, she falsely told the treasurer that they were for gift basket items and a meal with supporters," the indictment said of one such charge.
During the trip to Italy, Hunter sought to arrange a trip to a military base, allegedly to justify writing it off as a campaign expense.
"After Navy officials responded that they could only provide a tour on a particular date, Duncan Hunter said he would discuss the proposed date with Margaret Hunter, then subsequently told his chief of staff 'tell the Navy to go f*** themselves,'" the indictment said.
Hunter pleaded not guilty to the charges in an August 23, 2018 hearing. "I didn't do it. I didn't spend any money illegally," he said at the time, according to CNN.
His wife, Margaret Hunter, pleaded guilty on one charge of corruption on June 13, 2019, admitting that she conspired with her husband to appropriate $200,000 in campaign finance money for personal gain. In a plea deal that will allow 59 other charges against her to be dropped, she has agreed to work with the prosecution and testify for them.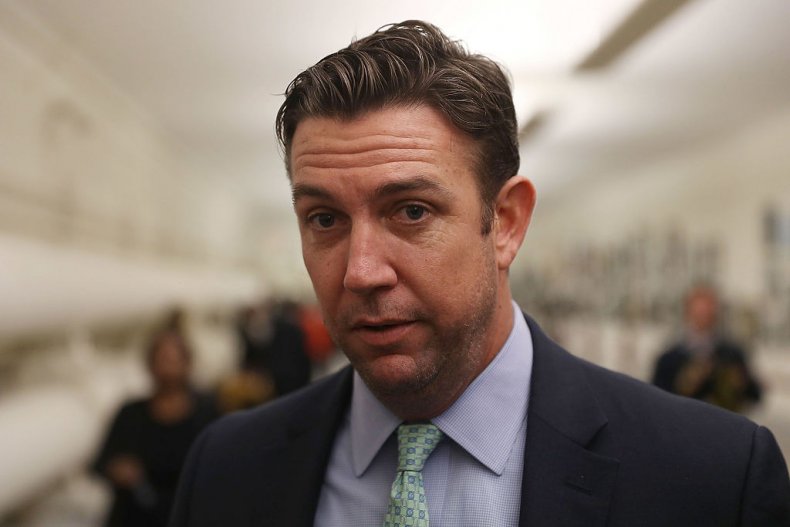 "It was politically motivated at the beginning, it remains politically motivated now," Hunter said of the charges in June, according to the Associated Press. He has claimed that the Department of Justice is "the Democrats' arm of law enforcement," and has vowed to keep his seat, which he nearly lost in 2018 to Democrat Ammar Campa-Najjar, who came within 3.4 percentage points of winning.
Hunter's trial is scheduled to begin in January.