Congressman Blasts Trump For Using 'Public Trust' For His Own 'Political End' With Ukraine Call: 'An Impeachable Offense'
Democratic congressman Jim Himes put President Donald Trump on blast for discussing former Vice President Joe Biden during a phone call with Ukraine's leader earlier this year, calling the move an "impeachable offense."
Himes appeared on CNN's New Day program Monday morning to talk about the latest development when host Alisyn Camerota asked if Trump's action was enough to "ramp up" the House Democrats' impeachment inquiry.
"Of course it does," Himes responded. "Extorting a foreign leader for the purposes of getting that leader to do your political work, to try to find dirt on your opponent is extortion. It is using the assets of the United States of America and the public trust for your own, corrupt if you will, end—certainly political end."
"So, of course it's an impeachable offense," the representative added.
Himes, who serves on the House Intelligence Committee, went on to accuse the White House of "violating the law" by not turning over the whistleblower complaint that revealed the president's questionable communications with the foreign leader.
"I can't tell you the House will move into impeachment mode right away, but this really ups the ante," Himes said. He went on to deny accusations that Democrats are procrastinating on impeachment, instead arguing that House Speaker Nancy Pelosi is "finely attuned" to public support for removing the president and does not want to risk helping Trump be reelected in 2020.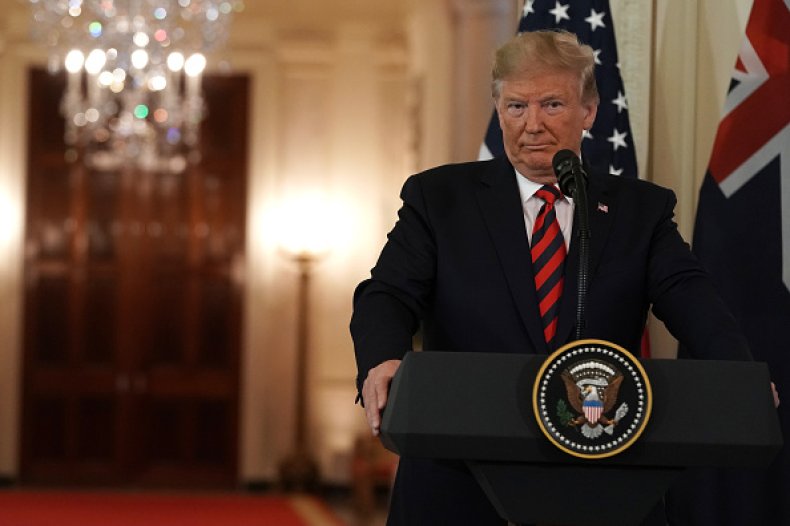 Trump acknowledged on Sunday that he had discussed the former vice president during a phone call with Ukranian President Volodymyr Zelensky in July and defended the conversation as completely appropriate.
"The conversation I had was largely congratulatory, with large corruption, all of the corruption taking place and largely the fact that we don't want our people like Vice President Biden and his son creating to the corruption already in the Ukraine," Trump told reporters.
Trump's troubling communication with the foreign leader was first revealed in a whistleblower complaint filed with the inspector general for the intelligence community. The inspector general deemed the complaint credible and troubling, but the Director of National Intelligence Joseph Maguire has refused to share details about the complaint with lawmakers. Now, House Democrats are threatening legal action if the Trump administration continues to withhold the information.
Pelosi wrote in a letter to lawmakers on Sunday that if the Trump administration continues to thwart efforts to make the whistleblower complaint available to Congress, the House will have to enter a new phase of its impeachment inquiry.
"If the Administration persists in blocking this whistleblower from disclosing to Congress a serious possible breach of constitutional duties by the President, they will be entering a grave new chapter of lawlessness which will take us into a whole new stage of investigation," Pelosi wrote.