South Carolina Congressman Ralph Norman Pulls Gun Out During Meeting With Constituents
During a meeting with Moms Demand Action Against for Gun Sense in America, a South Carolina congressman reportedly pulled a gun out and told a group of women that they should feel safe in the presence of the weapon, according to several advocates in attendance.
Rep. Ralph Norman, a Republican who serves in the U.S. House of Representatives for the 5th Congressional District, brandished the pistol during a Friday morning "coffee with constituents meeting" in Rockhill that had been advertised on Facebook. According to Moms Demand Action volunteers, the pistol was left out on the table for five to 10 minutes, making them feel unsafe.
"Rep. Norman's behavior today was a far cry from what responsible gun ownership looks like," said Lori Freemon, a volunteer who attended the meeting, in a statement about the incident. "I had looked forward to a respectful dialogue with my representative about common-sense gun violence prevention policies.
She continued, "Instead, I felt unsafe when he insisted on showing us his loaded gun and keeping it out on the table for much of our conversation."
Norman could not immediately be reached by Newsweek, but a spokesperson confirmed the incident in a statement released to the press. The handgun was taken out to prove that if someone had come into the coffee shop and threatened to shoot Norman or the advocates in attendance, the weapon would be there to protect them.
"Mental health, and more importantly, a lack of morality is the driving force behind this epidemic. Guns are not the problem," the statement said.
In an interview with the Post and Courier, Norman said he had no intention of becoming "a Gabby Giffords," a reference to the Democratic congresswoman who was shot in Arizona while meeting with constituents in 2011.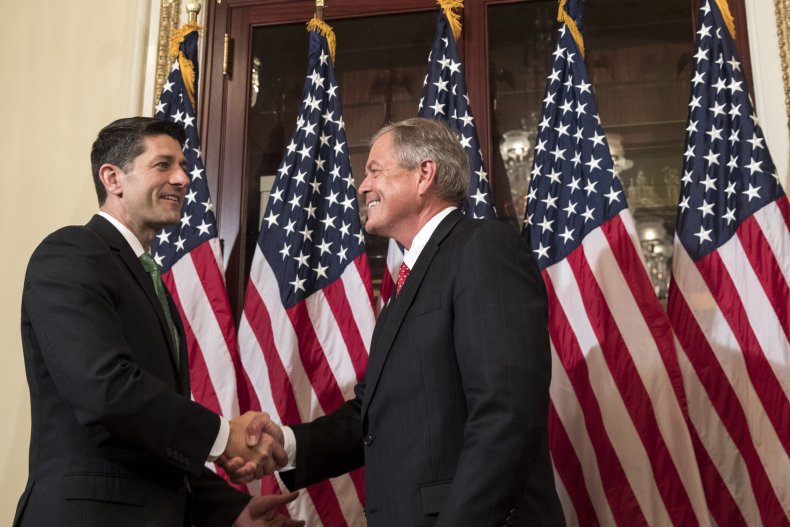 "I'm tired of these liberals jumping on the guns themselves as if they are the cause of the problem," Norman told the paper. "Guns are not the problem."
Giffords responded to the use of her name in a statement.
"Serving in Congress is about listening and leadership, not intimidation and showmanship," she said. "When 'leaders' make constituents feel unsafe, they have no place in elected office."
The remarks also made their way back to Giffords' husband, astronaut Mark Kelly, who suggested the brandishing was a stunt. Norman is "no Gabby Giffords," Kelly said.
"Americans are increasingly faced with a stark choice: leaders like Gabby, who work hard together to find solutions to problems, or extremists like the NRA and Congressman Norman, who rely on intimidation tactics and perpetuating fear," Kelly said in a statement provided to Newsweek. "If we want to protect our kids and communities, Congress must get serious about passing safer gun laws. For our kids' sake, let's show our leaders we expect them to behave more like Gabby and less like Congressman Norman."
The move also rankled those within Norman's own party. Jeff Flake, a Republican senator from Arizona, also criticized the congressman's actions.
"I sincerely hope you never have to experience what my friend Gabby Giffords experienced," Flake tweeted. "But to suggest that she might have avoided being shot had she carried a weapon as she spoke to constituents that morning is inappropriate and inconsiderate."
Trav Robertson, the South Carolina Democratic Party chair, said he would be asking the South Carolina Law Enforcement Division to launch an investigation into the incident.
"As any truly responsible gun owner knows, you cannot brandish your weapon without an imminent threat," Robertson said in a statement. "This is a felony offense and punishable by up to five years in prison."
If Norman regrets pulling out the weapon, he doesn't appear to be showing it. The Post and Courier reported him saying that he planned to take out the pistol during constituent meetings in the future. The representative, who is running for re-election, was given an A rating by the NRA.
The South Carolina Republican party chair dismissed the controversy, chalking it up to the actions of "hysterical liberals."