Congressman Dismisses Trump's Latest Ukraine Defense as 'Just Plain Factually Wrong'
Congressman Jim Himes dismissed Donald Trump and his supporters' latest defense of the president's actions towards Ukraine, arguing it is "just plain factually wrong."
Former U.S. Ambassador to Ukraine Bill Taylor testified before congressional investigators on Tuesday as part of the House of Representatives' fast-moving impeachment inquiry against Trump. The diplomat outlined how the White House implemented a clear quid pro quo with Ukraine over the summer. He also explained how military aid and a meeting with Trump were contingent on Ukraine's president publicly saying he'd investigate a debunked conspiracy theory regarding Democrats and the 2016 election, as well as unsubstantiated claims that Democratic presidential candidate Joe Biden acted corruptly toward Ukraine to benefit his son Hunter Biden's business interests there.
Despite the testimony, Republican Representative John Ratcliffe of Texas insisted nothing revealed by Taylor was impeachable.
"At the end of the day, this was about quid pro quo and whether or not the Ukrainians were aware that military aid was being withheld and, on that most important issue, neither this witness or any other witness has provided any evidence that there was a quid pro quo, or any evidence that the Ukrainians were aware that military aid was being withheld," Ratcliffe argued in an interview with Fox News.
"A quid pro quo is legally impossible," he claimed.
Trump parroted Ratcliffe's remarks in a Wednesday morning tweet. "'Neither he (Taylor) or any other witness has provided testimony that the Ukrainians were aware that military aid was being withheld. You can't have a quid pro quo with no quo.' Congressman John Ratcliffe," the president posted.
But as Himes, a Democrat who represents Connecticut, explained, this assessment and defense is inaccurate.
"First of all, like so much of this stuff, it's just plain factually wrong," Himes asserted in an interview with CNN on Wednesday. "Ambassador Taylor yesterday testified ... that the Ukrainians found out, largely because of a Politico article ... that the aid was being withheld," he said, pointing out that the funds were not released until weeks after that. Himes explained that Ambassador Taylor and others were "embarrassed as all get out" by the situation.
"Secondly, it doesn't really matter," Himes went on to point out. "I mean, you just need to read the transcript to know what the Ukrainians are receiving, even if they're not getting a contract." The Republicans are "trying to defend the indefensible," the representative said.
According to the transcript of Taylor's testimony, he told investigators that "Ambassador [to the European Union Gordon] Sondland told me that President Trump had told him that he wants President Zelenskiy to state publicly that Ukraine will investigate Burisma and alleged Ukrainian interference in the 2016 U.S. election." Hunter Biden formerly sat on the board of Burisma.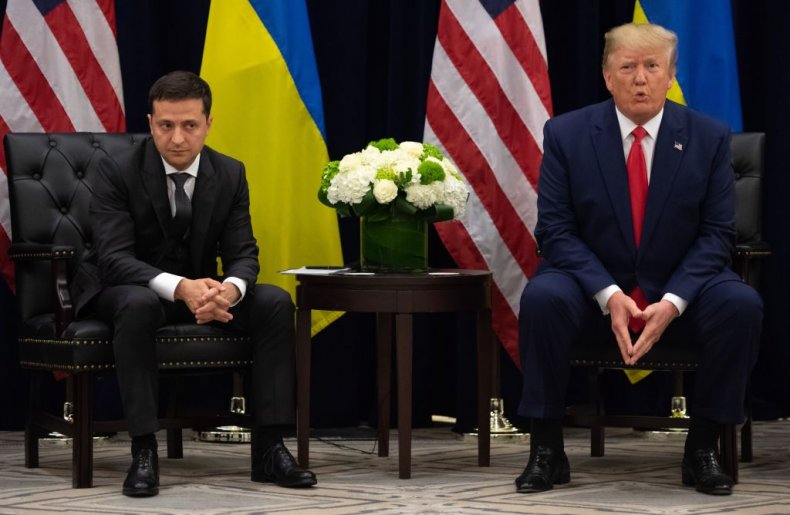 The diplomat also remarked that "Ambassador Sondland said, 'everything' was dependent on such an announcement, including security assistance."
Initially, Trump insisted that he had not improperly pressured Ukrainian leaders. After it was revealed that he had clearly pressured Ukrainian leaders, Trump's supporters insisted there was "no quid pro quo." Now that the quid pro quo has been directly outlined by the top U.S. diplomat in Ukraine, the president and his supporters are arguing it doesn't matter because their Ukrainian counterparts weren't aware of the conditions. But as Himes and The New York Times have pointed out, even that defense is inaccurate.
"Ukraine was aware the White House was holding up the funds weeks earlier than United States and Ukrainian officials had acknowledged," The Times reported on Wednesday, citing documents and interviews. "And it means that the Ukrainian government was aware of the freeze during most of the period in August when Mr. Trump's personal lawyer, Rudolph W. Giuliani, and two American diplomats were pressing President Volodymyr Zelensky of Ukraine to make a public commitment to the investigations being sought by Mr. Trump."