Days after FBI agents descended on his Laredo, Texas, home, U.S. Representative Henry Cuellar released a new campaign ad on Friday signaling he is pushing forward with his re-election effort unfazed by the federal investigation.
The 30-second campaign spot posted to YouTube is titled "Field of American Dreams" and begins with the Texas Democrat sifting his hand through dirt in a field. He described how this is where his migrant worker parents were given "a shot at the American dream," and how he became the first person in his family to go to college after working two jobs to put himself through school.
"I know this land gave my family a chance," Cuellar said in the ad, which does not address the raid. "That's why I'll never stop fighting for south Texas."
Over a dozen FBI agents were seen at Cuellar's campaign office and home on Wednesday hauling out cases and other items, according to The Monitor. The FBI has confirmed it was present at his home and campaign office, but has not provided additional information. Cuellar told the paper he is cooperating.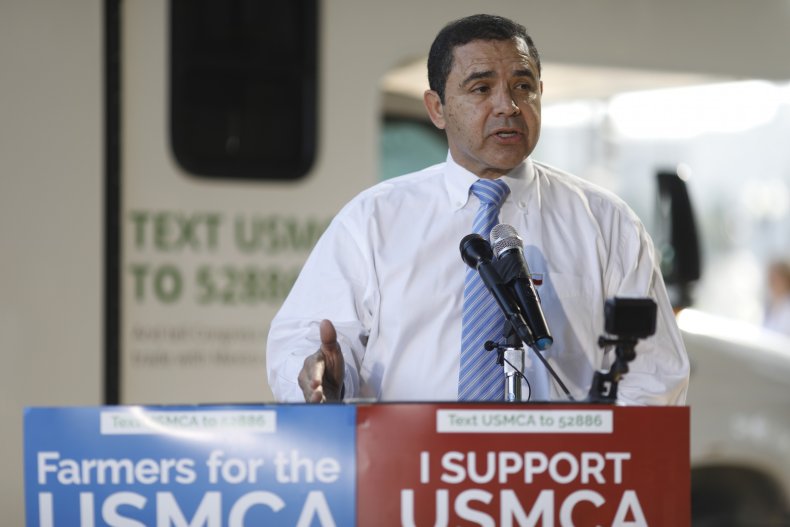 The investigation is part of a federal probe regarding the central Asian country of Azerbaijan and multiple U.S. businessmen, ABC News reported Thursday, citing an unnamed source. A federal grand jury is involved in the probe, but it's unclear how central Cuellar is to it, ABC News reported.
Cuellar is a member of the Congressional Azerbaijan Caucus, which seeks to improve relations between the U.S. and the former Soviet republic on issues of trade, security and military cooperation.
A former state legislator and Texas secretary of state, Cuellar was first elected in 2004 to the U.S. House of Representatives for a seat representing Laredo and other communities along the border with Mexico.
Cuellar sits on the influential House Appropriations Committee, and the new ad touts his support for "good schools, affordable health care and better pay."
The ad will run in the Laredo and San Antonio media markets in both English and Spanish, according to the Texas Tribune.
Cuellar is expected to face a competitive primary race in March, again squaring off with with human-rights lawyer Jessica Cisneros, who came within 4 percentage points of beating him in 2020, reports the Tribune. Democrat Tannya Benavides is also vying for the position. Cuellar's campaign had $2.3 million cash on hand at the end of the year.
Newsweek has reached out to the FBI for comment, as well as Cuellar's campaign asking about his decision to keep stumping.