Congressman Leaving GOP Over Trump's 'Narcissistic' Attempts to Overturn Election
Representative Paul Mitchell of Michigan announced on Monday that he is leaving the GOP after several "traumatic" weeks following the 2020 presidential election.
Mitchell, a Republican who has criticized President Donald Trump's attempts to undermine confidence in the outcome of the election, said he is fearful that Republican support of Trump's actions could lead to "long-term harm to our democracy."
Mitchell asked the clerk of the U.S. House of Representatives to officially change his party affiliation from "Republican" to "Independent" for the remainder of his time in office. The former Republican is completing his final term in Congress after announcing last year that he did not intend to seek re-election.
In a letter addressed to Republican National Committee Chair Ronna McDaniel and House Minority Leader Kevin McCarthy, Mitchell explained the reasons behind his decision to stop supporting the GOP at the state and national levels. Copies of the letter were also provided to the Michigan GOP chair and the House of Representatives clerk, Mitchell said.
"If Republican leaders collectively sit back and tolerate unfounded conspiracy theories and 'stop the steal' rallies without speaking out for our electoral process, which the Department of Homeland Security said was 'the most secure in American history,' our nation will be damaged," Mitchell's letter said.
"I have spoken out clearly and forcefully in opposition to these messages. However, with the leadership of the Republican Party and our Republican Conference in the House actively participating in at least some of these efforts, I fear long-term harm to our democracy."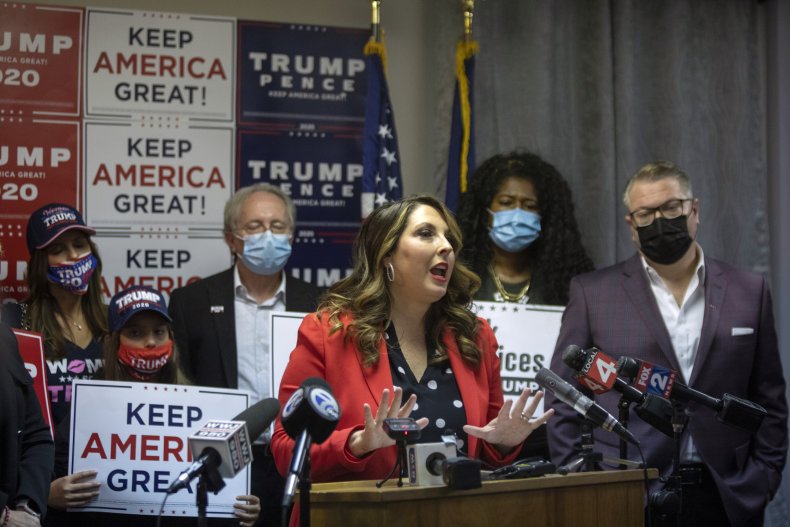 Following an election that saw expanded vote-by-mail participation as a result of restrictions put in place due to the coronavirus pandemic, media outlets called the race for President-elect Joe Biden on November 7. Trump has not yet conceded the election. Instead, he's spread debunked election-related theories on social media while his campaign lawyers filed legal challenges contesting the results in several battleground states.
One of the conspiracy theories that Trump has referenced multiple times is known as "stop the steal." The theory alleges that Democrats are trying to "steal" the election and block Trump from another four years in office.
Mitchell previously spoke out against this theory and in late November amended the spreading "#stopthestupid" hashtag in a post on Twitter so that it instead read, "#stopthestupid."
"Oh my God. .@realDonaldTrump Please for the sake of our Nation please drop these arguments without evidence or factual basis. #stopthestupid," Mitchell said in a November 29 tweet.
In his Monday letter, Mitchell noted his voting history supporting Trump administration policies and his support for the GOP throughout his time in Congress. While Mitchell said he was among those in the GOP who cast a ballot for Trump this election cycle, he said Trump's legal team had not proven its allegations of widespread voter fraud and raised concerns about other party leaders who continue to stand by Trump despite the lack of evidence for the president's allegations.
"I believe that raw political considerations, not constitutional or voting integrity concerns, motivate many in party leadership to support the 'stop the steal' efforts, which is extremely disappointing to me," Mitchell wrote.
The former Republican acknowledged that the timing of his announcement was "admittedly symbolic" given the approaching end to his final term in office. "While admittedly symbolic, we all know that symbols matter," he wrote.
On Sunday, Mitchell shared a link on Twitter to an article about Trump's ongoing election-related legal challenges. "Courts have heard the 'evidence' provided of 'fraud' and found it unsubstantiated numerous times," Mitchell wrote. "Continuing this circus is just ...so damaging ... so unproductive ... so narcissistic...what about our country?"
"This party has to stand up for democracy first, for our Constitution first, and not political considerations, not to protect a candidate, not simply for raw political power," Mitchell said during a Monday interview with CNN. "And that's what I feel is going on. And I've had enough."
Newsweek reached out to the RNC, the Michigan Republican Party and McCarthy's office for comment but did not receive responses in time for publication.