Congressman Questions Trump's 'Motives' For Killing Iran's Soleimani, Suggesting They're Connected to Impeachment
Representative Raja Krishnamoorthi questioned Donald Trump's "motives" for ordering a controversial military drone strike that killed Iranian military commander Qassem Soleimani earlier this month, suggesting that the decision could have been linked to the president's impeachment.
According to reporting by The New York Times and The Wall Street Journal, Trump told associates that he was concerned about shoring up support from certain Republican senators ahead of a pending impeachment trial in the Senate, suggesting that this factored into his decision to take out Soleimani. During an interview with CNN on Monday, Krishnamoorthi, a Democrat from Illinois who sits on the House Intelligence Committee, was asked about these reports.
"If that is the motivation for the attack, that's absolutely a problem," the congressman said. "And I also noticed that in a lot of his tweets, he would kind of mix up both the impeachment issue as well as the attack on Soleimani," he continued, "which also raises questions and suspicions about what are the true motives behind that attack."
"We cannot go to war with Iran," Krishnamoorthi asserted. "And if you launch such an offensive hostility against—or a military activity action against the [Iranian] regime, then we get closer to the precipice [of war]."
The Times reported that Trump told associates he wanted to "preserve the support of Republican hawks" in the Senate, as he faces a pending trial following his December impeachment in the House of Representatives. The article noted that he specifically mentioned GOP Senator Tom Cotton of Arkansas.
Publicly, Trump and his administration have insisted that Soleimani was planning "imminent" attacks that would lead to American deaths. On Friday, Trump told Fox News host Laura Ingraham that he believed four U.S. embassies in the Middle East would have been targeted. However, Secretary of Defense Mark Esper told CBS News Face the Nation on Sunday that he "didn't see" specific intelligence referencing attacks on embassies.
Secretary of State Mike Pompeo has faced criticism for his defense of the targeted killing of the Iranian official. Although he has claimed that the threat posed by Soleimani was "imminent," he noted to reporters that he did not know "where" or "when" an attack would take place. Critics have pointed out that this does not match the definition of "imminent."
If the threat was imminent, as the administration has claimed, Trump could justify his decision as a defensive measure. But Democratic lawmakers, and some Republicans, have voiced significant skepticism about Trump's argument, particularly after a briefing with Congress last week.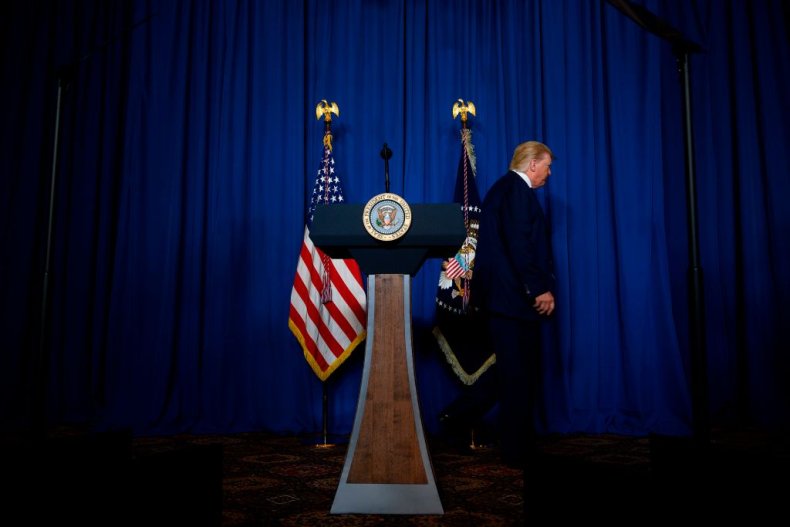 "When we would ask them, 'What was the nature of that attack? When and where would that have occurred? By whom would it have been carried out?' they refused to answer the question," Republican Senator Mark Lee of Utah told reporters after the briefing.
"And they deferred the same way they would if we weren't in a classified environment, saying, 'We can't talk about that.'"
Since shortly after it was reported that Soleimani had been killed, many Trump critics began noting that the president had previously argued in 2011 and 2012 that former President Barack Obama would "start a war with Iran" to get re-elected. In reality, Obama did not start a war and he went on to sign the 2015 Joint Comprehensive Plan of Action (JCPOA), along with the European Union, the United Kingdom, France, Germany, Russia and China.
Known commonly as the Iran nuclear deal, the JCPOA offered Iran sanctions relief and international investment in exchange for curbing its nuclear program. As analysts have noted, the agreement effectively reduced Iran's ability to acquire a nuclear weapon while also correlating with a decline in attacks by Islamic Republic's proxy groups throughout the Middle East. But Trump, a staunch Obama critic, withdrew from the deal in May 2018, reimposing sanctions against Iran. Tensions have escalated dramatically between Tehran and Washington since then.
Congressman Questions Trump's 'Motives' For Killing Iran's Soleimani, Suggesting They're Connected to Impeachment | World