Congressman Says Some Republicans 'Would Like' to Vote 'Yes' on Impeachment But Fear Punishment
Democratic Congressman Denny Heck said that some of his Republican colleagues in the House of Representatives "would like" to vote in favor of President Donald Trump's impeachment, but they fear they will be "punished."
"Any Republican who would vote 'yes' on the articles of impeachment, and we all know that there are some who would like to do that, they will privately acknowledge it sometimes, but that if they do, they will be punished," Heck, who represents Washington's 10th District, said during a Thursday interview with CNN. "Indeed, by the president they'll be viciously punished."
Newsweek reached out via email to Heck's media contact and to the White House press office for comment on Heck's assertions. This article will be updated to reflect any response to those requests.
The representative went on to assert that "there are members on the other side of the aisle who are deeply, deeply concerned about the president's behavior. They believe that what he did is wrong." Heck explained that he has had conversations with multiple Republican colleagues who have said "they do not agree with" Trump and "think that the course that he is on is wrong for America."
Democratic leaders of the House Judiciary committee unveiled two articles of impeachment against Trump this week, one for "Abuse of Power" and the other for "Obstruction of Congress." The president faces impeachment due to his efforts to pressure Ukraine to announce investigations into discredited claims that Democratic presidential candidate Joe Biden acted corruptly in the Eastern European nation to benefit his son Hunter Biden's business dealings there, and into a debunked conspiracy theory that Ukraine—not Russia—interfered in the 2016 presidential election.
Democrats have alleged that this pressure campaign amounted to soliciting a foreign government to interfere in a U.S. election, which they view as an abuse of Trump's office and a threat to democracy. The second article of impeachment for obstruction is due to the White House's refusal to comply with subpoenas related to the congressional investigation and its efforts to block witnesses from testifying. The Constitution gives Congress the power of impeachment, and Democrats have alleged that Trump's efforts undermined that role.
Despite the allegations and the testimony of multiple current and former Trump administration officials, Republicans have largely continued to defend and support the president. Many analysts believe it is likely that the vote for impeachment will pass without any Republican support in the Democrat-controlled House. However, numerous Democratic representatives have said over the past few months, as Heck did on Thursday, that Republicans have privately voiced their criticism and concern about Trump's actions.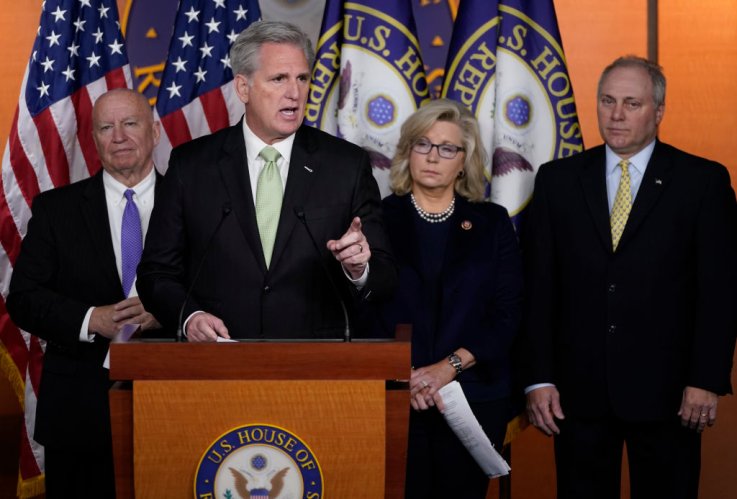 GOP Representative Francis Rooney of Florida on Monday voiced his disagreement with the White House's actions during the impeachment inquiry. He argued that current and former administration officials who had been blocked from testifying should come before Congress. "There are several important sources of first-hand testimony about what was or was not said by the president that should be heard under oath," he said, according to Florida Politics.
However, Republicans in Congress have mostly appeared reluctant to criticize Trump throughout the proceedings. The president has maintained high approval ratings among GOP voters throughout his nearly three years in office, with the trend continuing despite the impeachment inquiry.
Some Republican politicians who have distanced themselves from Trump in the past, have then been targeted by him on Twitter or in public. A few GOP lawmakers, such as former Utah Representative Mia Love, have suggested that the president's opposition has cost them their re-election bids.
Congressman Says Some Republicans 'Would Like' to Vote 'Yes' on Impeachment But Fear Punishment | U.S.