Congressman: U.S. Support for Ukraine Will Stay Strong | Opinion
As I stood in Poland, watching American military equipment move across the Ukrainian border, what I saw was clear: there is no immediate end to this war. Six days after my trip with a bipartisan group of U.S. lawmakers, President Biden's historic trip to Kyiv sent an emphatic message to Russia: The United States will stand with Ukraine throughout this entire war and beyond.
Yet, some far-right American politicians are now calling for the United States and its allies to cut and run, leaving Ukrainians to defend their country alone without respite or reprieve. What these politicians fail or refuse to see is that abandoning Ukraine would have far-reaching implications for not just Ukraine, but the entire world.
Russian President Vladimir Putin is willing to risk everything to take control of Ukraine. If he can't, then he will be hellbent on destroying every conceivable inch of it, inflicting as much pain and suffering on the Ukrainian people as possible in the process. So far, miraculously, he is failing. The Ukrainian government and military remain intact, successfully holding off multiple Russian offensives after the largest ground invasion of a European nation since World War II.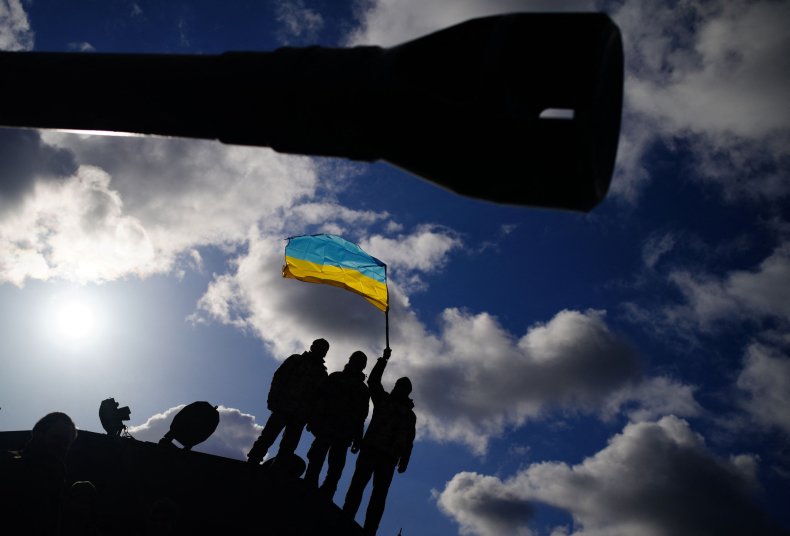 Few thought we would be here one year removed from the start of this war. Clearly, the unyielding supply of munitions that the U.S. and its NATO allies have supplied to Ukraine has buttressed its military and allowed for a strong defense against Russia. Despite the success that U.S. military support for Ukraine has created, some in the far-right faction of the Republican Party are calling for an end to this support, believing it to be tainted with waste, fraud, and abuse.
In response to these accusations, the bipartisan Congressional Delegation to the Polish/Ukrainian border I participated in was created to conduct oversight of the supply chains transiting weapons and other supplies to the frontlines in Ukraine. We saw firsthand that U.S. aid is reaching the Ukrainian military expeditiously and efficiently. We also saw that U.S. military support—coupled with the support of our European allies—will be the difference between Ukraine winning or losing this war. At stake in this war is the preservation of global freedom and security.
Prior to the war in Ukraine, the global community attempted to negotiate with Putin and stymie his maniacal intentions toward Ukraine. He made it known then that the only acceptable outcome for Russia was a return to the Warsaw Pact and a full-blown eradication of NATO's eastern flank. This is Putin's end goal—one he cannot be allowed to achieve. Freedom must be defended, and if America and its NATO partners fail to do so in Ukraine then they could soon be doing so on their own soil. The strength of the NATO partnership has never been more important.
Putin has always aimed to dimmish NATO, but his war in Ukraine has had an antithetical effect. Fortunately, from what we saw on our congressional delegation, I have never seen NATO stronger or more resilient in my 13 years of service on the House Armed Services Committee. Under the Trump Administration, NATO was attacked, and the willingness of the U.S. to honor Article 5 was called into question. There were talks of nations withdrawing from NATO, which would have only strengthened Russia and other adversaries. Yet, remarkably, just a few short years later, thanks to President Biden's leadership, NATO is set to expand its membership by admitting Finland and Sweden into the alliance. The newfound strength of the NATO alliance is imperative and comes at a critically important inflection point in geopolitical history.
The geopolitical implications for supporting Ukraine extend far beyond curtailing Russia's interest in diminishing NATO and re-establishing the tenants of the Warsaw Pact. From the wings, China is closely monitoring how the U.S. responds to Russia's warmongering. If the U.S. and its allies cut and run from Ukraine, then we will send a message to the world that we are not a dutiful or reliable ally. This would surely embolden China to act against Taiwan or our allies throughout the Pacific. As China considers arming Russia with lethal aid to fight Ukraine, the U.S. must make it abundantly clear: supporting Russia means choosing isolation and making itself a pariah on the global stage. A failure to deliver this message would have perilous consequences throughout the world.
With no end in sight, we do not know how much longer the war in Ukraine will rage on. However, as Russia and China look to wreak havoc on the world stage, we do know that continuing our support for Ukraine and our strategic partners is both the correct moral decision and the right strategic move for the United States. We must continue to hold the line and push back against extreme Russian sympathizers in the U.S. Congress who seek to undermine America and its allies. My bipartisan delegation to Eastern Europe, as well as President Biden's historic trip to Kyiv, made it clear that the United States will stand with Ukraine for as long as it takes to protect their freedom once and for all.
John Garamendi is the U.S. Representative for California's 8th Congressional District. He is a senior member of the House Armed Services Committee and the top Democrat on the Armed Services Subcommittee on Readiness.
The views expressed in this article are the writer's own.