Congressman Who Claimed There is 'Abortion Genocide' Posts Poll about 'Murder of a Baby'
An anti-abortion Arizona representative posted a poll containing false information about Roe v. Wade and asking when a doctor or mother should be charged with "murder of a baby."
Republican Congressman Paul Gosar published a poll on his official House.gov website asking four questions about abortion, including whether the landmark 1973 Supreme Court ruling on abortion should be overturned. The lawmaker, who has represented Arizona's 4th Congressional District since 2011, condemned "abortion genocide" in 2012, when the House failed to pass legislation banning abortion after 20 weeks of pregnancy.
His abortion poll, which was posted as Republican-led state legislatures across the country seek to pass restrictive abortion bills and the federal government implements changes backed by anti-choice groups, was framed in a manner that appeared to encourage respondents to endorse viewpoints held by anti-choice advocates.
Answers to the question "Should the Supreme Court modify Roe v Wade and allow protection of unborn babies after six weeks?" read "Yes. The heartbeat is the universally recognized indicator of life." and "No. A mother should always have the right to kill her unborn baby no matter when the baby's heartbeat is detectable."
This type of questioning, where the responses are worded to encourage one a particular result, is symptomatic of what is referred to as a "push poll," the results of which are not reliable.
While representing Republican talking points surrounding discussion of abortions, the poll also contained false information, including the claim that Roe v. Wade permitted abortion in the first three months of a woman's pregnancy. (It decreed that states could not prevent abortion before a fetus is viable outside the womb, between 24 and 28 weeks.) The poll also referred to "post birth abortion."
Republicans, including Trump, have recently spread the false claim that Democrats support infanticide.
"Donald Trump and Mike Pence support this radical worldview and are working to make the vilification of health care providers and patients part of the mainstream," Mary Alice Carter, senior adviser at Health and Human Services monitor Equity Forward, told Newsweek in an email statement. "In 2016, Trump tried to walk back his statement that women should be punished for having abortions, but Rep. Gosar's poll confirms that criminalizing people who have abortions is still part of the anti-abortion agenda."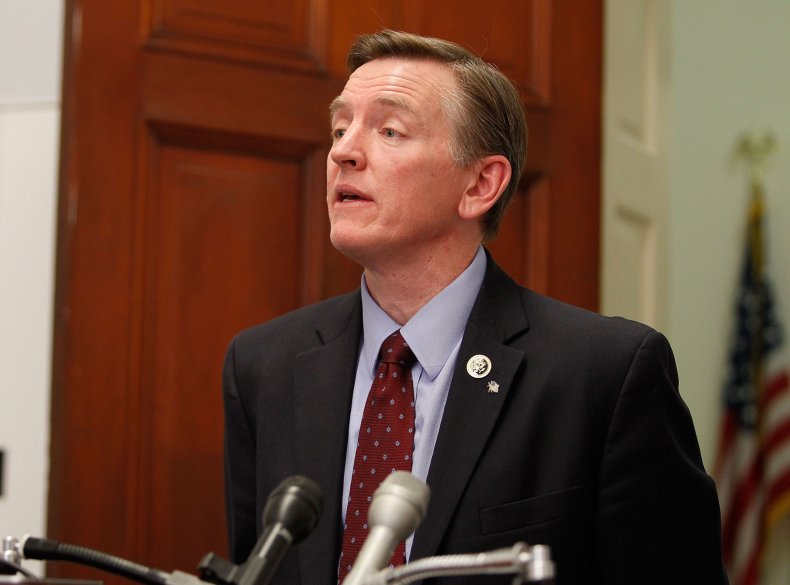 Gosar's office did not comment prior to publication. But his references to preventing abortion after a fetal heartbeat is detected and ensuring that an aborted fetus "should be given a proper funeral and returned to God" mirror conversations that have recently taken place in state legislatures.
Last month, Alabama passed the most restrictive abortion legislation in the country, banning all abortions except in the case of a "serious health risk to the unborn child's mother" and if the child has a "lethal anomaly." Missouri followed soon after, approving a bill prohibiting abortion after eight weeks. Louisiana followed Missouri, with the state's governor signing legislation banning abortions after a fetal heartbeat is detected.
However, some physicians have noted that — particularly when referring to a fetus as early as six to eight weeks — the phrase "fetal heartbeat" may be misleading.
"There is not a fully formed heart with four chambers as we know it to be in an adult or in a living person," Dr. Jennifer Kerns, an associate professor of obstetrics and gynecology at the University of California San Francisco recently told Newsweek. "What it is is a group of cells that are programmed to eventually become the heart, and so they have some electrical activity."
Anti-abortion advocates have expressly stated they hope this new spate of restrictive abortion legislation will lead to legal challenges that will bring the matter before a conservative-leaning Supreme Court that they believe could overturn Roe v. Wade.