'The Look in One Father's Eyes Broke Me': Congressmembers on Visiting Migrant Detention Centers
A group of U.S. Congressmembers who visited migrant detention centers in Clint and El Paso, Texas, on Monday, including New York Rep. Alexandria Ocasio-Cortez, were left stunned by what they saw and the stories they heard from detainees.
"What we saw today was unconscionable," Ocasio-Cortez said, speaking at a press conference following the visits.
"No child should ever be separated from their parent. No child should ever be taken from their family. No woman should ever be locked up in a pen when they have done no harm to a human being. They should be given water, they should be given basic access to human rights," she said.
"The conditions are far worse than we ever could have imagined," Democratic Rep. Madeleine Dean of Pennsylvania said in a tweet after visiting one facility.
"[Fifteen] women in their 50s and 60s sleeping in a small concrete cell, no running water. Weeks without showers. All of them separated from their families. This is a human rights crisis," she said.
Meanwhile, Democratic Rep. Lori Trahan of Massachusetts described seeing "toddlers quarantined in a 8x10' room sleeping on the floor [with] the flu," a "young girl in a hot warehouse coloring with a chain link fence around her" and "women sobbing in a crowded cell because they were separated from their kids."
"Our system is broken. I won't stop until it's fixed," she vowed.
After seeing immigrants of all generations suffering in detention facilities, Democratic Rep. Rashida Tlaib of Michigan said lawmakers could no longer "just focus on the children" held in U.S. facilities.
"I met grandmothers, mothers and fathers who are suffering. This is devastating," she said. "The look in one father's eyes broke me. I can't look away."
The Congressmembers were among a group of more than a dozen lawmakers who visited detention centers near the border during a trip led by the Congressional Hispanic Caucus.
The conditions detained migrants were being forced to live in, Congressmembers said, were abysmal. Meanwhile, the lawmakers added, despite Congress having oversight over the U.S. Customs and Border Protection agency, CBP personnel were "uncooperative."
In one case, lawmakers described how a detained woman said she was told by a Border Patrol agent to drink water from a toilet when she complained of thirst.
"'If you want water, just drink from a toilet.' That's what border patrol told one thirsty woman we met on today's #DemsAtTheBorder trip," said Democratic Rep. Judy Chu of California. "These are the same CBP personnel who threatened to throw burritos at members of Congress. Changes must be made," she added.
Overall, Democratic Representative Joe Kennedy III of Massachusetts, said that his "big takeaways" from the visits were that "1) CBP was very resistant to Congressional oversight. They tried to restrict what we saw, take our phones, block photos and video."
The atmosphere, Kennedy III said, "was contentious and uncooperative."
Secondly, Kennedy said, the facilities migrants are being held in "are wholly inadequate."
"Cells maxed to capacity, concrete floors... It felt jail-like. No way to keep a child or innocent human being. Group of 13 women from Cuba were in tears when we spoke with them," he continued.
Finally, the Democrat said, "the entire system is broken, rotten and rife with abuse." And President Donald Trump, he said, "doubles down on it despite the growing horror–child detention, metering, Remain in Mexico, threatened ICE raids."
"Every action he takes exacerbates and entrenches the humanitarian crisis at our nation's feet," he said.
Following the visits, Ocasio-Cortez tweeted that it was still "haunting" her that "the women I met today told me in no uncertain terms that they would experience retribution for telling us what they shared."
"They all began sobbing–out of fear of being punished, out of sickness, out of desperation, lack of sleep, trauma, despair."
Meanwhile, California Senator and 2020 Democratic hopeful Kamala Harris, who visited a detention center in Florida, promised that she and her colleagues would be calling for investigations into those in charge of the facilities used to detain migrants arriving in the U.S.
"Every American should be outraged over the inhumane treatment of detained immigrant children at our border," she said. "It doesn't make us safer and it's not who we are as a country."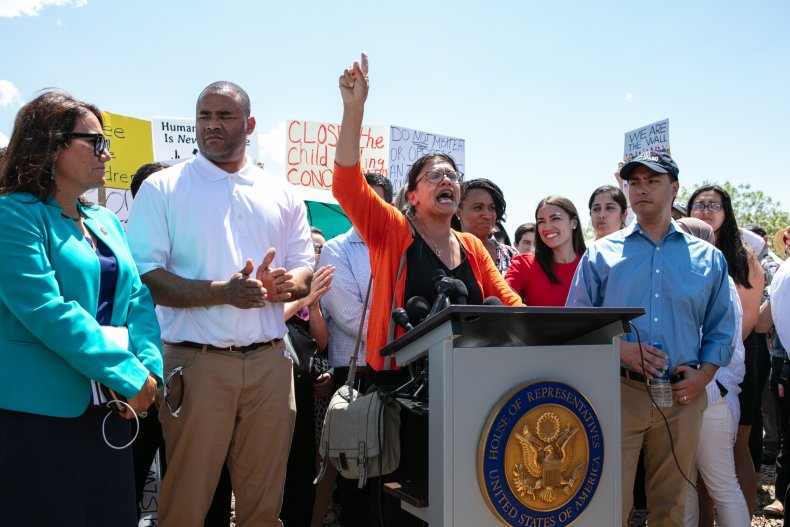 Correction: This article previously suggested California Senator Kamala Harris was present during detention center visits in Texas. In fact, she had visited a detention center separately in Florida.