Congresswoman Ilhan Omar Says She's 'Striken With PTSD' Amid Escalating Tensions With Iran
During a Wednesday press conference, Representative Ilhan Omar (D-Minn) said that America's escalating tensions with Iran have left her feeling "a little bit" ill "because of everything that is taking place."
"And I think every time I hear about—I hear of conversations around war, I find myself being stricken with PTSD. And I find peace knowing that I serve with great advocates for peace and people who have shown courage against war," Rep. Omar continued.
Omar has long been critical of President Donald Trump's actions in Iran, including his plan to impose harsh economic sanctions, tweeting Wednesday afternoon that imposing sanctions "makes no sense."
"This makes no sense. Sanctions are economic warfare. They have already caused medical shortages and countless deaths in Iran. You cannot claim to want deescalation and then announce new sanctions with no clear goal. This is not a measured response!" she tweeted.
On Sunday, Rep. Omar co-sponsored a House resolution with Rep. Barbara Lee (D-Calif.) to withdraw troops from hostilities with Iran by invoking the War Powers Act.
"We in Congress must exercise our Constitutional duty—and do everything in our power to stop another disastrous war," said Omar in a statement. "Following the assassination [of General Qassem Soleimani on January 3], thousands of additional troops were sent to the Middle East in one of the largest rapid deployments seen in decades. This follows years of saber-rattling and threats of war against Iran by President Trump and his accomplices."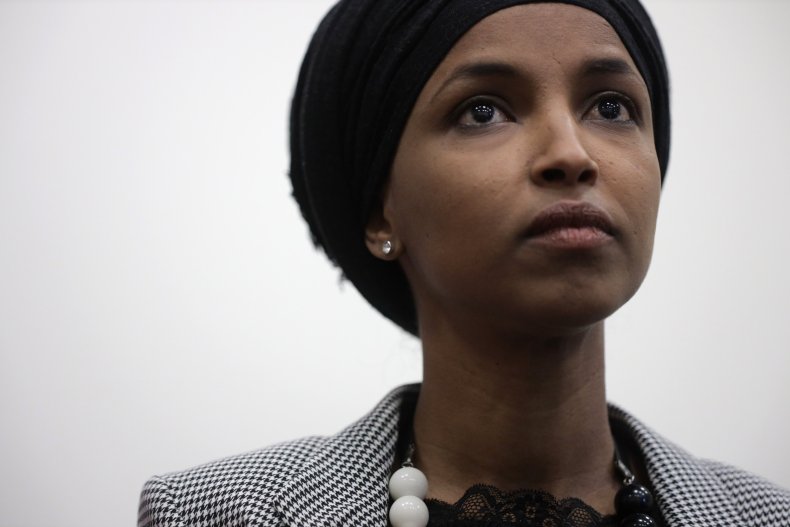 The conflict between Iran and the United States has been intensifying since a rocket attack allegedly launched by members of the Kataib Hezbollah militia on an Iraqi military base in Kirkuk on December 27. That assault killed one American, a civil contractor, and wounded several U.S. soldiers. A spokesperson for Kataib Hezbollah denied involvement in the attack.
On December 29, the U.S. launched airstrikes which killed 24 Kataib Hezbollah combatants.
In response, a large group of Iraqi protesters forced its way past security forces and into the U.S.'s embassy in Baghdad on December 31. Armed with rocks and chanting "Death to America," they marked the interior walls of the embassy with graffiti, set fires, destroyed property, broke windows and announced their demands for a complete withdrawal of U.S. troops from Iraq.
According to a statement from the Pentagon, the resultant strike against Soleimani on January 3 was "aimed at deterring future Iranian attack plans."
"We do not seek regime change," Trump said during a Friday afternoon press briefing. "The future belongs to the people of Iran... We took action to stop a war, we did not take action to start a war."
On Wednesday, Iran's Revolutionary Guard fired upon Iraq's Ayn al-Asad Air Base in retaliation for the the air strike against Soleimani. No Americans were hurt during the missile attack.
Newsweek has reached out to Rep. Omar's representative for further comment, but did not hear back at press time.