Congresswoman Liz Cheney Is the Latest Republican Calling on Trump to Prove Fraud Claims in Court
Wyoming Rep. Liz Cheney urged Donald Trump's legal team to support their varied election fraud claims with evidence or cease attempts to challenge results in court last week.
In a statement released Friday, the congresswoman and House Republican Conference Chair called on the sitting president to respect "the sanctity of our electoral process" amid a flurry unsubstantiated allegations about corruption and misconduct, which have become the focus of more than two dozen lawsuits filed on behalf of his re-election campaign.
"America is governed by the rule of law. The President and his lawyers have made claims of criminality and widespread fraud, which they allege could impact election results. If they have genuine evidence of this, they are obligated to present it immediately in court and to the American people," said Cheney in last week's statement.
"I understand that the President has filed more than thirty separate lawsuits. If he is unsatisfied with the results in those lawsuits, then the appropriate avenue is to appeal," the congresswoman continued. "If the President cannot prove these claims or demonstrate that they would change the election result, he should fulfill his oath to preserve, protect and defend the Constitution of the United States by respecting the sanctity of our electoral process."
Cheney is the eldest daughter of Republican former Vice President Dick Cheney, who served under George W. Bush during his two consecutive terms as president. Her remarks on the Trump campaign's efforts to undermine Joe Biden's election win were the latest to come from prominent Republican figures, as the president's attorneys continue to allege fraud despite a majority of their lawsuits meeting swift judicial dismissals.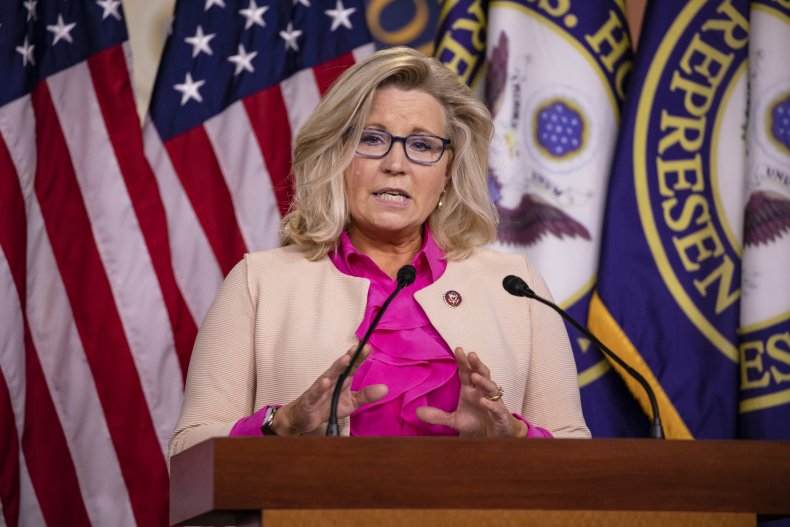 "I think we are at the point that we need the evidence to be produced in court," said Arkansas Senator Tom Cotton, a Republican, during a Fox & Friends appearance on Friday.
"Rudy Giuliani and the president's lawyers have multiple lawsuits filed around the country. But we are to the point though, where this is not the time for politicians or press conferences," he added. "That was during the election. This is a time for evidence in court."
Cotton's interview seemed to reference a Thursday press briefing that saw Trump's attorneys, including Giuliani, who recently joined the campaign's legal efforts, air a range of accusations about voter fraud and a convoluted plot by Democratic forces to steal the election. Reporters at the conference repeatedly asked Trump's team to provide more information about evidence backing their claims.
A number of additional Republicans have responded to Trump's lawsuits with remarks that range from skeptical to disapproving. GOP Senators Ben Sasse and Mitt Romney, of Nebraska and Utah, respectively, have both vocally opposed Trump's attempts to contest ballot results since Election Day.
On Thursday, conservative Fox News host Tucker Carlson told viewers that Sidney Powell, another Trump attorney at the forefront of his campaign's legal efforts, "never sent" his team any evidence to support fraud claims, after multiple requests.
Trump addressed Cheney's Friday statement in a message shared Sunday morning.
"Sorry Liz, can't accept the results of an election with hundreds of thousands of fraudulent votes cast, enough to easily flip the Election. You're just unhappy that I'm bringing the troops back home where they belong!" the president wrote on Twitter. The social media platform flagged his tweet with a label alerting users that claims of fraudulent activity impacting the general election's results are disputed.
In late 2019, the congresswoman publicly criticized Trump's decision to remove U.S. troops from Syria ahead of a planned Turkish military incursion. Cheney called the move "sickening" and "impossible to understand" in a message shared to Twitter at the time.
Acting Defense Secretary Christopher Miller confirmed the Pentagon will withdraw 2,500 U.S. troops from Afghanistan and Iraq before mid-January, in keeping with Trump's pledges to do so during his re-election campaign. Responding to reports of the president's plans over the summer, Cheney co-sponsored a bipartisan bill that aimed to ensure troop withdrawals from Afghanistan were "subject to thorough congressional oversight" before taking effect.
Newsweek reached out to the Trump campaign for comment, but did not receive a reply in time for publication.