Congresswoman Pushing for Sexual Harassment Bill Kept Accused Harasser on Staff, Report Says
Updated | A Michigan congresswoman says she wants to stop sexual harassment on Capitol Hill. But first she needs to stop it in her own office.
Representative Brenda Lawrence, the Democrat from Michigan, recently introduced legislation requiring congressional staff to undergo sexual harassment training, She is now being called a hypocrite for keeping a known harasser on staff after three former female aides told Politico they had informed the congresswoman that chief of staff Dwayne Duron Marshall behaved inappropriately toward them.
All three aides said they had even explicitly told Lawrence about Marshall. Two quit because of his behavior, they said. Marshall remains Lawrence's chief of staff.
Lawrence denies knowing about the harassment allegations against Marshall.
"None of the concerns brought to my attention involved allegations of sexual harassment—behavior that I will not tolerate," she told Newsweek in an emailed statement.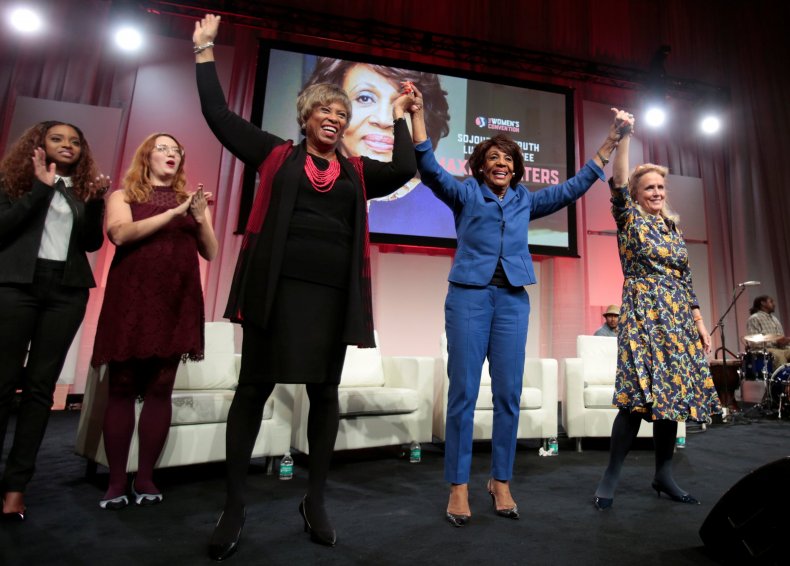 The Michigan congresswoman told Politico she recalls having "one-on-ones" and private conversations with some of her employees during exit interviews; however, she maintains that no employee has ever come to her with a sexual harassment complaint against someone in her office. Lawrence would only tell the outlet she'd dealt with "management-style issues" that she had resolved with "individual personnel actions."
"Had I been made aware of any concerns about sexual harassment in my office, those concerns would have been promptly investigated and appropriate disciplinary action taken, including termination of employment of any individual engaged in sexually harassing behavior," Lawrence told Newsweek.
Her former female staffers aren't so sure.
"She's completely full of shit," one of them told Politico.
The complaints against Marshall include allegations of unwanted touching—some of the women said he would rub their shoulders or place his hand on the smalls of their back—and inappropriate or cruel comments. One former staffer said Marshall was fixated on women's looks and would give women a hard time for wearing flats instead of heels. If he liked how a woman looked, he would be sure to let her know, according to one of his accusers, telling one woman she should leave the man she was dating because she was too good for him.
One of Lawrence's former female aides said she has no doubt the congresswoman knew of this behavior.
"She's complicit because she knows," said one of the three ex-staffers who said she spoke with Lawrence about Marshall. "She knows he makes comments. She knows he rubs the back and rubs the shoulders.... She'd say, 'I know there are some problems, but he has his good points too,' and '[the good] outweighs the other stuff.'"
The controversy surrounding Lawrence's office is just the latest in the post–Harvey Weinstein ripple effect on Capitol Hill, as more female lawmakers and congressional staff come forward with accounts of sexual harassment.
Members in both the House and Senate have introduced legislation aimed at combating the problem, and just on Friday House Speaker Paul Ryan sent out a memo urging representatives to attend the sexual harassment training Lawrence would like to make mandatory.