Congresswoman Who Worked on All Three Modern Presidential Impeachments Says Articles Against Trump 'Sadly Warranted, Should Be Approved'
U.S. Representative Zoe Lofgren, a 71-year-old Democrat from California who worked on all three modern impeachment proceedings, said the articles presented Tuesday against President Donald Trump are "sadly warranted."
"The picture is very clear to anyone who's honestly looking at the facts and the evidence," Lofgren told MSNBC's Chris Matthews on Tuesday. "I think these two articles are sadly warranted, supported by the evidence and should be approved."
Lofgren serves on the House Judiciary Committee, which on December 7 released its report on the constitutional grounds for impeaching Trump. In 1974, she worked on President Richard Nixon's impeachment inquiry as a staffer. (Nixon resigned before he could be impeached by the House.) More than two decades later, in 1998, she voted against President Bill Clinton's impeachment as a congresswoman, although the House voted in favor. Clinton was later acquitted in the Senate.
This time, Lofgren is one of the 22 members of the Judiciary Committee, which is tasked with approving the two impeachment articles against Trump. Once approved, they could come to a full vote in the House as early as next week before being sent to the Senate for a trial.
The two articles accuse the president of abusing his power and obstructing Congress, which Lofgren, after impeachment experience dating back 45 years, thinks is right on the money.
"The president has committed abuse of his powers, and he also in an incredible way has refused to respond to anything. He said that no one should be permitted to testify. They have responded to no requests for documents—that's never happened before. He's obstructed Congress wrongfully as well," she said on MSNBC's Hardball With Chris Matthews.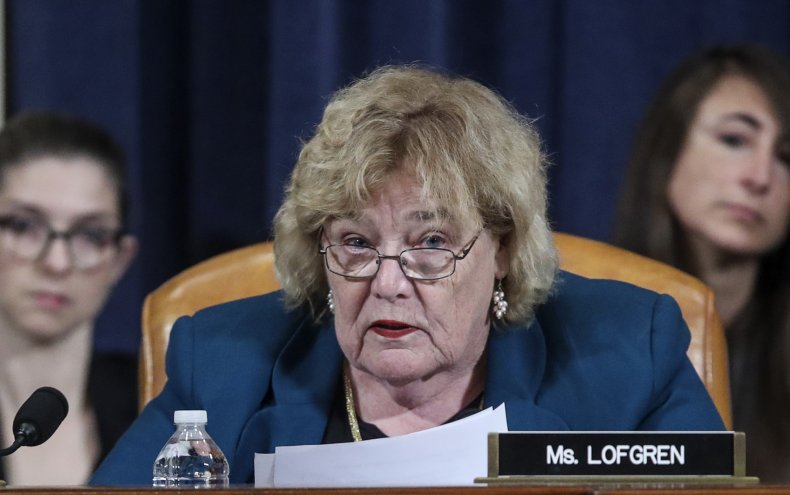 On Tuesday, Trump told reporters the articles were "very weak," but House Intelligence Committee Chairman Adam Schiff defended Democrats' decision to file them before they had access to key witnesses and documents the White House won't provide.
"The argument 'Why don't you just wait?' amounts to this: Why don't you just let him cheat in one more election? Why not let him cheat just one more time? Why not let him have foreign help just one more time?" Schiff said when the articles were announced.
On the Matthews show, Lofgren also defended the rationale for impeaching now instead of later—or even earlier, after special counsel Robert Mueller submitted his report on Russian interference in the 2016 election. His report, though substantial, was not very "focused," Lofgren told Matthews.
"But when we found out about this scheme to utilize the power of the presidency to force a foreign country to intervene in our election, we felt we had to act," she said, referring to Ukraine. "We couldn't sit idly by in the face of that abuse of power."