Over 200,000 Absentee Ballots Not Returned in Connecticut With Just Days Until Election
Hundreds of thousands of absentee ballots in Connecticut have yet to be returned as the 2020 presidential election draws near. Out of the 659,894 absentee ballots that were sent out, 455,861 have been returned, the latest figures from the state government show.
This means 204,033 ballots still need to be returned by next Tuesday, according to the numbers which were last gathered by authorities on Friday night.
Most of the absentee ballots were returned from registered Democrats, with figures showing 233,214 votes. Registered Republicans have accounted for 67,707 ballots while another 148,563 of the returned ballots are from unaffiliated voters.
Connecticut is one of several states that begin to pre-process absentee ballots before election night as opposed to beginning the process on the date itself. But due to the unusually high number of absentee ballots this year, there have been reports that the results could be delayed.
Why the election result could be delayed
For this year's presidential election the number of absentee ballots requested has surged in Connecticut and the U.S. more widely due to the coronavirus pandemic.
In previous elections, only members of the armed forces, those who were out of town on election day, those with religious beliefs keeping them from secular activities, those with an illness or disability or those working at a polling station, were allowed to request absentee ballots Connecticut, according to WNTH.
But this year, all registered voters in the state were able to apply for the absentee ballot in order to avoid busy polling stations during the pandemic.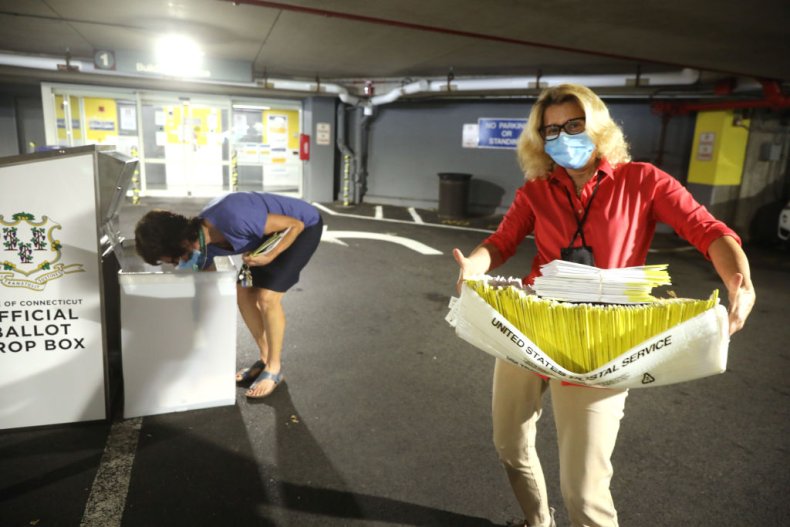 Connecticut Governor Ned Lamont signed an executive order earlier this year to mail absentee ballot applications to all 1.2 million registered Democrats and Republicans. Connecticut pre-processes absentee ballots before the election but does not begin tabulation—counting the votes cast—until election day.
Local registrars are not allowed to start counting absentee ballots that are received after 5 p.m. on election day until after the polls are closed, according to NBC Connecticut. The registrars in the areas of South Windsor and Wallingford said they will not even begin counting these absentee ballots until the day after the election, the broadcaster reported.
Connecticut registrars have also reportedly been given an extra two working days to count their results—an increase of 48 to 96 hours—in order to cater for the huge numbers of absentee ballots. This means that the election results in the state may not be available in some places until November 9, six days after the election.
Meanwhile, 80.5 million absentee ballots have reportedly been sent to voters nationwide and the surge in these votes, which need to be counted, may mean the winner is not known on election night if the race is close, according to The New York Times.
What Connecticut leaders have said
Local and state leaders have ensured residents that every vote will count. The Connecticut Secretary of the State Denise Merrill told NBC Connecticut: "I think the expectation in the public is, 'oh we're going to know right away,' and I think this year it's not going to be so true.
"We have to be careful. We have to make sure every ballot is counted and counted accurately, and that takes some time."
Last week, she told News 8 that handling the numbers of absentee ballots is a massive undertaking but she added that the process has been "remarkably smooth." She also said she believes about 50 percent of the state's vote will end up being absentee.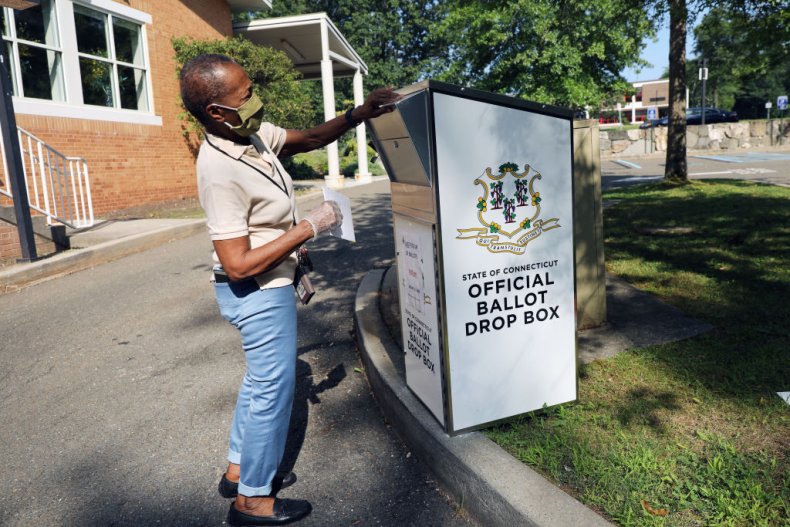 Merill's spokesperson, Gabe Rosenburg, also told The Hartford Courant: "There's no frame of reference for this, because it's the first general election in Connecticut history that anyone who wanted an absentee ballot could get one.
"In 2016, there were about 125,000 absentee ballots counted, and we're still 10 days away from the election, and we're at 455,000 returned with 10 days to go, and at least another 200,000 outstanding, and there's time still for more to get requested. Clearly, this is unprecedented.
"I just think it's the enthusiasm of people to participate in the electoral process. And a little bit of fear of COVID that's caused people to want to vote from absentee. Anecdotally, some voters have found that voting by absentee and dropping it in the drop box to be very convenient, and that they like voting that way."