Dramatic Video Shows Connecticut Man Rescuing Driver From Burning Car: 'You Are a Hero'
A man is being praised for his actions after he pulled a driver from a burning car after it ignited in Stafford, Connecticut.
Dramatic surveillance footage from November 1 shows the vehicle in question driving down a street before bursting into flames as it approaches some lights outside of Stafford Town Hall.
Another car, being driven by Edward Cyr, pulls over on the opposite side of the road. The Good Samaritan can then be seen running over to the burning car to pull out the driver, Glennwood Little.
"We kind of see a car looks like it's on fire and as we get close to him, we notice a man inside," Cyr told NBC Connecticut.
"I went to grab and he was stuck in his seat belt so I had to reach in and unbuckle him and then pull him out."
The Stafford Fire Department were among those who praised Cyr for no doubt saving the life of Little by pulling him away from the fire.
"What looked to be a basic night out for dinner with his wife, Edward Cyr performed a very heroic act," the department wrote on Facebook.
"Without regard for his own safety, he pulled the driver from a burning car which just exploded as he turned the corner. You saved Mr. Glennwood Little from burning inside his vehicle. Words can't describe this act.
"Mr Cyr, you are a hero."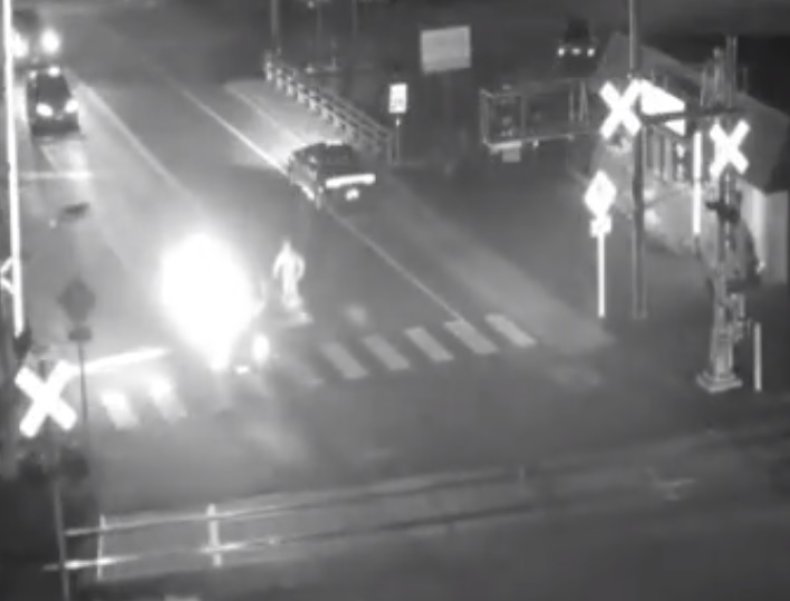 Little explained that a cigarette he was smoking at the time may have ignited leaking gas cans which he bought for his generator.
"I heard the can and I hear this doosh, doosh like the gas is leaking out and like I said I had a cigarette going, next thing I know boom!
"All of a sudden the door opens up, I didn't even see the guy come to the door, he opens it up and he reaches in and he gets my seatbelt off," Little said.
"My coat and my hat was in flames and he ripped my out off and my coat and as he took me out I went right into the back of the ambulance."
Luckily, an ambulance happened to be nearby at the time of the explosion and can be seen just ahead of Little's car at the start of the video.
Little was then taken to hospital for burns treatment. Cyr was presented with an award for his bravery by the firefighters.
"For him to do what he did, you know I'm here to spend a little bit more time with my grandchildren," Little added.
In a follow up post, the Stafford Fire Department shared a number of tips from the from the Federal Emergency Management Agency (FEMA) on what to do if your vehicle catches on fire. They include:
Pull over as quickly as you can when it is safe.
Once you have stopped, turn off the engine.
Get everyone out of the car. Never return to a burning car. Do not try to fight the fire yourself.
If you think there is a fire under the hood or trunk, do not open it. This could cause the fire to grow.
Move everyone at least 100 feet from the burning car and well away from traffic.
Call 911.