New Haven Mosque Catches Fire During Ramadan, Investigation Launched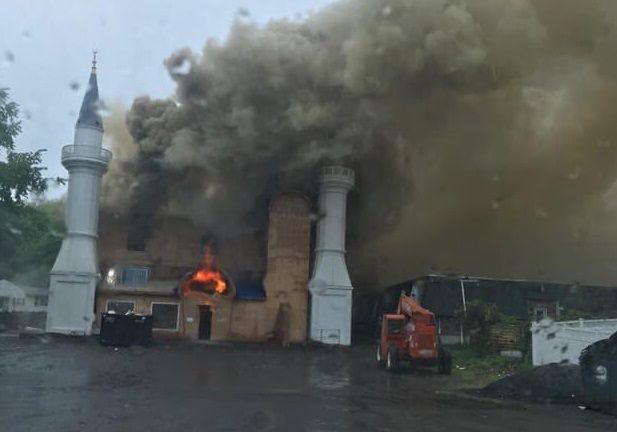 An investigation has been launched after a fire broke out at a mosque in New Haven, Connecticut, which is currently under construction.
Firefighters managed to put out the fire at the Diyanet Mosque in Middleton Avenue on the afternoon of May 12. The flames are believed to have erupted near the entrance on the first floor before extending to the second.
No one was injured during the fire, including one man who was seen at the entrance as the blaze broke out. The flames were brought under control after around one hour of fire-fighting.
The mosque was under construction to reduce the size of its minarets at the time the fire broke out. As reported by Connecticut Post, the plan was to reduce to mosque's spires from 81 feet to 57 feet in order to comply with a building permit issued by the Board of Zoning Appeals in 2015.
Members of the local Muslim community gathered outside the place of worship as the fire broke out. "I feel shocked and sorry. We were planning to come and have dinner tonight over here," Telat Bozan, of West Haven, told NBC Connecticut. "Everyone was hoping when it was being finished, want to see how it looked, excited. It was very nice for the community."
According to WTNH, it took more than five years for the community to raise the money to build the mosque.
"It's like another home, I grew up here," Yasin Uzun, who attends the New Haven mosque, told the station. "It took so long for them to build, and now this happens and they're going to have to start over."
An investigation has been launched into how the fire broke out. New Haven Fire Chief John Alston said that while it is not immediately clear if it was started deliberately, the fact the fire occurred during the Muslim holy month of Ramadan is being brought into consideration.
"Because it's a house of worship and what's going on in our nation right now, we want to make sure State Police are on the scene paralleling…their investigation with us," Alston told NBC Connecticut. "Any time a fire like this happens, it affects an entire community not just families, but people of faith as well."
Connecticut State Police did not immediately return a request for comment.