Connecticut Senator Launches Gun Control Filibuster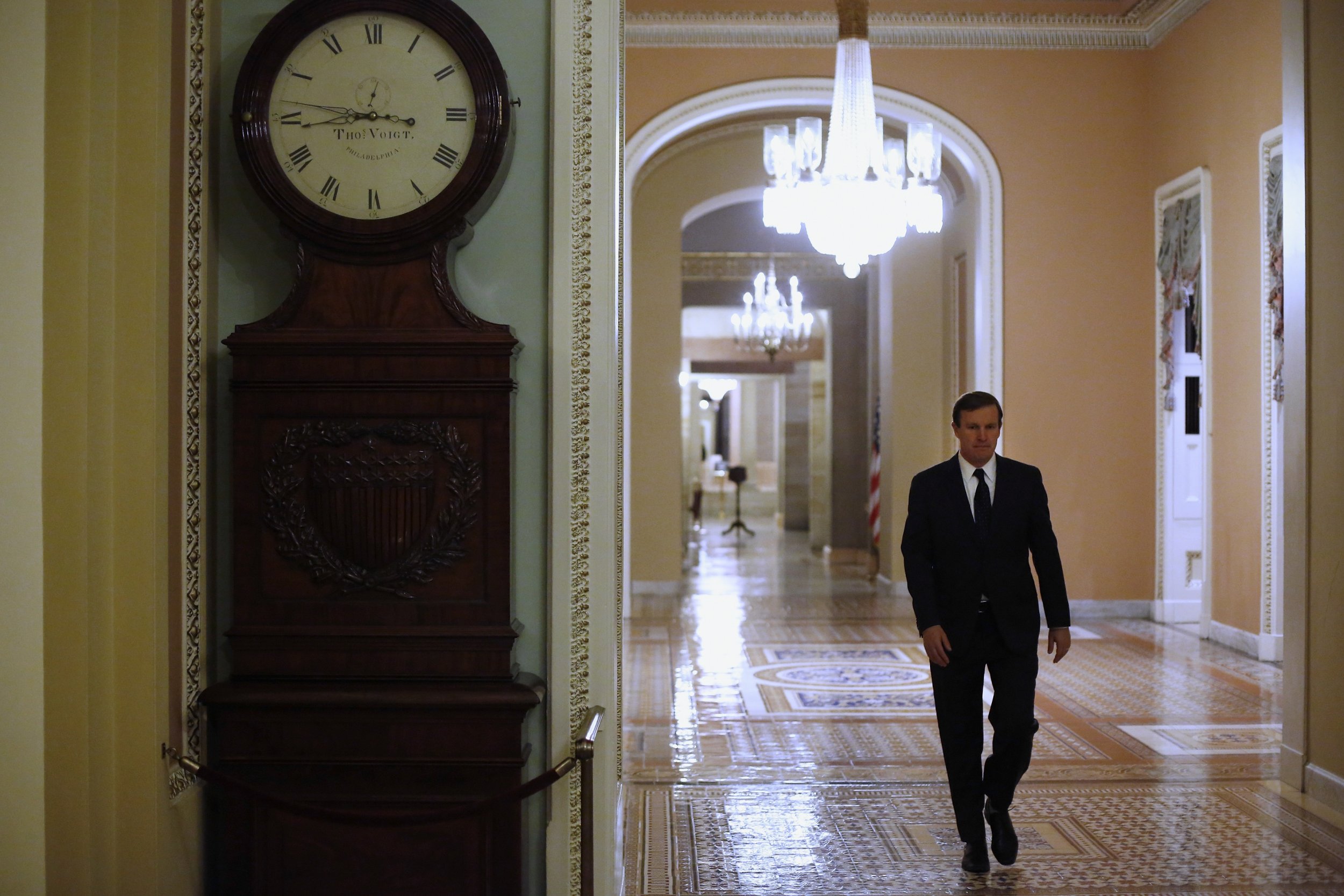 Updated | In the wake of the deadly weekend massacre in Orlando, Florida, Connecticut Democratic Senator Chris Murphy on Wednesday launched into an ongoing talking filibuster in which he is arguing to force Republican legislators to agree on two measures that would prohibit suspected terrorists from purchasing firearms and require universal background checks on all gun purchases.
Just before 11:30 a.m. Eastern time, Murphy interrupted a Senate debate on the Commerce, Justice, and Science Spending bill to discuss gun control loopholes with colleagues. This comes just three days after 49 people were killed in Orlando gay nightclub Pulse—the country's worst mass shooting ever. Murphy, an outspoken gun control activist who represents the state where the Sandy Hook Elementary School massacre took place in December 2012, vowed to remain on the Senate floor until his colleagues unite on solutions for the proposals.
In the nearly four years since the Sandy Hook massacre, which left 20 first-graders and six educators dead in Newtown, Congress has been in a stalemate about gun control legislation. In April 2013, four months after the shooting, the Senate failed to pass a bipartisan background checks bill. On Wednesday, Murphy argued that no one would accept Congress not acting to change laws if dozens of deaths came by way of disease or infection.
"For some reason in this country, we've come to accept that gun violence is inevitable and there is nothing that we can do or should do about it," Murphy said, according to live video footage from C-SPAN.
The FBI has said there are no indications a foreign group directed the attack in Orlando. But during his killing spree, the suspect pledged allegiance to the Islamic State militant group, better known as ISIS, and it's becoming clear that he took in propaganda information over the internet. President Barack Obama and other Democrats argue that suspected terrorists shouldn't be allowed to purchase guns. Frustrated Democrats in the House on Monday, for example, shouted, "Where's the bill? Where's the bill?" to demand GOP leadership consider gun control legislation.
Murphy said his efforts are "about sending a message to everyone in this country that we are serious about taking on this epidemic of solving gun violence." He added that legislators should "not worry about whether we have addressed every aspect of this debate, whether we have solved every problem at once, not allowing the perfect to be the enemy of the good."
He has yielded to other Democrats, including Connecticut Senator Richard Blumenthal, New York Senator Chuck Schumer and New Jersey Senator Cory Booker, but refuses to give up his control of the floor. Schumer acknowledged there is talk on both sides of the aisle for a compromise.
Still, Pennsylvania Senator Pat Toomey, a Republican who supported the background checks bill the Senate struck down in April 2013, on Wednesday urged his colleagues to do everything they can to ensure suspected terrorists cannot buy guns legally.
"I'm of the view that it's time to get something done here," he said while speaking briefly on the floor. "Let's get to work here. Let's sit down together and figure out how we achieve this."
Murphy said he needs to be able to tell his constituents affected by gun violence that their leaders are acting to curb what he called an epidemic. "They need to be able to hear something that helps in their healing," he said. "The process of healing for many of them is encumbered by the fact their leaders are not doing anything to stop it."
On December 3, 2015, a day after the mass shooting in San Bernardino, California—in which 14 individuals were killed—Senate Republicans blocked a measure that would have prevented individuals on the watch lists from legally buying guns in the U.S. Before the vote, Senate Minority Leader Harry Reid said, "There is nothing, nothing unconstitutional about keeping a terrorist from buying a gun." The conversation has been reignited since the Orlando mass shooting.
"When we don't act, there is a quiet signal that is sent to people whose minds are becoming unhinged, who are thinking about doing something awful and horrific," Murphy said on the Senate floor.
He admitted that the fight against ISIS is an ongoing effort that won't be concluded in the near future. But he stressed the likelihood of increased lone wolf attacks and encouraged his colleagues to provide law enforcement officials with the resources they need to watch for possible attacks.
"Let's admit for the time being they are going to try to launch lone wolf attacks here," Murphy said. "They are trying to find someone who is on the fringes of society who might be mentally ill and prone to radicalization, and weaponize them."
Schumer told the chambers the country needs to adjust to the changing world, in which terrorism is a major threat. "This body is shameful in its obeisance to the hard-right of the gun lobby in not even doing the most reasonable things," said Schumer, who also is an outspoken leader on gun control.
Blumenthal acknowledged that lawmakers can't completely prevent all gun-related deaths, but he called for common ground to move forward. "We can make a start, can't we?" Blumenthal asked.
Senators are signing up to speak on the floor as late as 10:30 p.m. Eastern time on Wednesday, according to Politico.
Hillary Clinton, who has made gun control part of her campaign platform, tweeted Wednesday in support of Murphy. The Democrats' presumptive nominee has the backing of Murphy and Schumer, to name just a few Senate Democrats.
Others in the gun control movement, including Erica Lafferty Smegielski, whose mother was killed at Sandy Hook Elementary, commended the Senate Democrats for demanding change.
Meanwhile, Republican presumptive nominee Donald Trump said he wants to meet with the National Rifle Association to discuss "not allowing people on the terrorist watch list, or the no-fly list, to buy guns." The group said its leaders are happy to meet with Trump, but its position hasn't changed. The NRA has said its objective is to ensure that Americans wrongly placed on the no-fly list or in the database are given their legal rights to due process. The NRA endorsed Trump for president in May.
This story has been updated to include Clinton's tweet.