Connecticut Teachers Wear Black to Work, Demand Access to COVID Safety Measures
Unionized teachers in Connecticut are demanding better safety measures against COVID-19.
Some teachers, custodians, school bus drivers, and other staff members across the state wore black on Wednesday during classtime in an unconventional protest. This demonstration comes after The Hartford Courant reported that more than 60 percent of teachers and other staff members at schools felt that their employers did not have proper supplies or protocols to protect themselves and students against the current COVID-19 surge.
"We are really proud of our hard-working educators and support staff, who are so dedicated to their students and schools," said Kate Dias, the president of the Connecticut Education Association in a statement sent to Newsweek. "They are standing up together to help others understand that the work we do is vitally important and needs to be supported. Our members came together in solidarity to say we are all working exceptionally hard and we deserve the supplies and support necessary to do our jobs, keep school buildings open, and ensure that students continue learning in safe environments."
This is in reference to the claim that 70 percent of teachers said they could not access at-home rapid tests or N95 masks before January 3. Along with this alleged lack of resources, the union is also calling for more flexibility for both in-person and remote learning. Although the union said they vastly prefer in-person learning to remote, they fear that they cannot do so safely without the right protocols.
"Being in school has been stressful as we anticipated new protocols, N95 masks, and available testing being there for us," said Shellye Davis, the AFT Connecticut Vice President for Paraprofessional and School-Related Personnel. "Instead, we're dealing with high absenteeism, double-digit infection rates, and no time to address mitigation strategies. Educators and school staff returned in force trying to figure out how to protect themselves and their students. Yet many were told to stay home, some without pay, because buildings were closed with no plan for remote learning."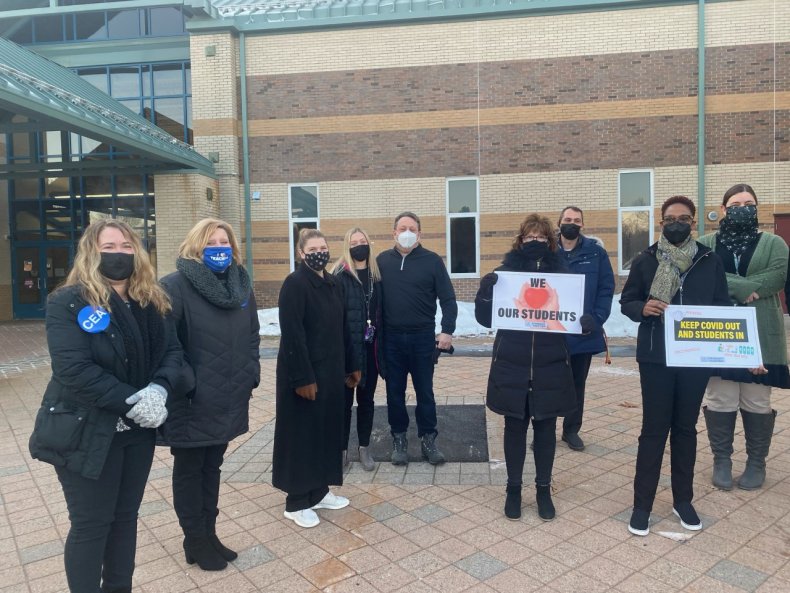 While some teachers in Connecticut wore black, others wore red to show their support for safe in-person learning.
"I had schools that opened this week and still didn't have masks, and that's problematic," said Dias.
Staff shortages have led to short-term closures of schools in several districts, which prompted Governor Ned Lamont to issue an executive order Tuesday, making it easier for retired teachers to come back into the classroom.
The order relaxes statutory salary and staffing restrictions the governor's office said prevented some former educators from coming out of retirement.
"This executive order is a critical step to providing much-needed resources to ensure we keep students in the classroom and provide them with an in-person education," Lamont said in the statement.
The state Department of Education said in a statement that it is working to ensure more test kits and masks are distributed to schools as soon as those supplies become available.
The Associated Press contributed to this report.
Update 1/12/22 3:25 PM ET -This story has been updated with new photos and information.