'The Conners': How to Watch, Premiere Date, Spoilers and Everything to Know About New Episode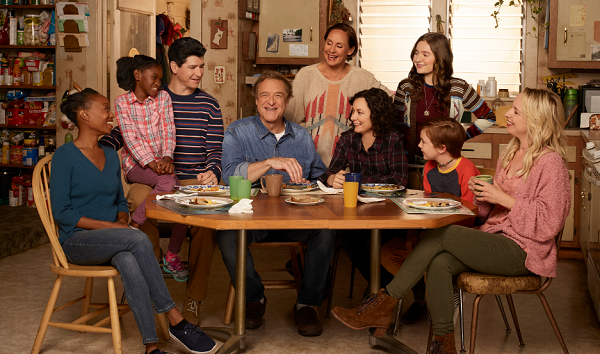 The Conners are officially back on ABC. Dan, Darlene, Becky, D.J., Aunt Jackie and the rest of the gang will return to the small screen for the mid-season premiere of the family sitcom on Tuesday.
In episode 11, titled, "Rage Against the Machine," the family's financial luck could change for the better, except their opportunity to strike gold won't come without a little drama along the way. The family's patriarch Dan (John Goodman) will suffer an injury while working for D.J., according to the episode's synopsis.
Since the accident takes place on the clock, Dan could be eligible for a big payday, let accident lawyer Brian Foster—played by guest star Peter Gallagher—tell it. In a sneak peek of the episode, Gallaher's character proposition's Dan to file a claim against the company, which could result in the Conner family receiving a hefty check.
The only problem is if Dan does take Foster's advice, it could cost D.J. his job.
Meanwhile, Jackie (Laurie Metcalf) and Becky (Lecy Goranson) will face their own upsets after Becky seeks advice from someone who just so happens to be one of Jackie's biggest enemies.
Gallagher is just the latest guest to be featured on the show. Justin Long, Matthew Broderick, Jay R. Ferguson, Katey Sagal and Mary Steenburgen also made surprise appearances earlier in the first season of The Conners.
The blue collar family has experienced good fortune before. Before the spinoff, the Conners won the lottery on a former episode of Roseanne. However, it turned out the family's late matriarch—whom was killed off the show upon the Season 1 premiere in October—was actually only dreaming.
The Conners premieres on ABC at 8 p.m. ET on Tuesday. Fans without access to television can still catch the show with Hulu Live TV subscriptions while those with standard Hulu accounts will be able to view the sitcom shortly after it airs on-demand.