'The Conners' Season 4: Will There Be Another Season
The Conners will air its current season finale on Wednesday, May 19, which sets up two big weddings in Season 4 of the show and sees Maya Lynne Robinson return for the first time in two years as Gina, the wife of DJ (Michael Fishman). With the finale, "Two Proposals, a Homecoming and a Bear", setting so much up for the next season, fans have been left wondering whether Season 4 of the show has been ordered by ABC.
Will there be another season of The Conners?
In mid-May, ABC announced that The Conners was returning for Season 4, with the release date of the next set of episodes expected to be in September 2021.
This news came a few weeks after Deadline reported Sara Gilbert, John Goodman, Laurie Metcalf and Lecy Goranson had all signed deals for the next season of the Roseanne spin-off. This means that Darlene, Dan, Jackie and Becky will all be back as characters for another run of around 20 episodes.
While other shows sign their stars up for multi-year contracts, The Conners contracts are done year by year. For this fourth season, Gilbert, Goodman and Metcalf are making a reported $400,000 an episode.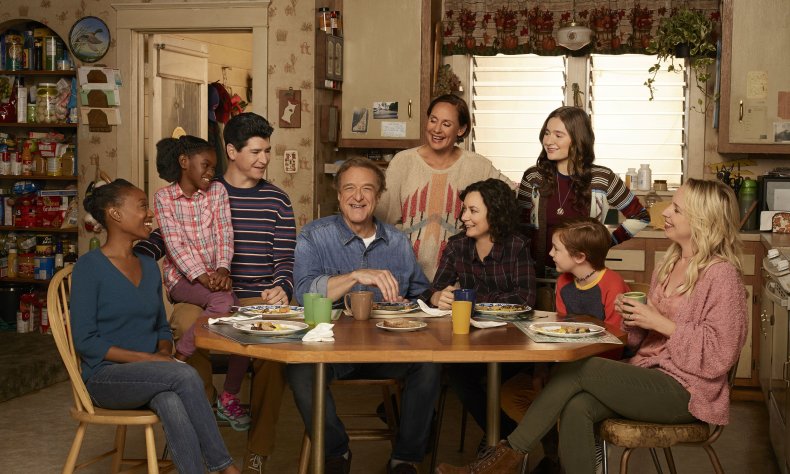 The leads can command these salaries as the show remains a ratings winner. Four years into its run, the show remains the most-watched comedy on ABC. Lower performing comedies like The Goldbergs, The Rookie and Home Economics were renewed at the same time as The Conners, while fellow ABC comedy Call Your Mother was canceled.
ABC has not yet announced who those Season 3 finale proposals (and by extension Season 4 weddings) will be between, but showrunner Bruce Helford has teased one of them could be between Dan and Louise (Katey Sagal).
He told TV Line: "There are some major events coming for Dan and Louise, as we come to the end of the season."
Fans can also expect to see more of Louise. While filming The Conners' current season, Sagal was juggling appearances on the comedy and the drama Rebel. With Rebel recently canceled after one season, the actor is able to spend more time on The Conners.
Shooting is set to start on The Conners Season 4 in summer 2021, ready for it to return in the fall. The show is set to stay in its Wednesday slot of 9 p.m. ET / 8 p.m. CT on ABC. Preceding it is another spin-off of a classic '90s show, with ABC launching a remake of The Wonder Years focused ona Black family.
The Conners Season 3 finale airs Wednesday, May 19 at 9 p.m. ET / 8 p.m. CT on ABC. The current season is streaming now on Hulu.